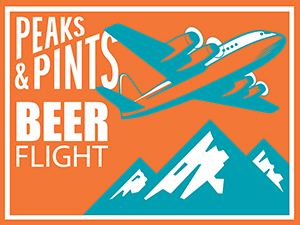 Today is Cinco de Mayo. Cinco de Mayo is not the Mexican Independence Day (it's actually a celebration of the day Mexican forces defeated the invading French army in 1862). While you don't need either of these pieces of information to enjoy the Mexican-themed beer and cider Peaks & Pints has on tap for growler fills, they do make you feel smarter though, eh? Bring in your growler, or purchase our nifty ones, and enjoy Peaks and Pints Cinco de Mayo To Go-Go: Growlers.
Peaks and Pints Cinco de Mayo To Go-Go: Growlers
Reverend Nat's Viva La Pineapple
6% ABV
You've probably had lots of jamaica, tamarindo and horchata is Mexican restaurants.  But you probably haven't tried tepache, because few restaurants serve it. What is tepache? The drink is made with both pineapple and rinds, which are fermented with piloncillo (Mexican unrefined brown sugar cones), water and spices such as cinnamon until the brew starts to get fizzy; then it's strained and chilled. Reverend Nat's Hard Cider blends tepache with Eastern washington apples to create their Viva La Pineapple. The spice and pineapple hit the nose and tongue with notes of green apples and pear. Mucho delicious!
Single Hill RocketshipaRita
4.3% ABV, 10 IBU
In August 2016, Ty Paxton and Zach Turner opened Single Hill Brewing in an old JC Penney Tire Center in downtown Yakima. The two first met at a cider pressing party that a mutual friend was hosting in 2013. Three years later, over pints at Bale Breaking Brewing, the two hatch the idea for a community-based brewery in a town dear to their hearts. Their RocketshipaRita is the brewery's tart, lime-tastic, strawberry-accented, Mexican beachy goodness Berliner weisse. 
Founders Mas Agave
10% ABV
Tequila and Cinco de Mayo go together like Simon and Garfunkel, or Hall and Oates, or Garfunkel and Oates, so it is no surprise that Peaks & Pints tapped Dounders Mas Agave. This Founders Brewing margarita-inspired release is an imperial gose, brewed with agave and lime, and aged in tequila barrels. Dip your nose in for all the margarita — salty, tangy, lime, and agave. In fact, Mas Agave tastes really close to a margarita — citrusy lime, tart, salty, smooth, with minimal alcohol warmth at 10 percent.
21st Amendment El Sully
4.8% ABV, 19 IBU
21st Amendment's El Sully is much more than a crisp Mexican-style lager with light notes of spice from Northern Brewer hops. Corn, plus Pale and Munich malts, provide a creamy texture and combine with the hops create a light-bodied, low alcohol, flavorful and complex lager. It hits the nose with sweet Pilsner malt aroma with delicate biscuit, lemon citrus, slight toast and a touch of honey. On the tongue, we taste a lot for such a light lager. We get some light Pilsner malt with a medium-sweet biscuit presence, but not overly sweet. The floral, earthy hops flavors blend right in, with a low-key pleasant bitterness. Expect a slight apple note toward the end of the sip.
Belching Beaver Mexican Chocolate Peanut Butter Stout
7.5% ABV, 28 IBU
Kick your peanut butter fix up a notch with Belching Beaver Brewery's Mexican Chocolate Peanut Butter Stout. Sometimes named Viva La Beaver (confusing!), and prior, Living La Beaver Loca, Belching Beaver changed the name to highlight the key flavors of this award-winning beer: creamy peanut butter, cinnamon and cocoa nibs. Peaks and Pints also picks up notes of roasted coffee, cookie dough, fudge, brownie batter, cappuccino, toffee and dark roasted malts upfront, as well as a little vanilla on the mid-palate. This decadent milk stout is the definition of pastry stout.
---