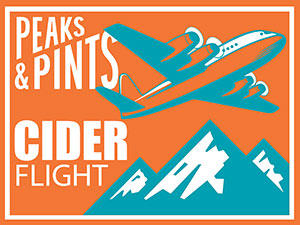 After you push play in The Grand Cinema's Virtual Screening Room, Ella Fitzgerald: Just One of Those Things opens with famed dancer and comedian Norma Miller describing how she watched a young, homeless teen named Ella Fitzgerald win Amatuer Night at the Apollo Theater in 1934. The rest, as they say, is history. Through interviews with friends and colleagues — generations of musicians including Tony Bennett, Johnny Mathis, Smokey Robinson, Patti Austin, Laura Mvula, Alexis Morrast, and, notably, Fitzgerald's son, Ray Brown Jr. — the film showcases how Fitzgerald's sheer talent, resilience, and hard work helped her overcome personal tragedy, loneliness, racism, and gender-based bias to become one of the most notable figures of the 20th century. Stop by Peaks & Pint in Tacoma's Proctor District for the to-go cider flight Peaks and Pints Cider Flight and a Movie: Ella Fitzagerald then pair the ciders with this powerful film.
Peaks and Pints Cider Flight and a Movie: Ella Fitzagerald
Union Hill D.J. Dry
7% ABV
Union Hill L.E. Sweet
7% ABV
The most famous family conflict in American history, the Hatfield-McCoy feud evolved into a mythic American tale of jealousy, rage and revenge — and one which helped create the negative "hillbilly" stereotype that has shaped attitudes towards Appalachia for more than a century. The 32nd most famous family conflict in American history, the D.J.-L.E. feud, evolved into a legitimate American production of dry and sweet cider. Union Hill Cider in East Wenatchee made two ciders to commemorate their orchardists grandfathers and their once upon a time feud. L.E. sweet and D.J. Dry are two sides of the same coin. A union of red and golden delicious apples with Porter's Perfection heirloom English apple — one is sweet and one is dry.
Alpenfire Spark!
8.9% ABV
The previously mention dry and sweet cider feud needs a semi-sweet mediator. Port Townsend cidery Alpenfire Cider Spark steps in. The semi-sweet, sparkling cider offers an unique blend of organic heirloom apples. Varietals grown in Sequim, Washington, such as Melrose and Winter Banana make up 80 percent of the blend while Alpenfire's estate Brown Snouts, Foxwhelp and Vilberie apples round out the last percent and help give this cider a nice astringent finish.
---