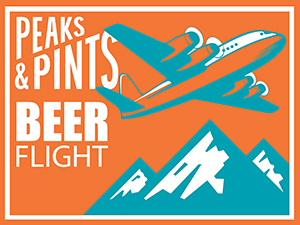 Sean Bowman, Timothy Czarnetzki, and David Powell founded Urban Family Public House in the heart of Old Ballard in January 2012. The partners initially served a range of styles from other breweries, but later devoted a few of their taps to house beers made on a 15-gallon system. A little over two years later, the renamed Urban Family Brewing traded Ballard for Magnolia and upgraded to a 7-barrel brewhouse. Andy Gundel started helping the company with social media and logistics soon thereafter, and in 2016 became a majority owner. In the years since, Urban Family moved back to Ballard into a 20-barrel brewhouse, a large walk-in space, an expanded taproom, and a larger outdoor area. Today, Peaks & Pints presents an in-house flight of Urban Family beers — a flight we're calling Peaks and Pints Beer Flight: Urban Family Brewing.
Peaks and Pints Beer Flight: Urban Family Brewing
Urban Family Guava Dawn
6% ABV, can

Brewed with an insane amount of real, California-grown pink guavas, Guava Dawn is even more delicious with Urban Family's house mixed-culture of Saccharomyces, Brettanomyces, and Lactobacillus. Every sip is a puckering party of balanced acidity and bright fruit character. Seattle Magazine named Urban Family "Best Sour Brewery" in 2019 for a reason.
Urban Family Forgotten Lore Porter
5.9% ABV, draft

Urban Family brewed clean, no frills Forgotten Lore Porter for cool-weather drinking. It has a complex malt bill that belies the smoothness of this dry, crisp dark ale. Expect velvety chocolate and coffee aromas and flavors.
Urban Family Cones of Hopshire
6.5% ABV, can

Brewed with Single Hill Brewing in Yakima, Cones of Hopshire hazy IPA is, well, let's let Urban Family explain, "… Two hop (HBC-586 & Amarillo) cones wins, but in order to get a cone, you have to build a hazy IPA. The other amazing thing is the freshness of the hops. Actually, let me tell you more about the haziness, 'cause you're gonna need to know about IBU's first. Nah, never mind. The thing about the haziness is that it's basically the beer…in reverse. Then you roll three cans to see how many cans you drink. Oh, 16. Perfect, lots of beers. Okay, each turn goes: open, sip, enjoy. I mean, obviously, this would be much frothier in the real beer. But the brewer can veto. This is green too. How did this happen? Are the cones a metaphor? Well, yes and no. …"
Urban Family Look Out! Fire Ants!
6.7% ABV, can

"Inspired by our fears of horrifically ruined picnics, we present Look Out! Fire Ants! IPA," states Urban Family hype. Brewed with 2-row, flaked and golden naked oats, flaked and malted white wheat, this hazy IPA is hopped in the whirlpool with Nelson Sauvin, and then fermented with Cosmic Punch from Omega Yeast. It's then dry hopped on day one of fermentation with Nelson Sauvin, Strata, and Talus for pink grapefruit, and white wine with piney undertones.
Urban Family Best Chums IPA
6.9% ABV, can

A collaboration with Howzit Brewing out of Honolulu, Hawaii, Best Chums IPA is brewed with Strata, Mosaic, Nelson Sauvin, and a bunch of HBC 586 hops for notes of passionfruit, strawberries, and orange juice with a touch of dank and bitterness.
LINK: Peaks & Pints beer and cider cooler inventory
---