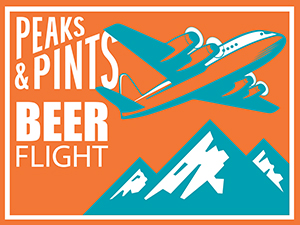 It's the old "high schoolers get caught with a fake ID start homebrewing for a supply a beer and then launch a brewery story." After New York City teens Joe Correia and John Dantzler got kicked out of a bar in the East Village, Dantzler's mom kicked them out of her kitchen after their homebrew exploded. By the time high school graduation rolled around, the two were winning some modest homebrew awards (which they had to send their dads to accept). On a trip to Ireland, the duo formally decided (over a toast of a pint of Guinness) that one day, they'd open their own brewery — centered around their love of three things: great beer, ambitious creations, and the amazing city of New York. Correia studied chemistry. Dantzler studied finance. After 10 years, thousands of trial batches, and a few more boil-overs, they opened the Torch & Crown Brewing Company in 2018, although began selling beer in Manhattan in early 2019. Today, Peaks & Pints presents an in-house flight of Torch & Crown beers — a flight we're calling Peaks and Pints Beer Flight: Torch & Crown with much of the beer descriptions below from their own words.
Peaks and Pints Beer Flight: Torch & Crown
Torch & Crown High Brau
5.5% ABV
"Highbrow and lowbrow … that's our game," states Torch & Crown hype. "Like us, these two beers aren't fussy, exclusive, complicated, or unapproachable, but they speak to a simple idea: Everything we do at Torch & Crown should be surprisingly good." Torch & Crown's Low Brau is a clean and crisp German inspired helles lager. Their High Brau, which is on tap at Peaks & Pints, is a smooth, clean festbier with a crisp, nutty malt character.
Torch & Crown Black Tie
5.5% ABV
"We're not that fancy, and neither is this porter, but it is still the City, after all," Torch & Crown writes. "Enjoy a couple of these as you throw on a dress or straighten your bowtie, even if it's just to hop on your next Zoom meeting. It still feels good to look good, and you'll learn one of life's secrets – you can get away with a lot more if you're well dressed." Black Tie is a light-bodied, easy-drinking porter with notes of dark chocolate and a big espresso roastiness.
Torch & Crown Look Up
6% ABV
"A moment of affirmation in a city too busy to put down their damn phones and take a moment to be present. The unforge­able characters, the breathtaking architec – ture…the li­le New York moments that you can't find anywhere else in the world. We all need the reminder once in a while. Life is happening all around you. Look Up. This is a perfectly balanced hazy IPA with a light tropical aroma and pithy, dry finish," says Torch & Crown.
Torch & Crown Almost Famous
6.6% ABV
"Torch & Crown announces our presence in the haze game with an IPA packing peach and grapefruit notes," writes Torch & Crown in 2018. "We have grand ambitions of bringing beer right to the Heart of the City. Lofty goals of brewing closer to the action than anyone has before. This is our first beer release … we're almost famous, right?" Brewed with Citra and Mosaic hops, Almost Famous offers notes of ripe peach, fresh-squeezed grapefruit juice, subtle earthy dankness, and a touch of pithy bitterness.
Torch & Crown Go Left
7.1% ABV
Light gold and shimmering, Go Left continues the riff on our West Coast IPA / old-school video game theme, this time featuring Zork!" states Torch & Crown. Brewed Mosaic, Rakau, Simcoe, and Citra hops, expect notes of grapefruit, pine, and overripe pineapple character.
LINK: Peaks & Pints beer and cider cooler inventory
---