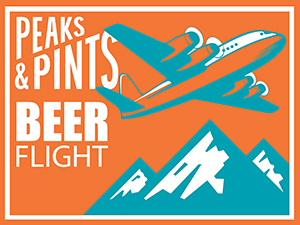 From the family farm and Critical Juncture Brewing Company to three locations and a distribution company, married couple Lara Zahaba and Brad Benson bet it all on Stoup Brewing. The Italian wine importer and forensic chemist, respectively, shared a passion for craft beer. They left the East Coast for their beloved Seattle with the goal to open a brewery in the burgeoning brewery district of Ballard. And, while betting all their finances, their parents' finances and the 150-year-old family farm in Iowa, plus all the money saved by their former schoolteacher turned first Washington state's first female Certified Cicerone co-owner and assistant brewer Robyn Schumacher, on opening a 15-barrel brewhouse in an industry where they were strangers, they succeeded in turning their appropriately named Critical Juncture Brewing Company idea into one of Seattle's most popular craft breweries, Stoup Brewing. Today, they have three locations — adding Kenmore and Capitol Hill — and an impressive distribution company, Stoup Distro. Since Benson will sit down with the Grit & Grain Podcast inside Peaks & Pints at 4:30 p.m. today, we thought our in-house beer flight should be the dream beer created by Benson, Zahaba, and Schumacher. Stop by our Proctor District craft beer and cider bar, grab Peaks and Pints Beer Flight: Stoup Brewing, and listen to Benson tell the Stoup story.
Peaks and Pints Beer Flight: Stoup Brewing
Stoup In The Meantime
6.3% ABV, 41 IBU
"Seems like folks have a lot of things on their minds and a lot of time on their hands these days," states Stoup's In The Meantime hype. "We're all looking forward to 'normal' life when we'll hang with friends, take vacations, see a show, sit at a bar and … well you get the gist. We can and should look forward to the good times to come, but in the meantime, feel free to slow your roll, relax your mind and enjoy this tropical fruit, citrus, and mango-full IPA with Galaxy, Wakuta, El Dorado, Mosaic, and Citra." You can tell Stoup wrote this description for In the Meantime when it was released during COVID-19. Since then, they changed the recipe to Galaxy, Citra Cryo, Mosaic Cryo and Wakatu hops, and deleted the pandemic reference. In the meantime, it's still damn delicious.
Stoup Be Dazzled IPA
6.9% ABV
Stoup celebrates 10 years with a series of events at all three locations next week. The first celebration of the series will be on Wednesday, Oct. 18 at Stoup Kenmore, the taproom and kitchen opened two years ago in partnership with the Weiman-Maclise family of restaurants. Friday, Oct. 20, their newest location, Stoup Capitol Hill at the corner of Broadway & Union will; feature the Airscream mobile Karaoke lounge. And, Saturday, Oct. 21, Stoup Ballard will host the grand bash featuring live music, onsite T-shirt printing, and a Lucky Linqs Jewelry pop up. Prepare to be dazzled by drinking their Be Dazzled IPA with its moderate bitterness, soft mouthfeel, and aromas of citrus, pine, and passionfruit, which will likely make you want to do a little dance, sing to the rafters, and shine like Stoup.
Stoup Idaho Bound IPA
6.9% ABV
Just before starting middle school, Brad Benson's family moved from Iowa to Coeur D' Alene, Idaho. After graduating from Gonzaga University with a B.S. in Chemistry, Benson moved to Seattle. Benson also likes Idaho 7 hops. Coincidence he named this beer, Idaho Bound, brewed with Idaho 7 hops? Idaho 7 hops add powerful little packets of tropical fruit and pine goodness to this Northwest IPA. Citra and Loral Cryo hops add more citrus and herbal notes.
Stoup Fresh Hop Fiend — Citra
7% ABV
Hop harvest comes only once a year and if you're lucky enough to live close to one of the major hop-growing regions of the world (and we are), you can pick up freshly harvested hops from Yakima, bring them home and brew the same day. And that's just what Stoup did. The fifth in their 2023 Fresh Hop Fiend series, Fresh Hop Fiend – Citra is packed with 300 lbs. per batch of Citra fresh hops from Loza Farms in Wapato, Washington. Citra brings aromas of citrus, tropical fruit, and stone fruit.
Stoup Multiplayer Guild Collab (2023)
7.4% ABV
It usually takes two to tango for collaboration, but, in 2021, 47 Washington state breweries hit the dance floor for the Multiplayer Guild Collab IPA project, a beer collaboration to benefit the Washington Brewers Guild. The Washington Brewers Guild, Crosby Hops, Blind Tiger Design, and other participants invited Washington breweries to unite in a different way — over an IPA base recipe and an ABV between 6 and 7 percent. The Multiplayer Guild Collab IPA Project continues, and Stoup teamed up with BreakThru Brewing to brew this year's recipe. "The Guild is a non-profit organization whose mission is to build a community of Washington State brewers, protect and advance their common interests through legislative process, and to promote the quality and value of their beers," says Stoup. "We support that message!"
LINK: Peaks & Pints beer and cider cooler inventory
---
Category:
Beer Flight
,
Beer Line Blog
,
Craft Beer
,
Critical Drinking
,
Crosscut Flight
,
Events and Festivals
,
Grit and Grain Podcast
,
Houses of Craft
,
In The Cooler
,
News and Updates
,
Proctor District
,
Shop
,
South Sound
,
Specials
,
Tacoma events