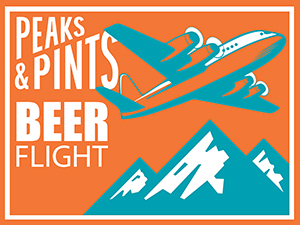 There is plenty to love about craft beer — from the work that goes into taste and aroma, to the unbelievable creativity that goes into naming beer. Many brewers brand their beers after their favorite pop culture passions. After all, pop culture has become indispensable and is now intertwined with our lives. Level Beer names beers after their love for classic video games. StormBreaker Brewing loves Star Wars. Which bring us to today's Peaks & Pints to-go flight. Tonight, we're hosting a birthday celebration for Rogue Ales Sales Executive Rich Jamieson — one of the biggest pop culture aficionados. Jamieson, also known as Captain Dreamland, has reserved a couple tables on the Open table app for his industry friends, which he calls his "Alengers." Jamieson asked to select today's flight, and he didn't disappoint. It's complete with all the movie references. Stop by Peaks today and grab his flight, Peaks and Pints: I Am Rich, I Understood That Reference.
Peaks and Pints Beer Flight: "I Am Rich, I Understood That Reference"
Boneyard Incredible Pulp
6% ABV, 35 IBU
"What if I told you we were putting a team together?" — Tony Stark.
"This flight begins with a reference from the way The Incredible Hulk film ended," explains Rich Jamieson. "We're assembling the Alengers tonight at Peaks, as well as providing a team of fantastic to-g0 brews prior — starting with Incredible Pulp by Boneyard." Originally introduced in May 2016, Boneyard Beer Incredible Pulp Blood Orange Extra Pale Ale is brewed with blood orange puree sourced from Oregon Fruit Products — specifically 5 pounds of blood orange puree per barrel of beer. Blood orange adds the bright orange flavor without too much sweetness, and just enough tartness. A mild grain bill with citrus hops and blood orange really makes the Incredible Pulp pop. "Everything about this beer makes a big impression," add Jamieson. "So, I say unto you in the manner of our character reference … PULP SMASH!"
Brothers Cascadia Full Glycol Jacket
4.7% ABV
"Brothers Cascadia Brewing's Full Glycol Jacket is a very direct reference to Stanley Kubrick's classic 1987 Vietnam-war drama, Full Metal Jacket, so to continue the homage I'm going to make a reference to the movie myself," says Jamieson.
"Is that you John Wayne? Is this me?" — Private Joker
"I think a lot of folks read schwarzbier on the label then ask themselves, 'What?' like they're having an identity crisis," continues Jamieson. "It's not a style that breweries make or promote frequently, but it is a classic." As part of their Collabuary 2021, Brothers Cascadia invited Logsdon Farmhouse Ales to travel along the Columbia River from Washougal to the Brothers' brewery in Hazel Dell to brew this schwarzbier. It is light and easy to drink while also being dark and full of character. Delicate notes of roast, caramel and cream are apparent but balanced, to keep this beer ultra-drinkable. "Brothers and Logsdon stake their claim clearly and execute an underappreciated historic style with a deft hand," he adds.
Deschutes Squeezy Rider West Coast IPA
7% ABV, 47 IBU
"It gives you a whole new way of looking at the day" — Roger.
"Squeezy Rider may not be a direct reference to Easy Rider; it's not even a session beer at a 7 percent ABV so no drinking it all day," says Jamieson. Deschutes Brewery Squeezy Rider West Coast IPA debuted as a draft beer last year in Deschutes' pubs and taprooms, where it was among the top two best-selling beers for weeks. The Bend, Oregon, decided to widely release it. "It does have its links to this line in the film though; like how the hop forward and tropical notes in the flavor will definitely change your perspective on present context," adds Jamieson. "I'm a firm believer this beer can and will improve your day."
Trap Door Lupuluminati Enlightened IPA
7.2% ABV
"OK, fine, this last one's a bit looser association than direct reference," explains Jamieson. "However, Trap Door Brewing's Lupuluminati Enlightened IPA definitely borrows the all-seeing eye image, which was referenced in the National Treasure movie with Nicholas Cage as the hero Benjamin Gates." This modern West Coast IPA bridges the gap between East and West Coast IPAs. Rolled oats and flaked rye build body and help carry hop flavor. Bitterness is prevalent and helps to accentuate drinkability. Layered with hops you'll taste classic Mandarin orange, dank, and grapefruit as well as a more modern hit of passionfruit. Strata from Indie Hops is also featured. "Like Gates, I searched long and hard for a treasure many thought a fable until I cracked this can, smelled the hop aromas, and partook in something uniquely special," adds Jamieson.
LINK: Captain Dreamland Birthday Party Friday, March 19 at Peaks & Pints
---