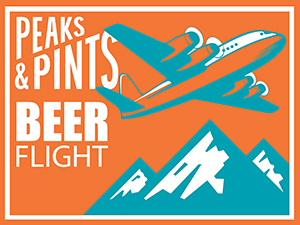 Peaks & Pints did get to see Death — nattily attired in his customary black robe, jazzed up with spiky shoulder pads and heavy Frankenstein boots — skulking around the Proctor District. Sure, Death was headed to a Halloween music themed costume party, and Madonna, two Grouchos and Sid Vicious were waiting for Death in a Mini Cooper parked by the curb, but we figured, hey, maybe it was just a busy day. If you have some time before your Halloween parties tonight, stop by Peaks & Pints for an in-house flight of scary beers — a flight we call Peaks and Pints Beer Flight: Friday Frights. If you don't have time to sit by our fireplace and enjoy the fright flight, then take the beers to your parties. Boo!
Peaks and Pints Beer Flight: Friday Frights
Stoup Nightmare On Eldo Street IPA
6.6% ABV
"One, two, Eldo's coming for you / Three, four better lock the door (so you don't have to share) / Five, six grab your crucifix (to crack open the can) / Seven, eight better stay up late (to finish the beer) / Nine, ten never sleep again (that's silly, get some sleep)," says Stoup Brewing about their Nightmare On Eldo Street IPA. "This beer is scary delicious! Big hop additions of El Dorado, Citra Cryo and Mosaic Cryo will fill your senses with pineapple, citrus and mango. That should keep the monsters of childhood nightmares away. Unless it's Freddy. Freddy will see you in your dreams."
Rogue Dead Guy Ale
6.8% ABV

Dead Guy Ale has been around for a while, and to many people, it's the standard that all American-made Maibocks are held to. Dead Guy Ale incorporates Rogue's proprietary Pacman yeast, and features Pearl and Sterling hops for a robust take on the classic German beer. Although the beer's missing the style's bread crust, the present flavors are harmonious: Bread with toasted edges runs over the tongue before orange notes pop up. Hefty bitterness chases the swallow while peppery alcohol prickles the sip front to back.
Dogfish Head Punkin Ale
7% ABV

Dogfish Head calls its Punkin Ale a brown pumpkin ale. Hmmmm, don't you need some nutty, toasty malts notes to fit into that category? Whatever. The pumpkin and spice flavor is here with cinnamon, allspice and a tiny dollop of brown sugar that settle atop soft burnt biscuits and earthy pumpkin rind with each sip; a mild hop bitterness brings balance at the close.
Triceratops Mrs. Voorhees Peanut Butter Milk Stout
8.1% ABV

On a fateful day in 1957, Jason Voorhees, infuriated by the constant teasing and harassment from other children, snuck out of his summer camp cabin late at night to prove that he could swim. The counselors were not watching him, as they were at a party and fooling around in one of the adult cabins. Jason was never recovered from the lake and was presumably drowned. Mrs. Voorhees blamed the counselors for his death because she was working as the camp cook the day that it happened. In Friday the 13th (1980), Mrs. Voorhees blamed camp personnel for perceived wrongs, sometimes having a conversation with herself using two different voices, becoming rageful, and of course, killing. She went nuts and began killing camp counselors. Triceratops Brewing pays homage, or something, to Mrs. V with a chocolate milk stout brewed with  25 pounds of peanut butter richness combined with honey malt and milk sugar that provides a mild sweetness and a roasty backbone.
Block 15 Story of the Ghost
8.7% ABV
"Mysteriously brewed by ghostly bones under the pale gaze of a full moon, this spectral ale was left for our brewers to wonder over the following morn," states Block 15 Brewing Story of the Ghost hype. "Its ancient brewmaster tells a hoppy tale of tropical fruit and citrus, complemented by subtle floral, herbal, and pine notes. Together, this pungent blend will awaken your palate and reanimate your soul." Discover the story behind this ghostly double in Block 15's illustrated Story of the Ghost, created in collaboration with Pinetooth Press. Find it online at block15.com/ghost.
LINK: Peaks & Pints beer and cider cooler inventory
---