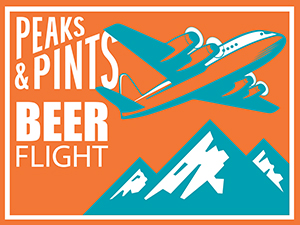 On sprawling farms clustered around Yakima and Willamette valleys, thousands of green Humulus lupulus vines snake vigorously skyward. A relative of marijuana, these hop plants produce resiny, cone-shaped flowers prized for their use as a bittering agent in beer. September is the traditional time for end-of-the-season harvesting and hops are no exception. That's good news for beer lovers, as many breweries take advantage of the numerous Pacific Northwest hop farms, creating beers flavored by hops sourced 3-5 hours from the kettle boil. These beers typically have an aroma akin to that of a freshly mowed lawn and the resinous and deep floral notes that hop heads love. Today, we present an in-house flight of fresh hop beers from Double Mountain Brewery in Hood River, Oregon, — a flight we call Peaks and Pints Beer Flight: Fresh Double Mountain.
Peaks and Pints Beer Flight: Fresh Double Mountain
Double Mountain Fresh Hop Iowa Bar Fight
6.4% ABV
First, Double Mountain sourced all their fresh hops from Crosby Hops in the Willamette Valley. Crosby Hops boasts a long-standing six-hundred-acre family hop farm. This picturesque farm, nestled between the majestic Cascade Mountains and the pristine Oregon Coast, benefits from the region's temperate climate, making it an ideal hop growing environment. It's no wonder that the Willamette Valley is renowned for producing some of the finest aroma hops on earth. Second, the founders of both Double Mountain and Solera Brewery have deep roots in the Midwest heartland. But things once familiar change. Old dirt roads get paved, and houses get built in cornfields. Sometimes you eat the bar, other times the bar eats you. Their collaboration IPA, Iowa Bar Fight, is brewed with Citra and Mosaic hops plus Strata hops for a brawl of sticky citrus and resinous tropics, finishing aggressively balanced and dry. Third, fresh Crosby Strata hops were used in this fresh hop version of Iowa Bar Fight.
Double Mountain Killer Juicy Fresh Hop
5.4% ABV

When Double Mountain created their Juicy, Clearly Not Hazy IPA, they set out to make a non-hazy, incredibly aromatic, juicy IPA, and lower on the alcohol. When Double Mountain decided to turn Juicy, Clearly Not Hazy into a fresh hop, they headed to Crosby Farms in Oregon's Willamette Valley. Brewed with fresh Centennial and Simcoe, Killer Juicy becomes a dense tropical rainforest dripping with sticky, delicious mango, ripe summer peach, light cannabis, and deep orange.
Double Mountain Killer Red Fresh Hop IPA
7.2% ABV

The birth of Double Mountain Killer Red happened after the choice of hops for the Hood River brewery's Killer Green Fresh Hop IPA were a little late, so the brewers decided to craft a sister brew with fresh Perle hops to fill the thirsty void. It stuck. This year's annual fresh hop trip to Crosby Farms in the Willamette Valley for Killer Red Fresh Hop changed with Double Mountain speeding back with fresh Centennial instead. The exorbitant amount of fresh whole-leaf hops heaped into the kettle and hop back give this juiced up IRA wonderful ripe apple, juicy forest, and fruited pine flavors and aromas with a hint of caramel.
Double Mountain Killer Green
7.3% ABV

Double Mountain was established in 2007 in the heart of downtown Hood River, Oregon. Founder Matt Swihart opened the brewery with a clear mission: make great beer for craft beer fans. Their unique location lends to not only using pure and clean glacial water for their beers, but they also take advantage of regionally grown hops. Killer Green fresh hop IPA is brewed with Centennial and Simcoe hops straight from Crosby Hops in the Willamette Valley. Quick from bine to the boil for initial bright evergreen, red fruit, and blood orange flavors that finishes will all the juicy pine and slight herb.
LINK: Peaks & Pints beer and cider cooler inventory
---