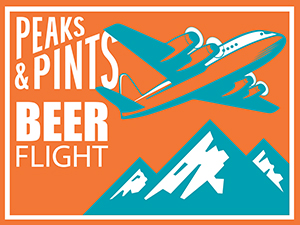 Van Havig, former brewmaster at Rock Bottom Brewery in Portland, and Ben Love, previously a brewer at Pelican Brewery and head brewer at Hopworks Urban Brewery, added to Portland's Beervana opening Gigantic Brewing May 9, 2012. The two brewers figured out how to have two head brewers then proceeded to make delicious beer. Their taproom had a college clubhouse vibe. They brewed amazing one-offs. Their label art, signed by the artists, could hang in museums. And they would brew with the coolest rock stars. Today, Peaks and Pints offers an in-house flight of Gigantic beers that we call Peaks and Pints Beer Flight: Gigantic.
Peaks and Pints Beer Flight: Gigantic
Gigantic Fresh Hop Pilsner
5.2% ABV
Made with 14 pounds per barrel of Goschie Farm's finest fresh Tettnanger hops, this soft fresh hop pilsner has bready malt characteristics, noticeable floral notes, and a spicy wet hop character.
Gigantic Sodbusted XI: The Book of Simcoe Fett
6.2% ABV
Boba Fett was a human male crime lord and former bounty hunter whose career spanned decades, from the fall of the Galactic Republic to the end of the rule of the Galactic Empire. A nod to Fett and the Star Wars franchise, Gigantic's "Sodbusted" series returns for the 11th year with Sodbusted XI: The Book of Simcoe Fett. Brewing with fresh Simcoe hops from Sodbusted Farm in Keizer, Oregon, this pale ale awakens with grapefruit and piney punchy hop aromas. The Force is strong with this one.
Gigantic Strata Fresh Hop Hazy IPA
6.2% ABV
Gayle Goschie, along with her brothers Gordon and Glenn, run their family Goshie Farms — a fixture in the Willamette Valley for more than 130 years. Also known as "So Fresh", Strata Fresh Hop Hazy IPA is brewed with 141 pounds of Goschie's finest fresh Strata hops. Enjoy soft, bready malt characteristics, noticeable floral notes, and a spicy wet hop character. Gigantic brewed this beer the first time last year, and it was such a big hit, and so damn good, they had to bring it back.
Gigantic Enjoy House!
7.3% ABV, bottle
This Gigantic Brewing and Von Ebert Brewing collaboration is inspired from a serendipitous encounter in Tokyo during the Hood to Fuji Beerfest. The two Portland breweries saw a second-story window with "Enjoy House!" painted on it and lit with Christmas lights. They went up the stairs to discover a dive bar decorated with streamers and balloons with cool music and friendly vibes. That late-night experience inspired Enjoy House! An IPA brewed with lots of Citra, plus dry hopped with Citra and Strata, for tropical flavors of pineapple, mango, and orange zest.
Gigantic Tierra Del Stout
7.2% ABV
Also called "sweet stouts," milk stouts are marked by the addition of lactose, a sugar naturally found in dairy, which lends a soft, creamy sweetness. Inspired by Mexican hot chocolate, Gigantic's rich and decadent milk stout, Tierra Del Stout, offers rich and decadent chocolate with vanilla, cinnamon, and a blend of chilies.
LINK: Peaks & Pints beer and cider cooler inventory
---