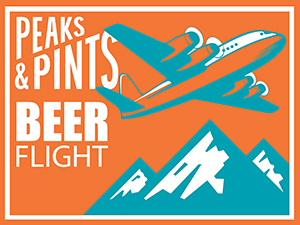 Gabe Fletcher, the head honcho at Anchorage Brewing, started his career at Midnight Sun, another Alaskan brewing company. After 13 years of helping cultivate an image of creating adventurous beers, Fletcher decided to part ways with Midnight Sun and strike out on his own. In 2011, Fletcher released his first Anchorage beer. Turns out Fletcher's meticulous attention to detail and brewing expertise combined to make some amazing beer. The brewery took off, eventually moving to its own brick and mortar in 2014. Today, Peaks & Pints presents an in-house flight of recently arrive Anchorage beers our cooler — a flight we're calling Peaks and Pints Beer Flight: Anchorage.
Peaks and Pints Beer Flight: Anchorage
Anchorage No Salvation
6.5% ABV
Anchorage's No Salvation saison is fermented in Missouri oak Foeders with two proprietary strains of Brettanomyces and two saison strains, and then dry hopped with Strata and Mosaic hops. It hits the nose with lemon, grapefruit, and citrus, followed by more mild lemon and grapefruit with some straw and grass earthy undertones.
Anchorage Maelstrom
6.4% ABV
A delicious IPA brewed with Mareko Maumasi of Maumasi Fire Arts — arguably one of the best chef knife makers in the world. Maumasi flew up to Anchorage to help Fletcher dial in his skills as a knife maker. With this IPA they used a few new hopping techniques and tried some new techniques with the phantasm powder, as well as double dry hop it with Riwaka, Nelson Sauvin, and Mosaic. Boozy and sweet on the nose, and juicy, juicy, and sweet.
Anchorage Beyond Repair
6.4% ABV
Riwaka, formerly known as D Saaz, is a product of HortResearch's New Zealand Hops "hops with a difference" program officially released to the brewing world in 1997. These hops have a 1:1 ratio between alpha and beta acids that gives off a robust citrus aroma which makes for a great IPA, especial Anchorage Brewing's Beyond Repair hazy IPA. It's brewed, and double dry hopped with Riwaka for a big citrus nose and flavor with slight dank notes and a touch of bitterness on the finish.
Anchorage Kill the King
15% ABV
Kill the King black barleywine/imperial stout blend is a blend of double and triple oaked beer finished on toasted coconut after spending a combined 20 months in a blend of 15-year Calumet Farms, Willet, Willet Rye, and Buffalo Trace bourbon barrels. Characteristics of both styles assert themselves strongly with strong, sweet coconut, big barrel notes, and strong alcohol on the feel.
LINK: Peaks & Pints beer and cider cooler inventory
---