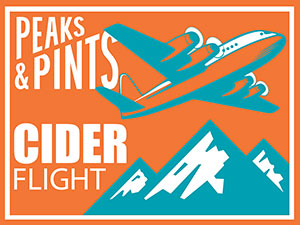 In the rolling farmland of Chimacum Valley along a salmon stream just south of Port Townsend, Finnriver Farm & Cidery's orchards stretch across 80 acres using more than 20 different varieties of apple tree. Their mission is to reconnect people to the land that sustains us and to grow community. They seek to create deep-rooted and fruitful connections at their farm-based taproom and rural gathering space. Finnriver's farm and orchard is Certified Organic and Salmon Safe, and the company is a Certified B Corporation, seeking to make business a force for good. Finnriver also makes exceptional cider, thanks to head cidermaker Andrew Byers and new lead cidermaker Chris Weir. This week's Peaks and Pints Monday Cider Flight is Finnriver Farm & Cidery. Stop by our craft beer and cider bar, bottle shop and restaurant in Tacoma's Proctor District and grab our in-house cider flight, Peaks and Pints Monday Cider Flight: Finnriver Farm.
Peaks and Pints Monday Cider Flight: Finnriver Farm
Finnriver Pear Cider
6.5% ABV
Finnriver's small batch Pear Cider features cider fermented on the farm using 100 percent organic apple juice pressed from Washington apples. Finnriver ferments the apple juice, and then sweetens it with organic pear for additional depth, sweetness, and flavor, although apples rule the nose here. There's a certain bitterness grounding the pear flavor, pulling it out of the realm of single-note sweetness.
Finnriver Tideline
6.5% ABV
This cider is a thoughtful infusion of the Hama Hama hillsides and coastlines. A taste of two communities, trees and cider, flowers and fruit. This is a botany of Hama Hama immersed in the fermentation of Finnriver. Made with organic golden russet apples, nootka rosehips, and Grand fir tips for smells of pine resin and earth, followed by crisp edgy citrus peel and a grounding, slightly nutty finish from the rose hips.
Finnriver Shaded Stream
6.5% ABV
Part of Finniver's "Pollinator Series," honoring our partnerships with local organizations who share a commitment to the land that sustains us, Shaded Stream highlights the mission of the North Olympic Salmon Coalition, which works to maintain healthy salmon habitats in the Olympic Peninsula region. We aimed to invoke the riparian flavor of a shaded creek. This cider aged on Western Red Cedar staves for two months and was then infused with blue and black elderberries and elder flowers. Tree, flower, and fruit fermented together to celebrate healthy streams.
Finnriver Cidermarker Series: Sour Raspberry
6.7% ABV
Spearheaded by Finnriver's new lead Cidermaker, Chris Weir, this succulent batch draws on his years of experience in the beverage industry. For this batch, Weir was excited to play with a new strain of souring ale yeast to Finnriver. "Unlike a lot of standard souring yeast strains that give you that funky outcome, this one produces a smooth creaminess, without the barnyard funk. On its own, this strain produces a large amount of lactic acid during primary fermentation, so most people cut this yeast with another yeast to mellow it out. Instead of cutting it, we experimented with arresting fermentation and then filtering to strip out the yeast. We then racked and aged it on whole organic red raspberries. While I've played with a lot of souring yeast strains, I've never experienced one that can achieve this level of souring and still maintain a clean and bright aroma and flavor. This cider has a unique sweet-tart flavor that I've never experienced before in a cider," Chris explains in a Sour Raspberry release statement.
LINK: Peaks & Pints beer and cider cooler inventory
---