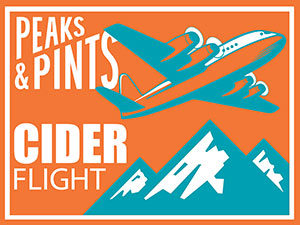 When English colonists first arrived in North America, they enthusiastically embraced the wide range of wild fruits they found growing, from grapes to berries. Unlike back in England, however, edible apples were tough to find. The colonists quickly got to work on rectifying this situation, and as early as 1623 they were planting cider apples in New England from imported seeds. Apples flourished in the fertile soil and friendly climate, and soon everybody drank cider until the Industrial Revolution. John Adams began his days with a draft of hard cider. Plus, in the absence of money, hard cider became as good as cash. Colonists would pay their bills with barrels of hard cider and worked out barter arrangements centered on hard cider. Today is Apple Cider Day. Whether it's served warm with cinnamon, freshly made at an orchard, or pouring hard from Peaks & Pints, this delicious drink is the ultimate fall vibes in a (tulip) glass. Stop by Peaks & Pints and enjoy our in-house flight of apple cider — a flight we're calling Peaks and Pints Apple Cider Day Flight.
Peaks and Pints Apple Cider Day Flight
Incline Maple Haze
5% ABV
It's Incline Cider Company's fourth anniversary today. They have a big, all-day party planned at their Incline Cider House in Tacoma's Historic Brewery District. The Zehner family makes delicious, crushable cider, many from a dry-hopped apple base to pull out citrus aromas. The Auburn-based cidery with the popular Tacoma taproom uses 100 percent fresh pressed apples, no added sugar, no carbonated water, and the result are ciders that are balanced, not too sweet and super flavorful. Rich maple flavor and robust cinnamon notes come together with a honeycrisp cider base in their Maple Haze.
Newtopia Chai Me a River
5.8% ABV
Newtopia Cyder co-founder and cyderist Rick Moreno got his start in the industry as co-owner of beer bar Toronado in Seattle. Cyder, the old English spelling, is co-owned by his wife, Jennifer Hays Moreno, who met Rick while working in the health care industry. The San Diego cidery sources apples and other fruits in nearby Julian and Temecula, and as far away as Santa Cruz, Hood River, and Yakima. Rick developed his cider chops in his garage, then apprenticed with Newtopia's "master cyderist," Rusty Figgens, a member of the family that founded Washington's famed Leonetti Cellar, who also knows his way around a distillery. Their gold medalist apple pie chai spiced cider, Chai Me A River, is a blend of Fuji, Gala, Honey Crisp, Red Delicious and Granny Smith apples with flavors cinnamon, calming chamomile, and tangy chrysanthemum.
Double Mountain Estate Heirloom Cider
6.7% ABV

Double Mountain Brewery's Estate Heirloom Cider is made with apples from the company's own orchard in Hood River. Multiple varieties of apples including Golden Russet, Dabinet, Foxwhelp, Kingston Black, Brown Snout, Braeburns, Ashmead Kernel and more bring the complexity of heritage cider apples forefront on this estate cider. It is this artistic blend of bittersharp, sharp, and bittersweet varieties that develop the richness.
2 Towns RiverBreak Dry
6.9% ABV
In late 2010, Corvallis homebrewers Aaron Sarnoff-Wood and Lee Larsen filled a gap in the college town's drinking scene — cider. The duo opened 2 Towns Ciderhouse crafting unique ciders brewed with the traditional English and French-style's tannic apples, Oregon grown, of course. Named after the cities of Corvallis and Eugene (Larsen's a Beaver; Sarnoff-Wood a Duck), their childhood friend, Dave Takush, joined the company and his master's degree in fermentation science at Oregon State University helped him eventually become 2 Towns head cidermaker. Now the number one independent cidery in the country, 2 Towns has more than 100 employees and is dedicated to producing quality craft cider from 100-percent fresh-pressed Pacific Northwest apples. 2 Towns made Peaks & Pints' 2023-24 house cider, a McIntosh apple-based dry cider we call RiverBreaker as a salute to the Willamette River, an integral part of the valley that shares its name and flows through Corvallis. RiverBreaker is rich and complex, reflecting the balanced sweetness and acidity of the McIntosh apple with its distinct white flesh and vinous flavor.
Yonder Wenatchee Wave
7.9% ABV
Founded in August 2020 by CEO Caitlin Braam and crafted by Head Cidermaker Monique Tribble, Yonder Cider makes savory, subtly sweet and high ABV ciders in Wenatchee with a taproom in Seattle's Ballard neighborhood, which is shared with Bale Breaker Brewing from the Yakima Valley. Crafted using a blend of bittersweet cider apples and juicy dessert apples, Yonder ciders are hardly simple, and never straightforward, but you can always count on them being interesting. Their Wenatchee Wave rosé cider is dry, bright and aromatic, made with 100-percent red-fleshed Wenatchee Wave apples.
LINK: Peaks & Pints beer and cider cooler inventory
---