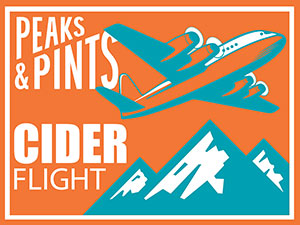 Northwest Cider Association's 11th Annual Washington Cider Week continues at Peaks & Pints with day nine of to-go Washington cider flights from our taps and cooler. Today, we feature Whitewood Cider Company from Olympia. In 2012, when Dave White met Heather Ringwood in the cider naming room the two business partners created Whitewood, the South Sound's first cidery. White has family roots in the state's apple capital, Wenatchee — his grandfather worked in the apple industry — so he doesn't mess around much with other fruits. In fact, White became a founding member of the Northwest Cider Association. Drop by Peaks and grab our Whitewood to-go flight — a flight we call Peaks and Pints 2021 Washington Cider Week: Whitewood.
Peaks and Pints 2021 Washington Cider Week: Whitewood
Whitewood McIntosh Heirloom
6.2% ABV
David White started his production-only Olympia cidery in 2011 with business partner Heather Wingwood, with their first cider release in 2012. In May 2013, Whitewood Cider Company opened for business in Olympia, the only craft cidery between Seattle and Portland. The McIntosh apple was developed in Ontario, Canada in 1798. The McIntosh has a distinct perfume-like aroma. The flesh is firm, juicy, and white. It is an all-purpose apple great for eating fresh, cooking or a cider with a champagne-like nose and sweet, bubbly apple taste.
Whitewood Olivia Newtown-Jonathan
6.6% ABV
Olivia Newtown-Jonathan is a Newtown-Jonathan blend Whitewood affectionately and humorously refers to as Olivia. Whitewood's Newtown-Pippin cider has rich lime and pineapple flavors that lend a perception of tropical sweetness and develop into fresh apples flavors. The cidery's Jonathan cider starts out full up front good acid backbone followed by scant traces of a caramel/butterscotch flavors, and finishes clean with notes of, sour orange, Meyer lemon and citrus flavors.
Whitewood Red Cap Dry Northwest Session Cider
6.9% ABV
Whitewood has a young unapologetically unfiltered yet balanced session cider in their arsenal called Red Cap Dry Northwest Session Cider. It's a light, crisp, refreshing everyday drinking cider. It's a go-to everyday cider. It's an unadulterated fermented apple experience. Culinary apple base from Northwest apples, it's blended with seasonally pressed, fermented, and aged cider from Northwest heirloom apples, then finished with a bit American and French oak to add aromatics, oak tannin, and complexity.
Whitewood North Baker Flats
6.9% ABV
North Baker Flats is made with 20 to 30 antique apple varieties grown besides the Columbia River from one of Wenatchee Valley's oldest orcharding families, then pressed on site next to the river for crisp and fruity heirloom blend cider with flavors of juicy citrus balanced with a ripe berry sweetness.
LINK: Peaks & Pints cooler inventory
---