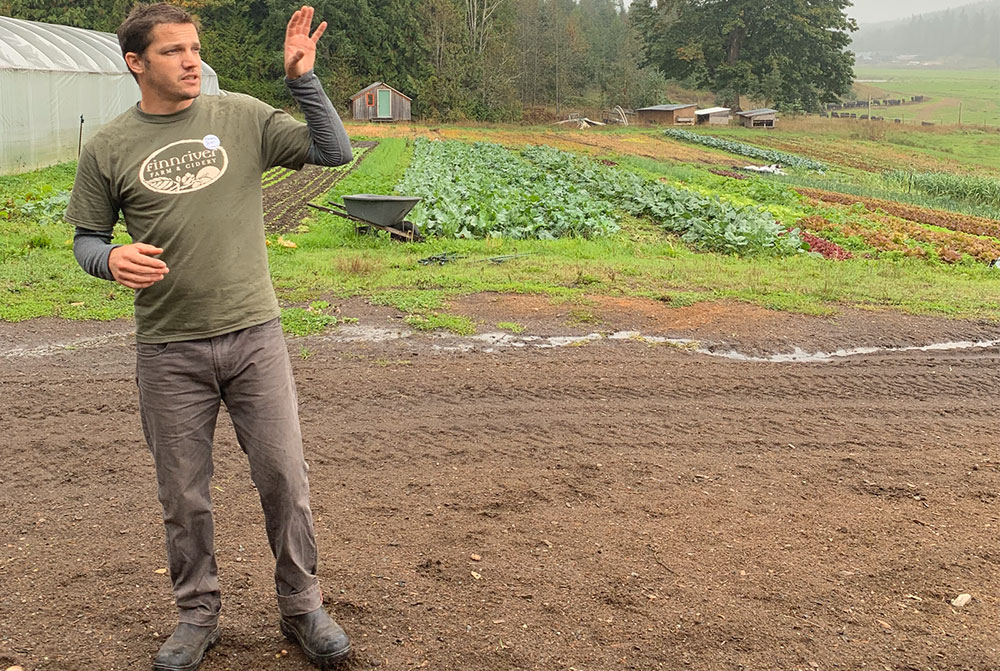 Washington Cider Week 2021 Finnriver For The People
Peaks & Pints Apple Press: Cider News, Reviews, and Interviews
"It is indeed bad to eat apples; it is better to turn them all into a cider." Benjamin Franklin recorded this comment when overhearing a Native American's response to the story of Adam and Eve. One hundred eighty years before the United States, an iron screw likely was taken from a hard cider press and driven into the central mast of the Mayflower to prevent the ship from sinking. Indeed, hard cider played a pivotal role in the formation and of the early colonies in many aspects. The pilgrims relied heavily on apple cider for their basic survival needs — cooking, sanitary hydration and, of course, keeping warm in those frigid early winters. By the turn of the 19th century, hard cider consumption was recorded at 34 gallons a year for every citizen older than 15 years of age. It had earned its place as the most popular alcoholic beverage by staying cheap, strong, and plentiful for every one of every class. Even the founding fathers had a strong bond with the beverage; John Adams proudly admitted to drinking a tankard of cider every morning because he believed it had a direct connection to longevity. He lived to be 91. It's Day Nine of Northwest Cider Association's 2021 Washington Cider Week, which means it's Day Nine of Peaks & Pints' coverage of said event. Let's get at it. …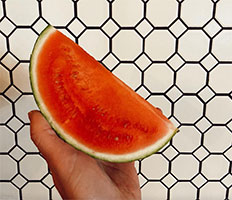 Press Play
>>> Incline Cider House continues its Washington Cider Week celebration with the release of their Incline Salted Watermelon Cider, as well as a weekend long Tieton Tap Takeover. 2-9 p.m., 2115 S. C St., Tacoma, 253.327.1923
>>> Peaks & Pints presents an all-day, to-go flight of Whitewood Cider out of Olympia. Click here for more details. 11 a.m. to 11 p.m. Friday, Sept. 17, 3816 N. 26th St., Basecamp Proctor, Tacoma, 253.328.5621, no cover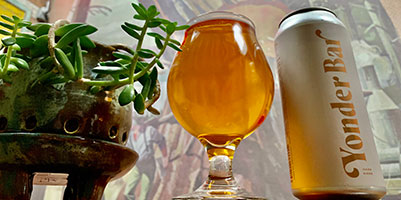 Cider(ific)
Yonder First Anniversary: In August 2020, Yonder Cider opened their Yonder Bar, which was basically a garage bar — the first taproom of its kind in the state of Washington. This road wasn't easy with a neighbor trying to force them to close, but changing the game is what Yonder did, and they wouldn't have it any other way. Their First Anniversary cider blend (6.9%) is aromatic rich and full bodied, with a touch of spice and notes of ripe stone fruit. Yonder recently opened a new taproom in Seattle's Ballard neighborhood sharing the space with Bale Breaker Brewing. Yonder First Anniversary cans are in the Peaks & Pints cooler.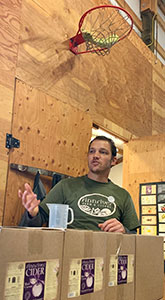 5-ounce Interview
Andrew Byers, a botanist, wordsmith and Le Cordon Bleu chef turned cidermaker, has been managing microbial populations at Finnriver Farm & Cidery for almost nine years; before that he helped produce estate-grown sparkling cider in cider orchards of upstate New York.  He brings an academic emphasis in fungal ecology and systems thinking/design to the forefront of home cider production, as well as a deep knowledge of tree fruit. Bring your dictionary on Byers-led tours of the farm, which we forgot to bring when we heard these answers two years ago while on the tour.
PEAKS & PINTS: How did you get into cider?
ANDREW BYERS: It took me 20 years to leave city life and go stare at trees, academically speaking. After college I picked fruit for a living. Things developed from there.
PEAKS & PINTS: Tell us about Finnriver Farm & Cider.
ANDREW BYERS: It's a 33-acre block of land. This is where owners Crystie and Keith make cider for you to hold on to. As long as deeds and property ownership exist this is going to stay a big ol' rectangle block of land. Twenty years ago, Elijah and Kay came to Chimacum Creek and did a restoration planting to grow blueberries. This is what a 25-year-old restoration planting looks like on a creek. It's big. It shades. And it makes a ton of life. And cougars took the hill three years ago. We work here to make ciders. Cider is a means to an end. It connects people back to the land. It's a means pay the mortgage on an awesome piece of land. Cider is a means to economically stimulate a rural economy other than strip malls and Best Buys. And we gainfully employ people in a small town. That's what it is all about. In fact, that seems like our main focus — the human component.
PEAKS & PINTS: It's hop season. Where do you get your hops for your Dry Hopped Cider?
ANDREW BYERS: Our hops come from a fella up the way. It's typically Chinook, Zeus and Cascade Peninsula grown hops. They're fresh, although the fella says he puts them in a dehydrator for an hour and a half because he heard it will break less cells.
[Finnriver Farm & Cidery, noon to 8 p.m. Thursday-Sunday, 124 Center Road, Chimacum, 360.339.8478]
---