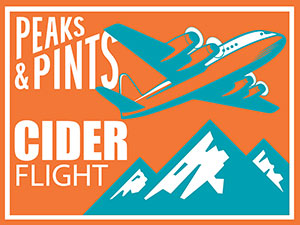 It's not surprising that craft cider has taken root in Washington state — a region of wine and craft beer enthusiasts. Washington is the second largest wine producer and has the second highest number of craft breweries in the country. But when it comes to cider, Washington is fourth in the nation. In 2008, there were maybe four cideries in Washington; now about 66 dot the state from San Juan Island to Pullman, and even wineries are getting in on the action. It also only makes sense that an area known as the world's apple capital would also be home to producers of hard apple cider. For Peaks & Pints' ninth to-go cider flight during Washington Cider Week, we focus on cideries in the greater Chelan County where apple is king. Drop by Peaks & Pints craft cider and beer bar, bottle shop and restaurant 11 a.m. to 8 p.m. and grab the day's to-go cider flight, Peaks and Pints 2020 Washington Cider Week: Chelan County, then head to the Washington Cider Week website to find out what's what. Cheers!
Peaks and Pints 2020 Washington Cider Week: Chelan County
Independent Lavender Perry
5.5% ABV, Campfire Crowler fills

Montana State University friends Micah Roberson, Michael Partheymuller and Kramer Christensen opened Independent Cider in the upper Wenatchee Valley near Leavenworth and Cashmere. They produce handcrafter perry — a cider made completely with fermented pear juice as its base — playing up on the natural sweetness and pear flavor in their products. Their Lavender Perry is made with two varieties of lavender harvested down valley from their pear orchards. The blended buds from this mid-summer flower are dried and steeped to contribute subtle lavender notes and flavors.
Snowdrift Cap O'Liberty Ashton Bitter Batch #5
7.5% ABV, bottle

Snowdrift Cider Company sits in Central Washington near East Wenatchee. The cidery controls its own source of apples, tending an orchard that not only produces dessert apples, but also an array of traditional cider apples including Dabinett, Foxwhelp, Golden Russet, Brown's, Wickson Crab, Calville Blanc d'Hiver, Yarlington Mill and Ashmead's Kernel. Snowdrift Cap O'Liberty Ashton Bitter Batch #5 is part of Snowdrift's Cidermaker's Branch Series made with Cap of Liberty and Ashton Bitter apples.
Union Hill Hopped & Hazy
7.8% ABV, Campfire Crowler fill

Andrew and Katja Handley left Union Avenue, drove down the hill, waved goodbye to East Wentachee and delivered their Union Hill Cider Company goods to Peaks & Pints. The Handleys have been making cider on their family orchard since 2012, but recently have been spreading the good word in Western Washington. Peaks and Pints is thrilled to have their family business in our lodge, especially their Hopped & Hazy, an off-dry cider hopped by heating the cider and adding the hops to extract more flavor. With the addition of the dry hopping process, the floral and fruity notes pair wonderfully with the bitterness that the hopping process adds to this cider.
---