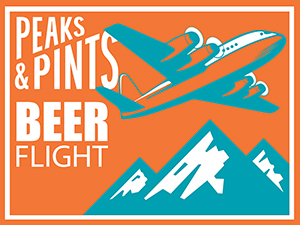 "What the hell does Peaks & Pints know about St. Patrick's Day?" OK, you might be a tad skeptical about our Irish credibility, given the telling nature of our environment, beer list, cooler inventory, kitchen menu, and most the staff's last names (Hi bartender Matthew Sullivan!). Yet, we've tried black pudding, we have participated in the New York City St. Patrick's Day Parade and heard the story of the Blarney Stone. And we've even sung some misty-eyed renditions of "Danny Boy" before being tossed out on the sidewalk. While Peaks & Pints may not have Irish blood coursing through our veins, we can get behind one aspect of St. Patrick's Day, lads and lassies, the zero-to-60 drinking sessions. And, since we just received a pot full of liquid gold this month, we present Peaks and Pint Pilot Program: St. Patrick's Day Beer Flight.
Peaks and Pint Pilot Program: St. Patrick's Day Beer Flight
Guinness Extra Stout
4.2% ABV, can
Arthur Guinness began by brewing ales and porters. It wasn't until 1819, with the introduction of Daniel Wheeler's black "patent" malt, that stouts began to be brewed. The words "dry" or "Irish" are often tacked on to "stout" to differentiate it from English and American sweet or milk stouts, which usually contain oatmeal or lactose. Yes, the Guinness brewery in Park Royal, London closed in 2005. The production of all Guinness sold in the UK and Ireland was moved to St. James' Gate Brewery, Dublin. Guinness Extra Stout is a top-fermenting brew made with roasted malts and roasted unmalted barley. It's classified as a "dry stout" or "Irish stout" — smoother and roastier than its English and American counterparts. The regular stuff is extra-dark with a black hue and a dense, tan-colored foam. Despite its dark color and strong flavor, the medium-bodied stout is quite drinkable.
Kulshan Mossy Rock Dry Irish Stout
5% ABV, can
A style that gained international fame thanks to Guinness, Irish Dry Stouts are characterized by a smooth malt body, high drinkability and a dry roasty finish. Kulshan Brewing's Mossy Rock is a traditional take on the style, brewed with Golden Promise, roasted barley, Chocolate malt, flaked barley, and Cluster hops, boasting bready malt notes and coffee-like roasted malt notes, and a clean dry finish that is a bit surprising given its black color.
Block 15 Favorable Fortune
4.6% ABV, can
A traditional English style (because at the time, Ireland was still a part of the British Empire), Irish dry stout has a couple of key characteristics. Two words: roasted barley. The use of unmalted roasted barley adds more of that iconic roast and dry character and it's the ingredient that makes these types of beer identifiable. Plus, it contributes to the beer's lovely dark color. A silver medalist at the 2022 Oregon Beer awards, Block 15 Brewing's Favorable Fortune is a bold, yet balanced example of a dry Irish stout. Expect notes of espresso and hop bitterness enhancing the dryness, while flaked barley adds a smooth, creaminess.
Block 15 Charmed Life
5% ABV, can
Irish Red Ale. The term is rarely heard in Ireland but in other parts of the world it is commonly used to describe a style of reddish-amber ale that has its history and heritage in Ireland. This style of beer is characterized by its color and by its malt profile, which typically includes a caramel or toffee-like sweetness. Irish Red Ale typically features caramel and a touch of roasted malt to add depth of flavors. Block 15 Brewing's version is low on bitterness, but big on flavor. Charmed Life is a medium-bodied red ale offering a pleasant, malty nose with a subtle caramel flavor that balances with a clean finish.
Triceratops Collin James Irish Red Ale
5% ABV, draft
Low in alcohol and bitterness, Collin James Irish Red Ale is a well-balanced people pleaser. Lightly hopped with the mild, earthy, and somewhat woody Fuggle variety, this beer entices the nose with a rich, toffee-like aroma. Meanwhile, notes of plum and raisin play with a slightly bready and nutty flavor provided by Irish ale malt and a touch of roasted barley.
Bayern Killarney
5.7% ABV, 23 IBU
Bayern Brewing was founded in Missoula, Montana in 1987. Literally translated, Bayern (pronounced Bye-ern) means the German state of Bavaria — the homeland of Jurgen Knoller, Bayern Brewing's owner and masterbrewer. Brewed for St. Patrick's Day, Killarney was created to honor the Irish influence on Montana's culture. Brewed first in February of 1988, before any other American breweries came out with their versions of an Irish Red style beer, Killarney is Jürgen's invention of the beer style and one of his favorite Bayern beers. It is brewed with 2-row, Pilsner, Caramel, Munich, wheat and German Dunkel malts.
LINK: Peaks & Pints cooler inventory
---