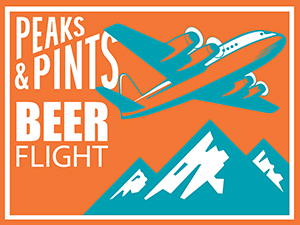 Christine and Doug Ellenberger opened Everybody's Brewing in 2008 after years of planning the craft brewery when they weren't working their shifts at Full Sail Brewing Company directly across the Columbia River. Doug's 20-plus years brewing and Christine's years in the restaurant industry melded into a popular brewpub with a killer view of Mt. Hood. In 2018, the brewery relocated to a brand-new building a few doors to the east on White Salmon's main drag. Now five years after the relocation, Everybody's Brewing has spruced up its packaging and brand imaging. The full overhaul of their visual identity will be rolled out across all facets of the business, including packaged products, interior design, and online presence. The launch of the rebrand coincides with the release of four new year-round 12-ounce cans, and two new seasonal 16-ounce cans. Peaks and Pints will host Everybody's Brewing's Rebrand Launch Party from 5-8 p.m. Tuesday, March 14, showcasing the brewery's rebranded logo and new beers, plus a to-go Everybody's beer flight, which we call Peaks and Pints Pilot Program: Everybody's Rebrand Beer Flight.
Peaks and Pints Pilot Program: Everybody's Rebrand Beer Flight
Everybody's Local Logger Lager
4.9% ABV, 18 IBU
Everybody's takes a traditional German approach to their lager, using only Saaz hops, and a finely tuned malt bill. It's crisp, smooth, and clean with a light golden color with subtle floral notes and mild spice. Sadly, the newly designed Local Logger Lager can in this flight for looking only as the can didn't arrive in time for the flight, but you can fill one of Peaks & Piunts' Campfire Crowlers with the lager as it's on tap .
Everybody's Co-Pilot Pilsner
4.9% ABV, 27 IBU
Everybody's new branding has a clean, but retro feel, and maintains the playful aspect that defines Everybody's brand. This can be exemplified by 12-ounce cans of their new Co-Pilot Pilsner, featuring a joyful, animated dog hanging out the side of a classic pickup truck window. This German-style pilsner is brewed with 100 percent Pilsner malt and traditional noble hops. Expect perfect clarity and brilliantly effervescent.
Everybody's Early Riser Easy IPA
4.5% ABV, 22 IBU
Session beers are easy to repeat because of their lower alcohol content and general perception as being less filling. Whatever your "session" — an evening on the rooftop, gathered around a campfire, front row at the concert — you want a beer that keeps the good times going, not sends people packing. Everybody's new session IPA, Early Riser Easy IPA, is a citrus-forward IPA without the high ABV, so you can knock a few back without skipping that morning mountain bike ride.
Everybody's Old Soul Porter
5.8% ABV, 32 IBU
To be an old soul is about more than having an enhanced level of maturity. It's about having a solid sense of self and forging your own path in the world. Old souls focus on positive thinking, understand what makes the world go round, and look at the big picture. They are wise beyond their years, and are grounded and intuitive. Everybody's new Old Soul Porter forges its own path with Bravo, Cascade, and Chinook hops for layers of toffee and caramel topped with dark roast and a subtle spice.
Everybody's Country Boy IPA
6.2% ABV, 69 IBU
Doug and Christine Ellenberger turn their pub in historic downtown White Salmon, Washington, into Everybody's Brewing. Their love for each other, the great outdoors, and craft beer fueled a successful business and community hub. Their flagship beer, Country Boy IPA, is a classic-styled IPA, brewed with Columbus, Chinook, and Cascade hops. The body is fairly dry, with just enough sweetness to make it very drinkable. The hops give a nice bitter flavor, and clean citrus character — more on the lemongrass and yellow grapefruit side.
Everybody's Escape Artist IPA
6.6% ABV, 67 IBU
Brewed with Centennial, Citra, El Dorado, and Mosaic hops, Everybody's new Escape Artist IPA offers bold, tropical aromas and bright citrus flavors of tangerine and guava.
LINK: Peaks & Pints cooler inventory
---
Category:
Beer Flight
,
Beer Line Blog
,
Craft Beer
,
Critical Drinking
,
Events and Festivals
,
Houses of Craft
,
In The Cooler
,
New Releases
,
News and Updates
,
Peaks and Pints Lodge Meetings
,
Peaks and Pints Pilot Program
,
Proctor District
,
Shop
,
South Sound
,
Specials
,
Tacoma events
,
Taps Takeovers