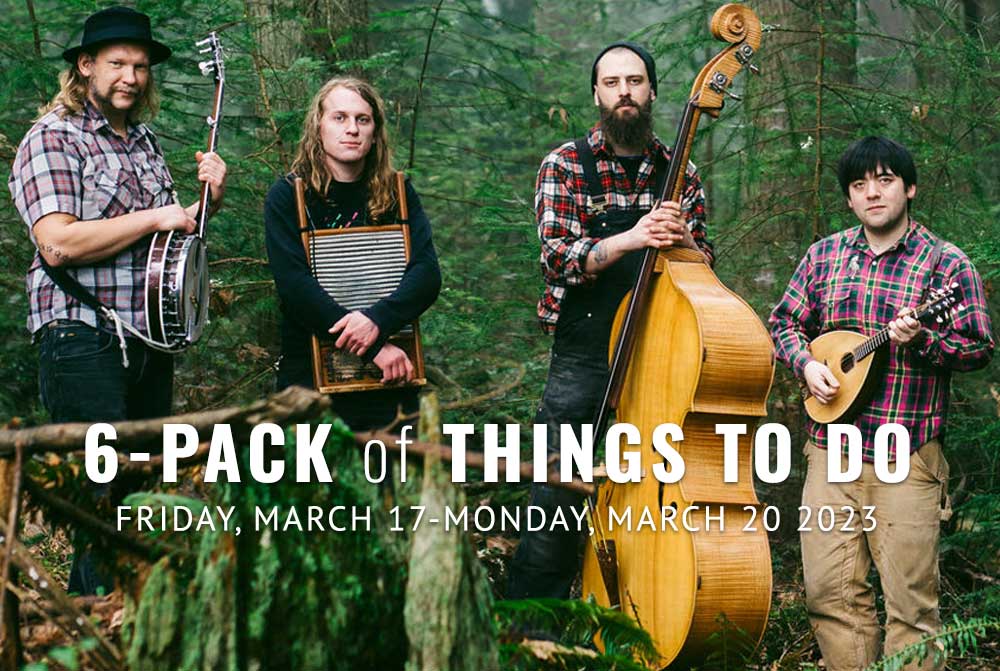 6-Pack of Things To Do: March 17-20 2023
The weekend is here so we assembled some exciting events in the greater Tacoma area including a massive party celebrating the guy who drove the snakes out of Ireland.

BEER FLIGHT: OK, you might be a tad skeptical about Peaks & Pints' Irish credibility, given the telling nature of our environment, beer list, cooler inventory, kitchen menu, and most the staff's last names (hi Peaks bartender Matthew Sullivan!). Yet, we've tried black pudding, we have participated in the New York City St. Patrick's Day Parade and heard the story of the Blarney Stone. And we've even sung some misty-eyed renditions of "Danny Boy" before being tossed out on the sidewalk. While Peaks & Pints may not have Irish blood coursing through our veins, we can get behind one aspect of St. Patrick's Day, lads and lassies, the zero-to-60 drinking sessions. And, since we just received a pot full of liquid gold this month, we present Peaks and Pint Pilot Program: St. Patrick's Day Beer Flight. 11 a.m. to midnight, Friday, March 17, Peaks & Pints, 3816 N. 26th St., Basecamp Proctor, Tacoma

PODCAST: Stuff a napkin in your shirt collar and put down that menu because the Grit and Grain is serving up some Doug Ellenberger this week! In 2001, Ellenberger packed up his 1987 Volvo Station Wagon and made the haul from Indiana to Hood River, Oregon, following his love of craft beer and mountainous terrain. He brought with him a few duffel bags belongings and a load of knowledge from his time brewing for Lafayette Brewing Co. He landed himself a job at Full Sail Brewing where he honed his craft and met his future wife, Christine. In 2008, the duo founded Everybody's Brewing in White Salmon, Washington. Tune-in to Grit & Grain Episode 37 to hear Ellenberger discuss his days in Indiana, his beloved White Salmon, Everybody's rebranding and new beers, and his initial thoughts on Pepsi Co. shuttering smaller regional distributors, which will affect the distribution of his beer. To listen to Grit & Grain Episode 37 with Doug Ellenberger of Everybody's Brewing, and previous Grit & Grain episodes, visit gritandgrainpodcast.com, or search your favorite podcast mediums, including Channel 253. Cheers!

PATRICK'S DAY: When you combine the biggest Irish holiday with one of the finest Irish pubs in the South Sound, you get a celebration that can't be contained in a single day. That's why Doyle's Public House is spreading this year's celebration over two days under a giant tent. Friday, March 17, the Stadium District pub hosts bands Ockham's Razor and The Rusty Cleavers, then on Saturday Jordani, Ethan Tucker Band, The Gritty City Sirens Burlesque Show, and Stephanie Anne Johnson Band wrap up the celebration. 6 a.m. opening, 6 p.m. music, Friday, March 17 and Saturday, March 18, Doyle's Public House, 208 St Helens Ave, Tacoma, $10 music ticket at the door

MOVIE: Bestowed with the powers of the gods, Billy Batson and his fellow foster kids are still learning how to juggle teenage life with having adult superhero alter-egos. But when the Daughters of Atlas, a vengeful trio of ancient gods, arrive on Earth in search of the magic stolen from them long ago, Billy — aka Shazam — and his family are thrust into a battle for their superpowers, their lives, and the fate of their world. Stop by Peaks & Pints for a Fort George Blue Mouse IPA before or after the screening of Shazam! Fury Of The Gods at the Blue Mouse Theatre in Tacoma's Proctor District. 7 p.m. Friday, March 17-Monday, March 20, 3:45 p.m. Saturday and Sunday, Blue Mouse Theatre, 2611 N. Proctor St., Tacoma

THEATER: Aqua Net, Lycra, lace, and liquor flow freely at one of the Sunset Strip's last legendary venues in the 1980s. A place where sex machine Stacee Jaxx takes the stage and scantily clad groupies line up to turn their fantasies into reality. Amidst the madness, aspiring rock star (and resident toilet cleaner) Drew longs to take the stage as the next big thing (and longs for Sherri, fresh off the bus from Kansas with stars in her eyes). But the fairy-tale is about to end when German developers sweep into town with plans to turn the fabled Strip into just another capitalist strip mall. Can Drew, Sherri, and the gang save the strip, and themselves, before it's too late? Only the music of hit bands Styx, Journey, Bon Jovi, Whitesnake, and more hold the answer. Catch Rock Of Ages at the Tacoma Little Theatre this weekend. 7:30 p.m. Friday, March 17 and Saturday, March 18, 2 p.m. Sunday, Tacoma Little Theatre, 210 N. I St., Tacoma, $22-$29
BOXING: Tacoma Arts Live hosts the Nomad Boxing Club and All Nations Foundation's 2nd Annual Bumblebee Memorial Box Off Saturday, March 18 at the Tacoma Armory. Catch this showcase of the area's premier boxers competing in honor of the late great Coach Bumblebee, who passed in October of 2021. This event allows the whole community to carry on his name and legacy. While dementia set in towards the end of his life, he never forgot about boxing — so boxing ought to never forget him. 5 p.m. Saturday, March 18, Tacoma Armory, 1001 S. Yakima Ave., Tacoma, $20
LINK: Receive the Peaks & Pints 6-Pack of Things To Do via newsletter
---