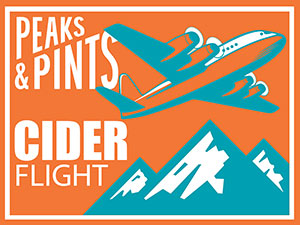 Apples were among some of the first crops grown in colonial America. Potted seedlings and bags of apple seeds were brought over on the Mayflower. The Bible-thumping Puritans were not teetotalers. Apple orchards in colonial America usually meant one thing: hard cider. Apples flourished in the fertile soil and friendly climate, and soon apples were a key part of most colonial farms and menus. A thirst for beer and the introduction of prohibition laws meant hard cider became an almost forgotten beverage, but it is currently undergoing a revival with small producers and large booze brands all getting in on the act. While boozy, apple-based beverages might seem like an all-American tradition, Spain, France, Germany, Austria, the United Kingdom, and beyond also have long traditions of cider production in unique regional styles. Perhaps the most distinctive international style is the sidra of Basque Country in northern Spain. There, cider houses called sagardotegiak have produced naturally fermented, unfiltered ciders since the 11th century. The French have been making cidre for centuries, particularly in Normandy and Brittany, and many of our own cider apple varieties originated on that side of the channel. Today's Monday cider flight is all about European ciders. Stop by our craft beer bar and bottle shop for Peak and Pints Monday Cider Flight 7.8.19: European.
Peak and Pints Monday Cider Flight 7.8.19: European
Eric Bordelet Sidre Tendre
3.5% ABV
During the 1980s, Eric Bordelet was considered one of the most influential figures in the Parisian wine scene, as he spent several years at the helm of the wine program at the illustrious Michelin Three Star restaurant of l'Arpège in Paris. However, his native Normandy called him, and he handed over his sommelier duties at l'Arpège and returned to the windswept orchards of Normandy in 1992, desiring to bring his superb palate to bear on the high-powered ciders of the region. Believing that cider and poiré, or perry as it translates to English, should be produced like wine he grew more than 20 varieties of apple and 15 varieties of pear on his family orchard situated in the south of Normandy on the Armorican Massif, extending from Domfrontais to the outermost borders of the Mayenne and the Orne. His Sidre Tendre is an apple cider made in a gently off-dry sparkling style, with racy acidity giving the wine an almost dry impression. Expect notes of concentrated red apple, apple skin, vanilla, honey and a light tartness.
Etienne Dupont Cidre Bouché Brut de Normandie 2017
5.5% ABV
Etienne Dupont sits in Pays d'Auge, a part of Normandy, France, well known for the quality of its ciders. The Dupont Estate consists of 74 Acres in Normandy, in the heart of the Pays d'Auge region. They produce ciders, pommeau and calvados. Etienne Dupont Cidre Bouché Brut de Normandie 2016 has a beautiful apple scent with sweetness, funk, citrus and pear drops ("cidre bouché" is a generic term for traditional cider, literally "cider under cork"). The taste is even better — light fizzy sweetness, big complex apple and fruitiness, a hint of funk and some light tartness. It's absolutely delicious.
Viuda de Angelon Pretty Dry Perry
5.5% ABV
The residents of Asturias, on the Costa Verde of northwest Spain, were producing cider in the 1st century B.C. In Asturias, pears trees are a prized homestead feature more than an orchard crop and perries are traditionally an exclusively homemade delicacy. Viuda de Angelon is the first sidra maker to cultivate a pear orchard expressly to bring Asturian perry to a wider audience. Made entirely from pears and the yeast present on their skin and in their flesh, this is a rich perry with delicate vanilla aromatics.
Viuda de Angelon Apple Blossom Buzz
6% ABV
It all starts in the orchard, and there in the orchard each spring's production begins with the bees. Viuda de Angelon gets the apples and the bees get the honey. Fran Ordonex steals a bit of honey from his hives to give Apple Blossom Buzz a scent of spring blossoms and just a hint of sweetness, adding just enough honey to the sidra for the aroma.
Riestra Good Clean Funk
6.5% ABV
In 1906, Robustiano Riestra cut down a large eucalyptus tree to build a beam press and immediately began producing cider, establishing Riestra Natural Sidra. The only way to get good, clean, funky sidra is to just let the natural yeasts living on the apples and ancient walls of the cidery do their dance in the juice. Sampling his batches throughout the winter, cidermaker Raul Riestra's Good Clean Funk has a tart and phenolic nose, followed by a straw/hay apple character, medium acidity, lightly tannic, and a dry finish. Expect a light body and no carbonation.
---