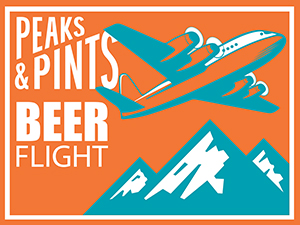 Greta Gerwig breathes new life into a much-loved story with her adaptation of Louisa May Alcott's timeless 19th-century classic, Little Women, which screens at 7 p.m. inside the Blue Mouse Theatre. Gerwig's film distinguishes itself from countless iterations of the novel with a work that delivers a supremely faithful adaptation while also offering a fresh, creative perspective on the material. An affectionate tale of "domestic struggles and joys," the story follows the headstrong March sisters: Jo (Saoirse Ronan), stubborn Amy (Florence Pugh), doting big sister Meg (Emma Watson), and shy, musically-inclined Beth (Eliza Scanlen) as they come of age in America during and after the Civil War. Peaks and Pints suggests you check out this excellent film before or after enjoying our cider flight, Monday Cider Flight and a Movie: Little Women.
Monday Cider Flight and a Movie: Little Women
Alpenfire Pirate's Plank Bone Dry Cider
6.9% ABV
Made with primary native yeast ferment, Champagne yeast finish, stainless maturation, and 4 months neutral oak maturing, then bottle conditioned, Alpenfire Cider's bone dry cider's name is a nod to the rich maritime history of Port Townsend. This Old World bitter sharp cider is a blend of early season, organically grown, estate Kingston Black, Yarlington Mill and Foxwhelp apples for fruity apple pie notes in the aroma with a bit of puckering acidity peaking through at the finish. Expect a tart and earthy taste.
Seattle Cider Dry Cider
6.5% ABV
Made primarily from culinary/table apples modern ciders are generally lower in tannin and higher in acidity. Seattle Cider delivers delicious modern ciders. With zero percent residual sugar, its Dry is a very dry cider in a classical style. The dryness doesn't equate to a lack of flavor, however, as it still has a refined apple nature underlined by notes of stone fruits and a light tickle of lilac on the nose. It's a cider that can stand alongside one of our roast beef sandwiches without losing the flavor battle.
Dragon's Head Manchurian
6.9% ABV
Named for the dragon that guards the apples of immortality in the Garden of Hesperides, Dragon's Head Cider was founded in 2010 on Vashon Island. Ignoring their last name, owners Laura and Wes Cherry planted a beautiful orchard of apples and pears with production held on site. The Cherry's don't believe in cold storing their apples; they press during harvest season at its peak ripeness. Once pressed, the fruit ferments in winter, is blended in spring, and ready to be bottled by early summer. Dragon's Head's 2018 Great Lakes International Cider and Perry Competition silver medalist Manchurian Cider is made from a blend of apples, but features the unique characteristics of the Manchurian Crabapple. This petite yet bold apple imparts flavor and dimension to cider on a scale much larger than its size predicts. Expect notes of blood orange, tangerine, tart apple and pear once you move past tropical fruit, woody resins and lightly floral aroma notes. It sports a clean finish.
Portland Blueberry Bourbon Basil
6.7% ABV
This Portland Cider creation is inspired by Blue Star Donuts' sweet and colorful Blueberry Bourbon Basil donut, one of the company's most popular products, which combines fresh sweet blueberries, fragrant basil, and a good local bourbon added for a hint of caramel depth. Like the donut, Portland Cider Co.'s Blueberry Bourbon Basil features a blend of bright blueberries, fresh herbal basil and deep rich bourbon notes from oak aging.
Tieton Cranberry Cider
6.9% ABV
Tieton Cider Works has been growing apples in the Yakima Valley for three generations. Craig Campbell's grandfather planted apple trees in the 1920s, but it was until 2008 when he and his wife, Sharon, began growing cider apples on their Harmony Orchards in Tieton, Washington. They launched Tieton Cider Works in 2009, with the intent to maintain their practices of being good stewards of the land. The Campbell' Cranberry Cider hits the nose with bright apple and rosé and effervescent white wine tones with a bit of grape and berries. Crisp but sugary on the tongue loaded with apples and cranberry fleshy fruity tartness, loads of fruity sugars and an effervescent wine-y body.
---