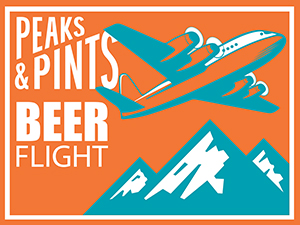 The Seventh Annual Destiny City Film Festival has been screening at the Blue Mouse Theatre in Tacoma's Proctor neighborhood since Friday, Feb. 28. Festival Director Emily Alm presented more than 30 dynamic films from around the world, filmmaker Q&As, mini short films festivals and more. The festival closes today with the first film at noon and a closing group of short films in the block "The Stories We Tell," featuring seven intimately personal stories, beginning at 4:30 p.m. The 2020 Storyteller Award winners will be announced prior to the films, and everyone is invited to the closing night party at 6 p.m. inside Peaks and Pints to celebrate the festival's seventh year. In celebration, we offer an all-day, special movie theme beer flight that we call Craft Beer Crosscut 3.1.20: Flight for Destiny Film Festival.
Craft Beer Crosscut 3.1.20: Flight for Destiny Film Festival
Firestone Walker 2018 Dark & Stormy
11.12% ABV, 26 IBU
Release in 2009, Dark and Stormy Night is set in the 1930s where the family of old Sinas Cavinder gathered for the reading of his will only to find themselves being murdered by a mysterious phantom while two rival reporters compete for the story. Released in 2018, Firestone Walker Dark & Stormy is an exotic mashup of Helldorado and Velvet Merkin aged in rum barrels with a touch of hand-zested lime and ginger. Like its namesake cocktail, Dark & Stormy combines a rich sunset color with spicy rum goodness. Helldorado (blonde barleywine, 80 percent) sets the tone with its signature honey-coconut character, while Velvet Merkin (oatmeal stout, 20 percent) rounds out the blend with a hint of rich roastiness. Both beers were aged in barrels sourced from a leading Jamaican rum producer, imbuing Dark & Stormy with delectable rum qualities unlike anything Firestone Walker has offered before.
Deschutes 2018 The Abyss
11% ABV, 74 IBU
You might think we includes Deschutes Brewery's bourbon barrel-aged Russian imperial stout in this movie flight because of the 1989 American science fiction film written and directed by James Cameron and starring Ed Harris and Mary Elizabeth Mastrantonio. Nope. We're talking the 1910 film The Abyss with Danish silent screen diva Asta Nielsen in her first film. She plays a music teacher who, when seduced by a rough circus performer, skips out on her fiancé and elopes with her seducer and sinks into a life of degradation and crime. It contains an incredible erotic dance scene, which was cut when the film was originally released in this country. The 13th edition of Deschutes The Abyss made its official debut Nov. 10, 2018. That year's The Abyss is a deep, dark imperial stout that uses Pale, Black, Chocolate, Black Barley, Roasted Barley, and Wheat malts alongside Millennium, Nugget, Styrian, and German Northern Brewer hops. The beer also incorporates blackstrap molasses, brewer's licorice, vanilla beans, and cherry bark, before it's aged for 12 months in bourbon, new Oregon oak barrels for flavors of coffee, molasses, plum, hint of licorice and a little boozy chocolate.
Dogfish Head American Beauty Hazy Ripple IPA
7% ABV, 35 IBU
Dogfish Head says their American Beauty Hazy Ripple IPA is inspired by the Grateful Dead's beloved American Beauty album, but we all know its really named after the film about a hapless middle American family — a loser father (Kevin Spacey), a bitch wife (Annette Bening) and their teenage brat (Thora Birch), all bound together in collective loathing and individual failure. Well, OK, maybe it is about the music because this unfiltered India Pale Ale brewed with spelt — an ancient heirloom grain that contributes earthy notes and a natural haze — that's then dosed with a special yeast variety to accentuate hop aromatics, is pure happiness. This psychedelic IPA bursts with notes of tropical fruit and juicy citrus, while the style callout lovingly references the fan-favorite track "Ripple."
Georgetown Bodhizafa
6.9% ABV, 60 IBU
Georgetown Brewing's Bodhizafa won the 2016 GABF Gold Medal for IPAs, beating out more than 300 beers to win the honor. We could just drop that and walk away. What else needs to be said? Maybe the IPA is pale in color with a light silky texture from the rolled oats. The flavor and aroma both express mandarin and citrus. Five pounds of hops per barrel makes this IPA truly juicy, full of citrus and fruity. We could talk about the obsession the Seattle brewery has with the film Point Break. We'll let Bodhi do all the talking, brah.
Ninkasi Dawn of the Red
7% ABV, 66 IBU
Crafted as part of Ninkasi Brewing's Special Release Series in 2014, this India red ale was brewed was to make a super drinkable hoppy beer with a touch of caramel malt, some dryness and malt flavor into the finish. On the 2014 bottles, you would have discovered a label that draws from the cult classic zombie movie, Dawn of the Dead, a flick favored by that label's designer, Tony Figoli. The zombies have since disappeared, but the beer is still sweet with tropical tang that gives way to a hoppy finish.
---