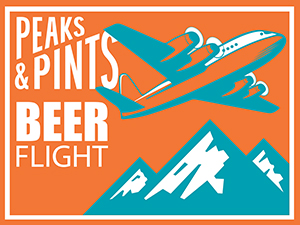 The pun is the lowest form of humor. Except when it's a pun about craft beer. Then it's the highest form of humor. But seriously, folks … Let's face it, there is something about craft beer that reaches into the depths of the brain and blocks neurons with puns. Some people are more affected than others — craft beer brewers, for instance. They can't help themselves. They have a lot of time to think. Waiting is a natural part of beer. They have a lot of time to think while water boils or tanks are scrubbed. Brew a beer, now matter what the style or recipe, and you'll hear a burp as they scratch his or her head before writing a name on the Alcohol and Tobacco Tax and Trade Bureau submission form. They stroke the mystic chords of memory — sharp memory — in search of the ancient and holy clichés: "wish you were beer … take a pitcher it will last longer … don't worry be hoppy… I'd tap that. …" You might say they're addicted. Today, Peaks & Pints presents a beer flight of puns, which we call Craft Beer Crosscut 3.3.20: Flight of Beer Puns.
Craft Beer Crosscut 3.3.20: Flight of Beer Puns
Bruery Terreux Goses Are Red
5.3% ABV
Roses are red / Violets are blue / Craft beer costs less / Than dinner for two. This is a rosé — and a gose — by any other name. Goses are Red is a stylish match of a funky, crisp and tart gose with the soft sweetness of a rosé wine. The refreshing wheat-based beer begins with some of the qualities you'd expect from a gose, including coriander spicing and a light saltiness to complement the tartness imparted by Bruery Terreux's house cultures. But the story doesn't end there — it builds in complexity, thanks to time spent in an oak foeder and the addition of grapes, which impart a refreshing rosé character and color. It's a charming interpretation that says all the right things, but it's not as sweet as you.
Level License To Yill
10.5% ABV
James Bond has a license to kill. Level Beer brewers have a License To Yill, and by Yill they mean a license to brew a Scottish ale, or "yill." License To Yill is a rich, rye barrel-aged, peated Scotch ale where the peaty smoke leads into caramel malt body followed by a spicy rye whiskey finish with mild oak. This malty and dark yill is creamy on the palate with slight peat and slightly sweet, but not syrupy. "There's a saying in England: Where there's smoke, there's fire," James Bond, From Russia With Love.
Wander SINGLE EYEPA (Citra)
6.4% ABV
Remember that cute little raccoon fellow from Wander Brewing's Googly Eyes Double IPA can? Well, it's back, but without the antlers and psychedelic colors. It now wears an eye-patch, so only one eye. We're not sure what happened to its other eye, but we're mighty fine with a SINGLE EYEPA. Single EyPA is the first in a series of rotating hop IPA series: Single strength, single hop. This round is Citra, Brewed with barley, oats, and wheat. The aroma is all fruity, plus sweet hops, with no grain or sharpness. On the tongue, expect some nice bitterness peaking through the fruitiness. Eye, eye, Wander!
Avery Pear Of Peaches
9% ABV
We're quite certain if we could s-pear just a few minutes of our precious time, we could come up with a batch of puns far supearior to this one. OK, maybe not. Building on their success with big IPAs, Avery Brewing adds another hazy option to their beer portfolio with Pear of Peaches. Packed with juicy hops, Pear of Peaches brings a punch of fruity flavors to the genre of imperial hazy IPAs. Using contemporary dry-hopping techniques, Avery's brewers add Simcoe and Amarillo hops, and then traditionally dry-hopped with Mosaic hops. Pear of Peaches is a surprisingly easy drinking double IPA with tons of fruit-forward hops paired with all-natural pears and peaches.
Kulshan Tree-dimensional IPA
6.8% ABV
Meet Kulshan Brewing Tree-dimensional IPA, our "three" year anniversary and house beer for 2020. Paying homage to the outdoor enthusiasts who join Peaks daily in Tacoma's Proctor District, Tree-dimension IPA is the perfect beer to toast the powder, currents or trails, as well as revealing the sprains. Tree-dimensional IPA, or Tree-D, continues Peaks & Pints' love affair with old school "piney" IPAs, this time brewed with Simcoe, Idaho 7, CTZ, Centennial, and whole leaf Cascade in the hop back for all the pine and citrus, plus creamy mouthfeel and bitter finish. Tree-D is so delicious you wood not believe it.
---