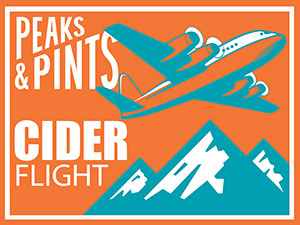 Are you enjoying Peaks and Pints' February Get Stouts Done month? Could you use a break from the deep, dark deliciousness? Good news: it's Monday, which means Peaks and Pints offers a flight of cider. Today, we pair the flick Frozen 2 with cider in what we call Monday Cider Flight and a Movie: Frozen 2, which is perfect since it snowed this morning. In the story, Elsa and her friends are compelled to leave home to seek their personal destiny in a land farther north. The animation is more refined, more realistic, and the story isn't a simple rehash of the first installment. Bring Kleenex. Enjoy Monday Cider Flight and a Movie: Frozen 2 before or after the 7 p.m. screening at neighboring Blue Mouse Theatre. Cheers!
Monday Cider Flight and a Movie: Frozen 2
Superstition Blueberry Spaceship Box
5.55% ABV
In 2009, husband and wife Jeff and Jen Herbert were planning a Thanksgiving dinner in their Prescott, Arizona, home when Jeff decided to create a beverage that paid homage to Jen's family's roots in Vermont. He busted open a home brewing kit she gifted him to make an alcoholic beverage made by fermenting honey with water and adding maple — mead. By 2012, the couple turned their hobby into Superstition Meadery, a mead and hard cider company that averages 3 million in revenue, including the top rated hard cider in the world, Blueberry Spaceship Box. It's a spectacular blend of sweet and tart, of apple and blueberry, and it is at home when served as a bubbly apéritif or paired with Peaks and Pints' meat sandwiches.
Fierce County Gin Gin Cran
6.5% ABV
John and Tolena Thorburn adore craft beer. For 15 years they traveled the world drinking it. But, an oversaturated market led them to cider. Learning and enjoying the varying styles and flavors unique to each brewer and set of ingredients, the Thorburns applied that experience to years of homebrewing and cidermaking. In 2017, Fierce County Cider launched its first commercial operating space in a 97-square foot ciderhouse in Puyallup. The ciderhouse is built for efficiency, utilizing the latest brewing technology and equipment to allow lead cidermaker Tolena to create "fiercely" ciders, including Gin Gin Cran. The nano cidery's second release, Gin Gin Cran is a light, semi-sweet cider with just a touch of tartness from the cranberry, balanced perfectly with fresh ginger flavor.
One Tree Heart-Breaker
6% ABV
Grant Barnes and Neal Hennessy started making cider as a hobby, and it turned into a vocation. One Tree Hard Cider started in Barnes' Spokane Valley garage, with exactly one recipe: a relatively straightforward semi-sweet apple cider. They went pro in the summer of 2014. Their limited Valentine's release, Heart-Breaker Cider, is a loving/feisty blend of raspberry with a touch jalapeño spice.
Cockrell Devil 'N Cider
6.7% ABV
Brothers Richard and John Cockrell have been making cider and beer in their Puyallup homes for more than 25 years, sharing their craft with family and friends, as well as grabbing many local, state and national awards and accolades. As the brothers began planning for their retirement their fans begged them to go pro. Their hobby became Cockrell Hard Cider. Their raspberry habanero cider, Devil 'N Cider, has a strong raspberry nose with slight heat. The flavor is equally powerful, on the other side of the flavor seesaw: it packs the heat, although not overwhelming.
2 Towns Branch & Barrel
8.2% ABV
In late 2010, Corvallis homebrewers Aaron Sarnoff-Wood and Lee Larsen filled a gap in the college town's drinking scene — cider. The duo opened 2 Towns Ciderhouse crafting unique ciders brewed with the traditional English and French-style's tannic apples, Oregon grown, of course. Pomona, goddess of orchards, blessed 2 Towns' crop this year with a bounty of eclectic heirloom apples which, when fermented and aged in French oak foeders, yield a deliciously aromatic cider: Branch & Barrel. It's a sooth, tasty heirloom cider with a touch of tartness.
---