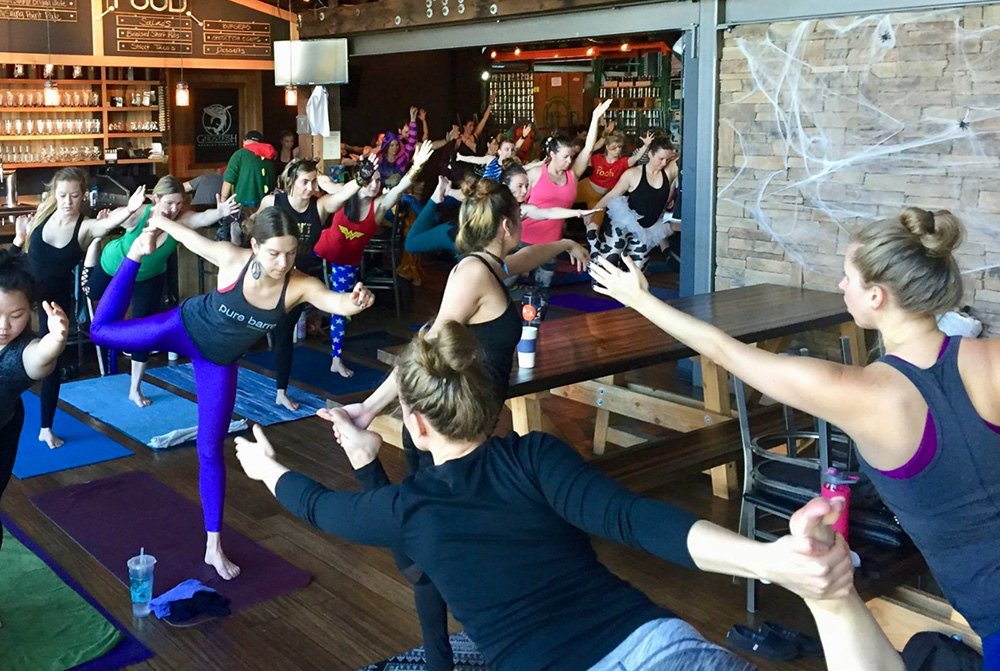 MORNING FOAM FOR WEDNESDAY, NOV. 22 2017: A seven-taster flight of craft beer news, from the fluffy head all the way to the Take Craft Back fundraising plans. …
Forget what you know about fitness because people in Washington state are drinking beer while they work out — and we think they might be onto something. They say life is all about balance, so why not mix a little imperial stout with yoga? Just Add Yoga will host an hour-long yoga session at Peaks and Pints Saturday, Dec. 9. The morning begins at 10 a.m. with an hour long, all levels yoga practice. Immediately following practice participants will move to the bar for a pint of their favorite craft beer or cider at Peaks and Pints. Leave your worries at the door, get your body in motion, taste some delicious local beer and get to know your community. Sign up here.
Former Wingman Brewers brewer Mike Dempster will celebrate his new brewery, Mirage Beer Company, with its first beers at Chuck's Hop Shop in Greenwood Friday, Dec. 1. Dempster will be releasing Mirage's first bottle, Drie Valleien — a 6.1% saison aged in Pinot Noir barrels from the Willamette Valley with wild cultures from the Senne and Sonoma Valleys — as well as 16-ounce cans of 1st Day Out Czech-style pilsner and Palo Duro Northeast-style pale.
Portland's Breakside Brewery hosts a month-long a "Cellar-bration" — rare barrel-aged beers from the past, present and future — releasing wild, sour and wood aged beer every Friday through the end of the year. For many of the beers, you will never see them again, so sip them while you can.
The New School has compiled a list of 10 notable new barrel-aged imperial stouts available in the Pacific Northwest, including Backwoods Brewing's new bourbon barrel-aged stout called "The Stumbler." This Russian Imperial Stout spent 18 months in Heaven Hills bourbon barrels.
Craft beer maker Arrogant Brewing is cleverly promoting its bad boy image and delivering an upper cut to competitors it calls "sellouts" with a new antagonistic promotional campaign that puts branded T-shirts in the spotlight.
The Beer Adventures app makes every day Oktoberfest in Munich. It helps you explore and discover the very best craft beer across three boroughs in NYC in one afternoon. It takes you to a 600-year-old beer cellar in Prague and more.
Take Craft Back, the tongue-in-cheek crowdfunding campaign to "buy" Anheuser-Busch InBev (AB InBev) is showing off new fundraising plans. Take Craft Back is taking a page out of every fundraiser book possible, from high school-like carwashes to a telethon to airtime on a Home Shopping Network type channel.
---