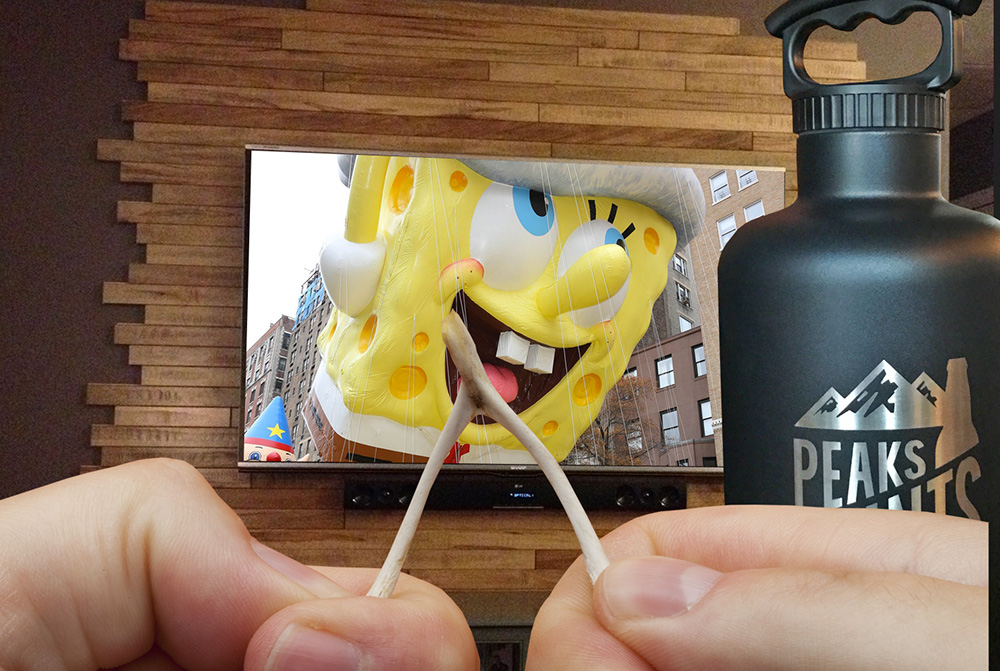 The competition always starts on Thanksgiving, while the Peaks and Pints staff watches the Macy's parade. Without fail, someone will comment that the parade was so much better in his or her day, and someone else will counter, "Oh, yeah!? When I was a kid, this parade lasted over twenty hours! And I never missed a minute!" Fueled by a strenuous "warm-up" of at least three session beers, the fight then moves outside. Nothing says "bonding" like a bunch of unconditioned bartenders trying to injure themselves and their fellow staff members in a flag football game. Within an hour, there are more cheap shots performed than by your typical Nebraska Cornhusker football player/aspiring convict.
Following the game, the three Peaks and Pints proprietors will invoke an act of God to settle everyone for an hour-long feeding frenzy. A tryptophan-induced coma keeps the peace, sometimes for as long as five minutes. Once the first plate is demolished, we have to go back for seconds lest your Peaks-and-Pintsness be called into question. The one-upmanship of gluttony results in burst buttons (unless we follow bartender Kristen Marlo's lead to wear sweats), ulcers and near-fatal constipation. After letting our stomachs settle for upward of 15 minutes, we hit the stouts as part of "dessert." Groaning under the weight of our bellies, we're still able to insult each other from a distance.
And that, ladies and gentlemen, is what the Peaks and Pints Thanksgiving is all about.
Almost.
The beer. The Thanksgiving craft beer needs to be selected. Here's what we're drinking this year. Following along with your growlers as growler fills are discounted 20 percent the day before Thanksgiving.
Macy Day Parade/Football
Triceratops Pennsyltucky Lager
4.7% ABV, 22 IBU
When non-Pennsylvanians think of the Keystone State, they generally think of Pittsburgh, Philadelphia and Amish people. Central Pennsylvania — that gaping chasm between the big cities in the east and west — is often called Pennsyltucky, and that's where Triceratops Brewing Co. founder Rob Horn called home. He now brews in Tumwater, Washington, but still has one foot in Pennsyltucky, or rather one brewing boot. His Pennsyltucky Lager is a smooth Vienna lager inspired by the brewing styles of Central Pennsylvania. Its Caramunich malt gives the lager a roasty taste and just a touch of bitterness. It's a crushable beer that we can drink all day.
Final Dinner Prep/Kitchen Hang
Anderson Valley Framboise Rose Gose
4.2% ABV, 12 IBU
As you may have gathered from the opening remarks, a Peaks and Pints' Thanksgiving is more of a marathon than a sprint. After the Macy Day Parade arguments and debilitating football game, we all help final prep in the kitchen with a gose. It's crazy … but delicious, especially when we pour Anderson Valley Brewing's Framboise Rose Gose. The Boonville, California brewery adds rose hips to the boil and fresh raspberry puree at the end of fermentation for a mélange of flavors and aromas. The tangy, hibiscus-like flavors and salty tartness work wonderfully as a refreshing sipper without killing our appetite. Prepping with this means by the time the turkey hits the table, we won't be too sleepy or full to enjoy all that food.
Main Course
Trinity One Ear
6.5% ABV, 35 IBU
For Thanksgiving, we always aim for a lighter bodied beer that carries a bit of acidity to cut through the holiday's rich, starchy plates. This year, we're pouring Trinity Brewing's One Ear saison during the main meal. It's a naked saison as there aren't any spices, herb, or fruits added. It's just grain, yeast, hops and water, although there is a good mix of barley, oats and rye. It pairs well with all of the usual suspects among the Thanksgiving dinner table with earthy, citrus rind and peppery nose with matching flavor. It has all the things you want in a good saison, including excellent effervescence, a nice hop bitterness and balance that contributes to a crisp medium length finish.
Anderson Valley Boont Amber
5.8% ABV, 18 IBU
Anderson Valley Brewing's Boont Amber's thin body goes down easy; the carbonation only slightly bites the sides of the cheeks. The flavor is balanced and clean, with caramel, toffee, macadamia nuts and pecan to marry nicely with the turkey skin, gravy and all of the roasty, toasty parts of the meal. The Mount Hood, Northern Brewer, Bravo and Columbus hops lend both a citrus flavor and a moderate level of bitterness enhancing elements such as green beans and the tartness of the cranberries. Perfect.
Dessert
GoodLife Pass Stout
7% ABV, 70 IBU
Peaks and Pints thinks contrast when pairing pumpkin pie and beer, drawing out the best flavors and textures of both the beer and the pumpkin pie. We want to choose a beer that has dark chocolate or coffee flavors. The best option is a sweeter stout, as a harsh stout will kill the delicate spices of the pie. Oatmeal stouts tend to be sweeter, and would pair magically well via contrast with pumpkin pie. Might we suggest GoodLife Brewing's Pass Stout? It's brewed with roasted malts and oats, lending a full body and roasty flavor with a subtle coffee and chocolate aftertaste, which sinks right into pumpkin filling.
---