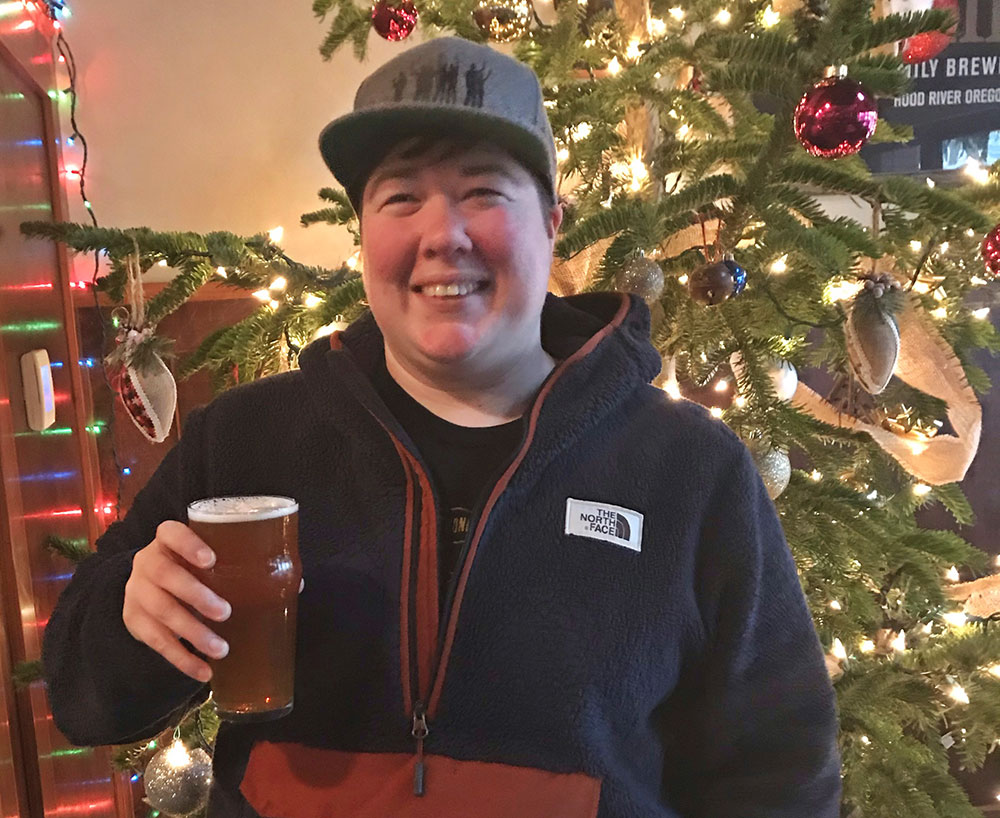 Jen Mahoney Cool Camp: WindWoodRivers
One of the biggest perks of living in the South Sound is that we're not far from some of the most awe-inspiring wilderness in the country. There are hundreds of cool campsites in the Pacific Northwest, including WindWoodRivers along the Columbia Gorge — a spot perfect for a growler of Double Mountain Cool Camp IPA.
Over the next year, Peaks and Pints surveys its customers where their favorite cool camp sits, in conjunction with our Cool Camp IPA we brewed at Double Mountain Brewery in Hood River, Oregon. Double Mountain brewer Matt Coughlin and Peaks and Pints staff brewed our house beer, Cool Camp IPA, named after Coughlin's favorite spot to camp in the Olympic Mountains. It's an IPA built for adventure. Dank evergreen and ripe citrus lead an adventurous crew wandering through a rainforest of pines. Discover the Cool Camp IPA backstory and recipe here.
Our next Peaks and Pints cool camper is Jen Mahoney, manager at Odd Otter Brewing Company. A former fixture behind the bar at North End Social Club, Mahoney recently grabbed the Odd Otter by the tail, adding her craft beer knowledge to the downtown Tacoma brewery already purring with talented brewer Greer Hubbard hovering over the tanks.
"My cool camp is the WindWoodRivers campsite just north of Carson, Washington, in the Columbia Gorge," explains Mahoney as she sips a Cool Camp IPA at Peaks and Pints. "Specifically Campsite Number One, which is more of an open field with the Wind River roughly 20 feet away."
Mahoney says there's a natural hot springs a quarter mile down a trail.
"You can splash around in the cold Wind River then chill in the hot springs," says Mahoney. "Back and forth, back and forth — and could do that all day."
She has pitched a tent at WindWoodRivers Campsite Number One throughout the summer, but prefers August for several reasons.
"First, the river is at optimal height and calmness for rafting the waterfalls," she explains. "Second, the August meteor shows paint the sky. WindWoodRiver is far enough away from the towns of Carson and White Salmon to see every star and meteor."
Speaking of White Salmon. There isn't a bigger fan of Everybody's Brewing in White Salmon, Washington, than Mahoney.
"Everybody's is only 15 minutes away from Campsite Number One," she adds. "I might have a growler of Double Mountain Cool Camp IPA, but know my cooler is full of Everybody's craft beers."
Mahoney says you can reserve sites at WindWoodRiver via hipcamp, an online travel service designed to help people book campsites.
Cool.
LINK: Peaks and Pints cool campers
LINK: Story behind Peaks and Pints Cool Camp IPA
LINK: Peaks and Pints Weather Guy hiking reports
---