Hood River Hops Fest so wet … hopped
Staying inside on a rainy day sounds like the sanest thing to do, unless you are in outdoor adventure land Hood River, Oregon, and have a wristband that allows you access to 60-plus craft beers brewed within 24 hours of picking the hops off the bine. Hundreds braved the rainfall to get their fill of fresh hop beers at the Hood River Hops Fest yesterday. Those beer drinkers, dressed for the forecasted cloudy day, actually all fit under the tents during one full-on buckets of rain session.
The sun and rain played ping-pong all day.
Despite the weather, Pacific Northwesterners gathered in the downtown public parking lot at Fifth and Columbia to raise collectible mugs, listen to music and chow down for the 15th time since the festival's inception in 2003.
And the featured beer matched the atmosphere: wet hops. Fresh hop, wet hop and green hop all refer to beer brewed using hops that are fresh off the bine and have not been dried or processed.
Let's Talk Wet Hops
Making a wet or fresh hop beer is fairly similar to traditional brewing methods that call for hops dried in a kiln. The biggest difference, aside from the freshly harvested hops, is the volume of hops used. A dried hop cone has a moisture content of roughly 10 percent, whereas the fluffy, sticky bud of a wet hop pulled straight from the bine has 45 percent more moisture content. While standard India pale ales might require 1.5 pounds of hops, a fresh hop version might call for 10 pounds of hops, for example.
Most hops that are used in beer — and this is part of why fresh-hop season is so cool — have been processed in a plant where they're ground up and then packed together. A result of all that friction is heat. And at a certain temperature, the active ingredient in hops — the lupulin, the pollen that gives the flavor and bitterness to beer — will begin to degrade.
Due to these processing factors, dry-hopped beers have a different taste than wet-hopped brews. A dried hop is more concentrated in flavor whereas a fresh hop is more floral. Yes, it depends on the hop varietal, but with the fresh hop, green pastures hits the nose more often than not.
In addition to those aromas, fresh hop beers, because of essential oils, have a unique mouth-feel. Fresh hops have a maximum amount of organic oils and translate in the finished product into this really resinous, oily, coating mouthfeel.
Timing is everything with fresh hop beers, too. Oregonians are fortunate in that they live in close proximity to the two largest hop-growing regions in the country, Yakima, Wash., and the Willamette Valley, respectively. When local brewers get the call that the hops are being harvested and will soon be ready for pickup, the race is on to get to the farm, retrieve the hops and quickly get them into the brewing tank. Back at the brewery, the hops are added to the beer that is already in production and steeped in the wort (much like steeping a bag of tea leaves in hot water) as it prepares to leave the kettle.
Production for Washington, Oregon and Idaho in 2017 totaled a record high 104 million pounds, up 20 percent from the 2016 crop of 87.1 million pounds. For the first time, Idaho has surpassed Oregon in production to become the second-highest hop producing state at 13.2 percent. Washington and Oregon were at 75.4 percent and 11.4 percent, respectively
Because wet-hopped beers can only be brewed and consumed during a short window in early fall, their release has become cause for celebration across the Northwest, including Hood River.
Hood River Hops Fest
Back at the Hood River Hops Fest yesterday, most breweries offered two fresh hop beers, slapping a "Sold Out" sign across the beer name signs once the keg emptied. Deschutes Brewery and pFriem Family Brewers beers were the first to blow.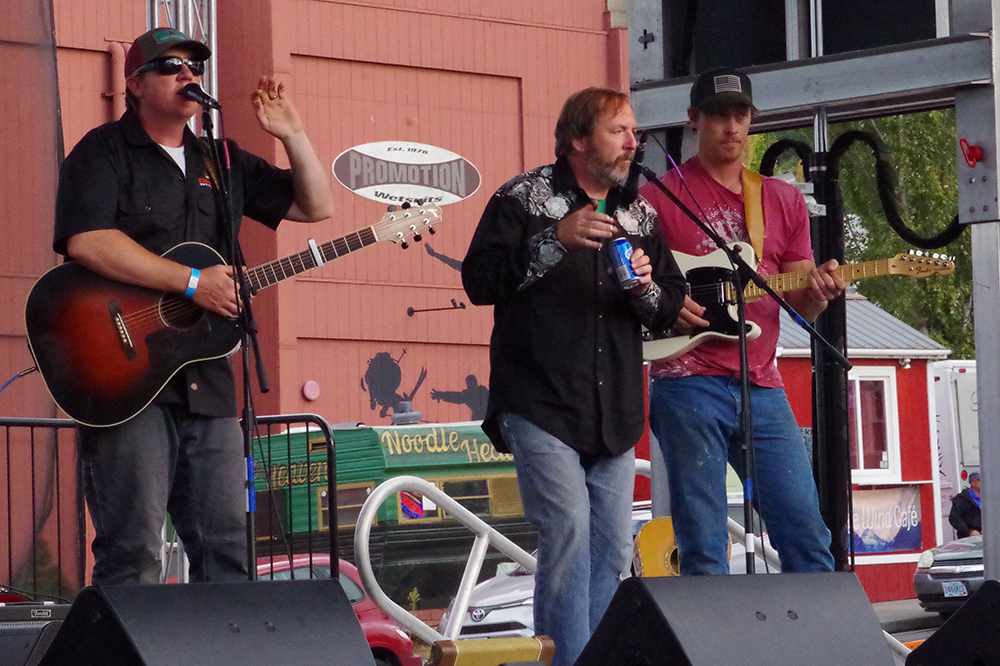 Many beer drinkers grabbed a quick, fresh beer and made their way to the music stage, where Tony Smiley, The Kinky Brothers, Greenneck Daredevils and Ural Thomas & the Pain summoned some fresh dancing. Double Mountain Brewery owner and head brewer Matt Swihart plays banjo — and yesterday a beer can — with the Greenneck Daredevils.
Fresh hop season also brings out the best of brewers' pun-making tendencies. Some of the most groan-worthy: Allegory Brewing's Hot Off The Fresh, Ancestry Brewing's Amarillo Fresh Coast IPA, Beer Valley Brewing's Fresh Hop Leafer Madness, Crux Fermentation Project's Pert Near, Migration Brewing's refresh and RiverBend Brewing's Straight Outta Crosby.
Pale Ales and IPAs weren't the only freshly hopped styles on display at the Hood River parking lot yesterday. Cascadian dark ale, gose, helles, pilsners, farmhouse ales, kolsch, Marzens and reds made clear that the Pacific Northwest is still the locus of brewing innovation it's been for the past decade.
"Did you try the Fresh Hop Centennial from the nation's best mid-sized brewery?" asked Farmer Matt Kotwasinski of pFriem Family Brewers. The Hood River brewery grabbed 2018 Mid-Size Brewing Company and Mid-Size Brewing Company Brewer of the Year at the Great American Beer Festival in Denver, Colorado, just after the gates opened at the Hood River Hops Fest. By the way, we did try pFriem's Fresh Hop Centennial IPA, which hit the nose with pungent citrus, and fresh pine followed by flavors of grapefruit, melon and pine finishing resiny, hoppy and, well, fresh.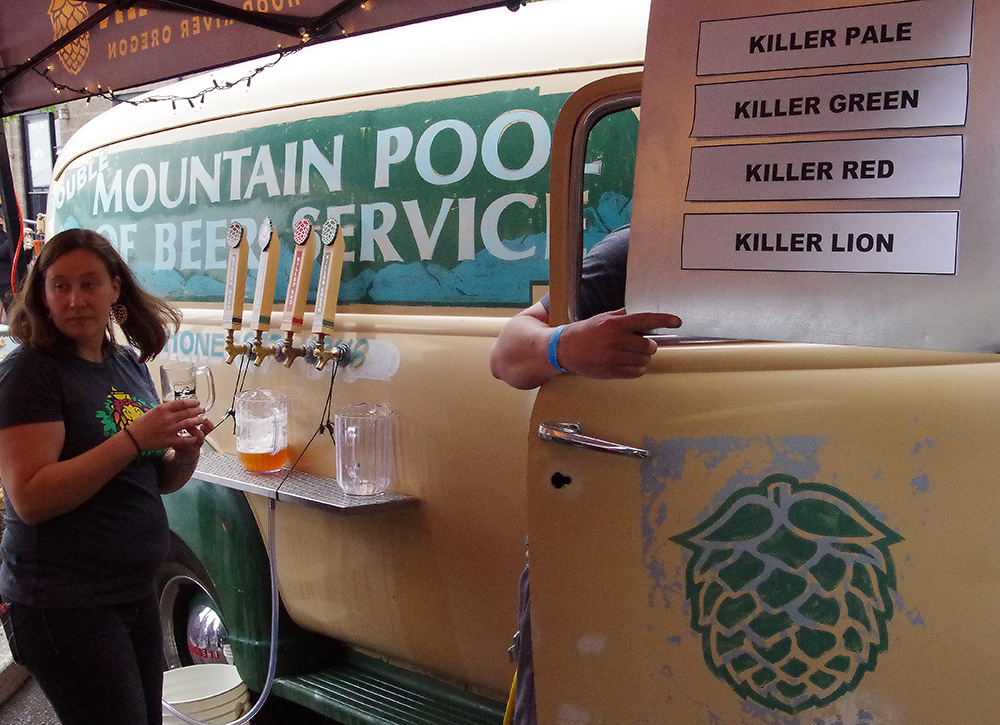 A few of our other favorite freshies were:
Breakside Brewery's Fresh Hop Wanderlust — A good call with a solid malt foundation and notes of earthiness, pine and subtle bitterness.
Culmination Brewing's Momentary Lapse of Reason: Wet Hop — A hazy double IPA Hazy IIPA with El Dorado and 100-pounds of fresh Citra with liquid nitrogen to help eliminate the vegetable notes and achieve a well-balance, citrus-y and slightly dank beer.
Double Mountain Killer Green — Killer Green beat out the Hoof River brewery's other three offerings — Killer Pale, Killer Red and Killer Lion — due to its blood orange, juicy pine and herb through the finish.
RiverBend Brewing's Simcoe From Different Area Codes — a hazy IPA with all the dank, plus pineapple and overripe mango.
Sunriver Brewing's Strata Fresh Hop IPA — bold fresh hop flavors of cannabis, passionfruit, grapefruit and strawberry with a light malt base.
We ended the day with Everybody's Brewing's Head Stash Fresh Hop IPA, because it blew two days ago at Peaks and Pints so we know how juicy and sweet and fresh!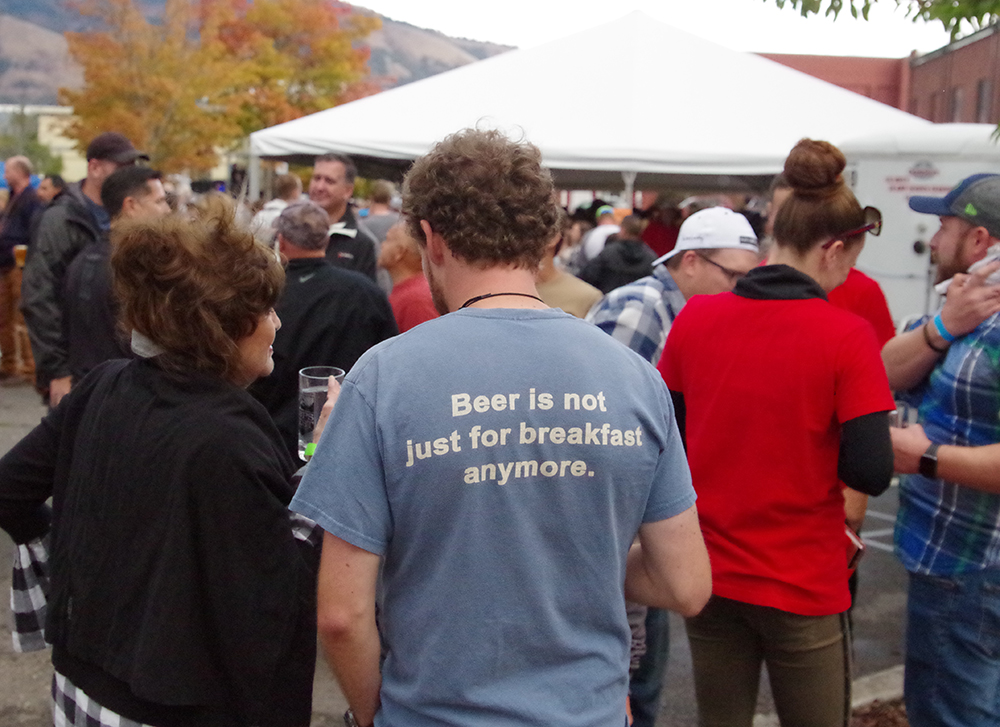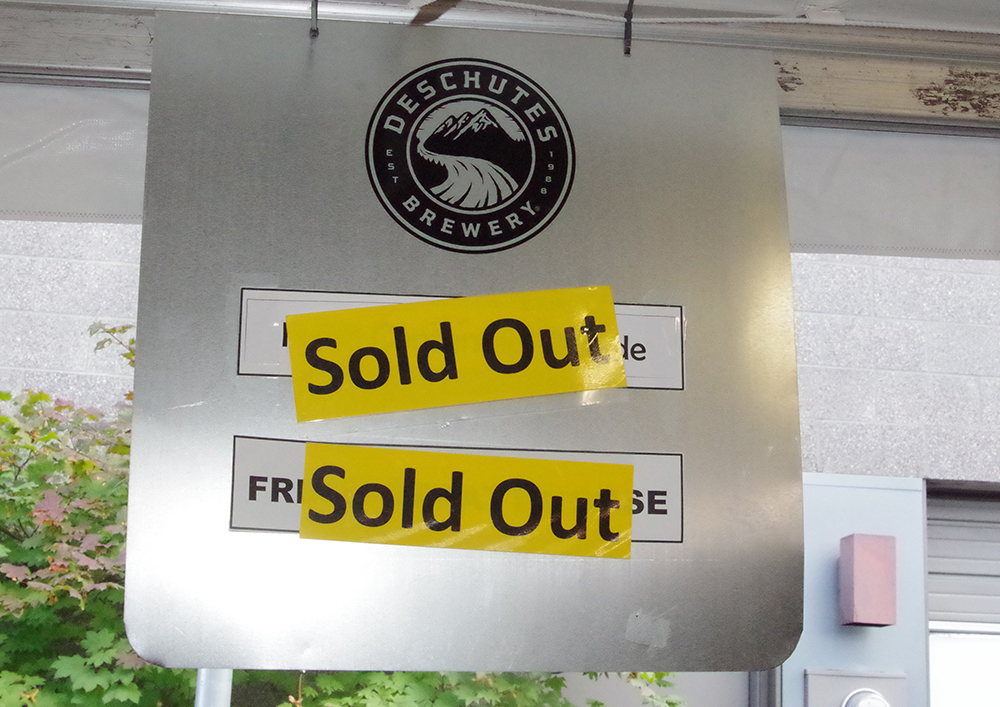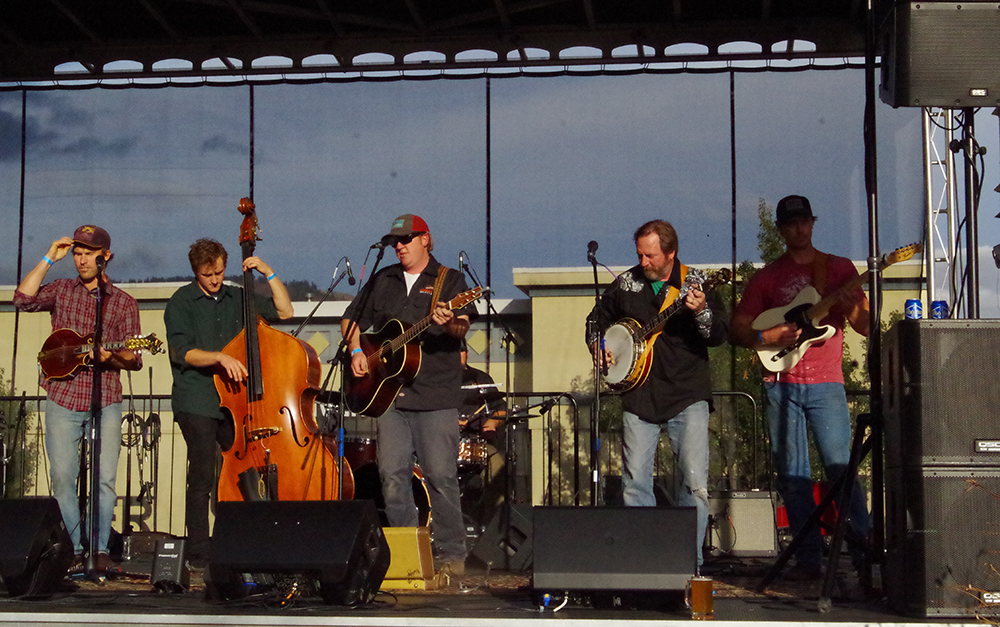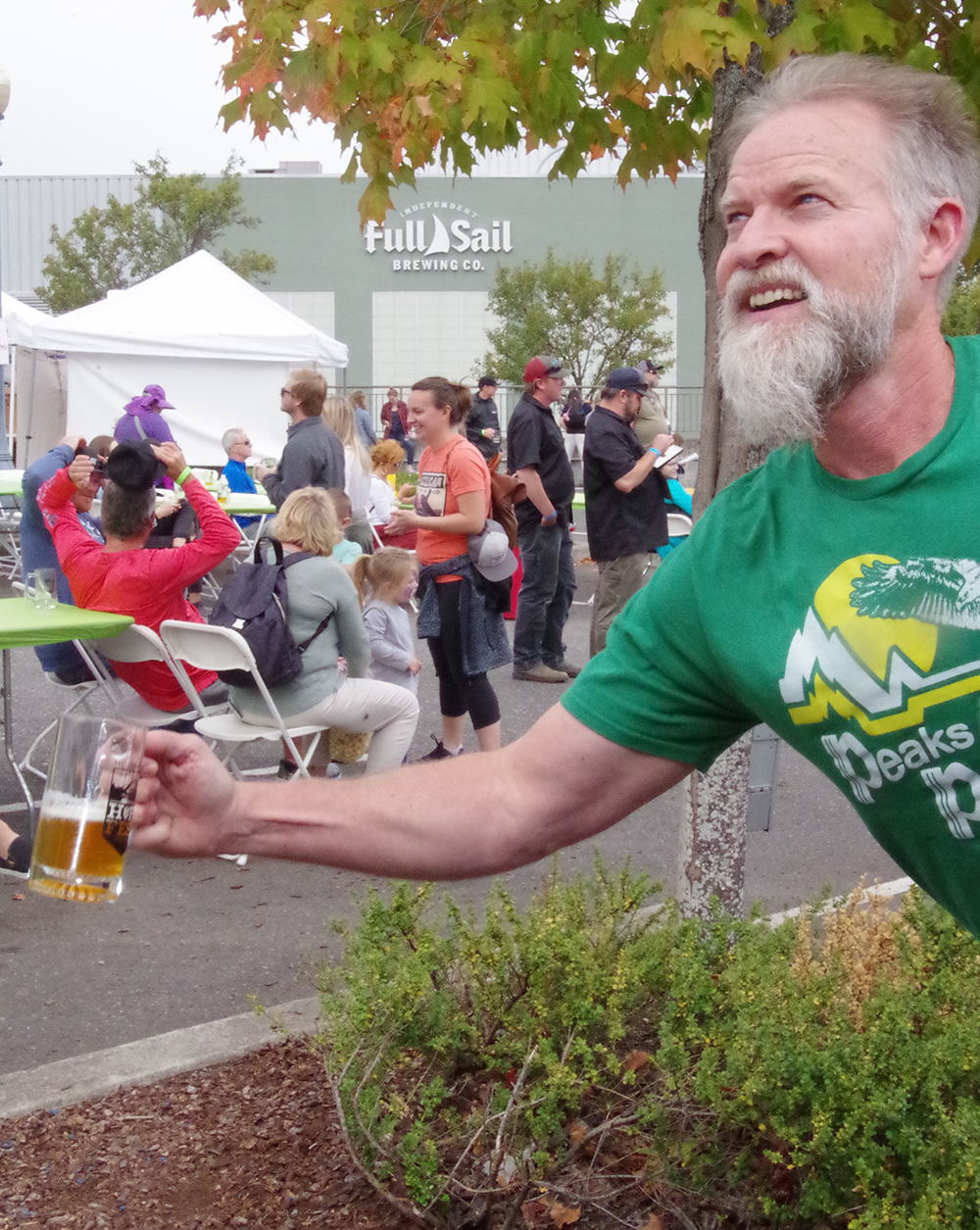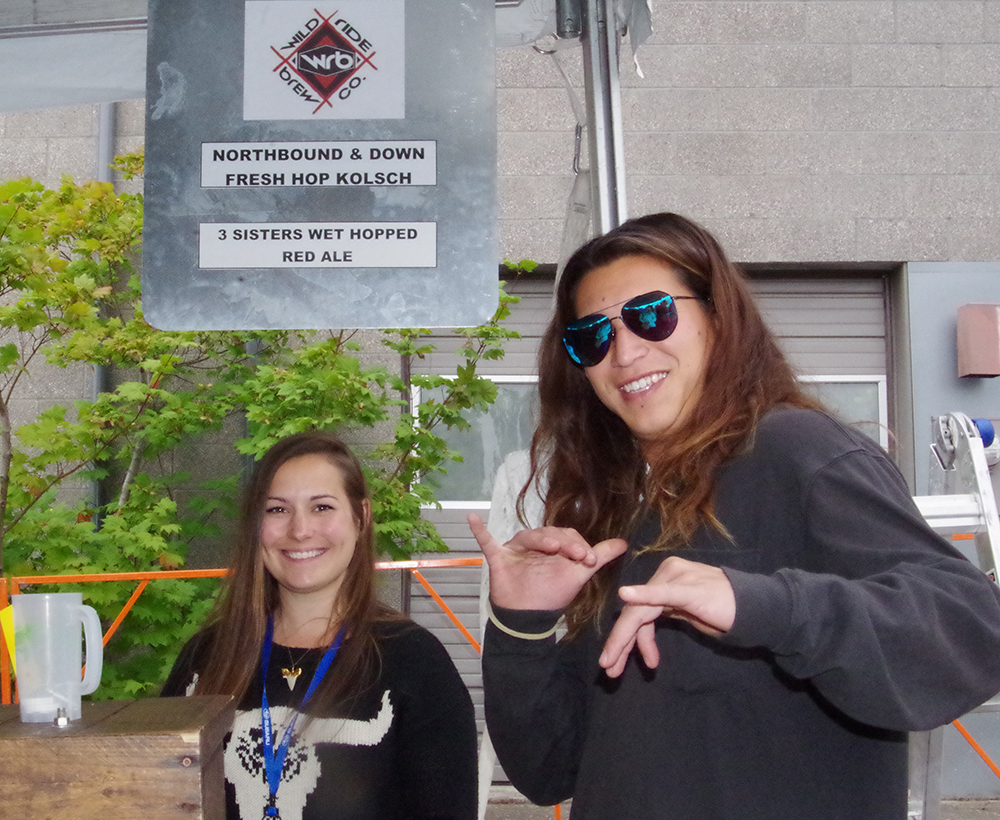 ---