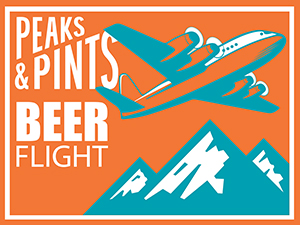 Late summer is harvest time, and in the craft beer world, that means wet hop ales. These seasonal delights are brewed with perfectly ripe, freshly picked "wet" hop cones, which impart the truest possible aromas and flavors a hop can provide. As opposed to the usual dried hops, wet hops begin to decay in a matter of hours. For years, breweries have been going to great lengths to gather them in time, even renting airplanes to haul back loads of the delicate flowers from the country's most fertile hop-growing regions in Oregon, Idaho or Washington's Yakima Valley. Obviously, because of our close proximity to the hop farms, our wet hops beers are the freshest. Peaks and Pints presents a flight of wet and fresh hops today in what we call Craft Beer Crosscut 9.21.18: A Flight of Wet and Fresh Hops.
While very similar with their aromatic personas and burst of juicy flavors, there is a slight distinction between fresh hop beers and wet hop beers per Brewers Association guidelines. Fresh hop beers are brewed with the newly harvested hops off the bine, typically still in whole cones and within a week or two of being harvested. These hops are not broken down or processed, thus still considered "fresh," though they may have begun to dry out naturally or dried to preserve as much of the hop flavor as possible. Wet hop beers are brewed with fresh, completely undried hops, going straight to boil within 24-36 hours of coming off the vine. The limited nature of both styles tend to make them highly regarded, and having them as soon as possible is the best plan of action. Typically, hops are added during the boil, when the wort is heated and boiled for 60 to 90 minutes. For bitterness, hops are added at the beginning of the boil; for aroma and flavor, they're added right at the end. Some brewers like to add wet hops to the boil at various stages, other like to save their wet hops for use only later in the process. Many like to create what is called a "hopback," which is a vessel that holds hot wort as wet hops infuse into the liquid, creating what is essentially a fresh-hop tea. Relatively low levels of acids are extracted at this temperature; it's an approach that's mostly about extracting big hop aroma and flavor.
That's all wet and dandy, but let's get to drinking. Enjoy Craft Beer Crosscut 9.21.18: A Flight of Wet and Fresh Hops.
Two Beers What A Time To Be Alive Fresh Hop Hazy
6.5% ABV, 35 IBU
Two Beers Brewing released a new fresh hop beer as part of its "Unbrand" series. On the label, an astronaut stares at the can, with "What A Time To Be Alive!" floating just below Saturn. The Seattle brewery brewed with 5-pounds of fresh, 100-percent Cascade hops per barrel. A light citrus and grass nose leads into a smooth hoppy launch from Earth. Pepper hits just past Mars. A light bitterness of a mild hop flow lands on Saturn. It's definitely hazy. It's definitely fresh. It's definitely delicious.
HUB Fresh Hop Totally Chill Hazy IPA
6% ABV
Hopworks Urban Brewery's Totally Chill comes loaded with a bouquet of pineapple and ripe mango from Azacca, Mosaic, and El Dorado hops. Brewed with generous amounts of oats, wheat and barley, Totally Chill has a thick and cloudy appearance, fluffy mouthfeel, and a blast of refreshing, juicy and tropical tasting hops. Since it's fresh hop season, the brewery created a fresh hop version of Totally Chill, adding floral notes to the fruity concoction.
Fremont Field to Ferment Fresh Hop Pale Ale: Simcoe
6% ABV, 50 IBU
Fremont Brewing Co.'s "Field to Ferment" beer series and its fresh-hop brew from Cowiche Canyon are a big draw again this fall. It's easier to find this year, since the brewery increased production from 1,200 barrels to 1,921 barrels for its "Field to Ferment" fresh-hop beers. Fremont is brewing this single fresh hop ale with three hop varietals sequentially as they are harvested throughout the entire hop harvest in Yakima. The Simcoe hop is the second release with pine on the nose and subtle resin and orange on the tongue. It's so creamy.
10 Barrel Fukton
5.9% ABV, 50 IBU
10 Barrel Brewing takes a different approach with their wet hop Fukton, creating an autumn pale ale. Flavors of molasses and raisin help set the table for the star of the show — fresh Centennial hop from Umpqua Hop Farms and all of its bitter orange aromatics. 10 Barrel added more than 1,000 pounds of hops. "That's a fuck ton," states 10 Barrel hype. Aroma is grassy and earthy. Taste brings a bit of crisp hops, complimenting the autumn malts underneath.
Two Beers Fresh Hop IPA
6.2% ABV, 70 IBU
Two Beers Brewing Co. continues its tradition of releasing the first Fresh Hop IPA of the season, with draft arriving at peaks and Pints Aug. 3. First brewed in 2009, Fresh Hop IPA enters its ninth season on the Two Beers lineup, remaining one of the Seattle-based brewery's most popular releases. A true labor of love, Fresh Hop IPA is made with fresh Centennial and Cluster hops from fifth generation hop farmers, Puterbaugh Farm in Yakima Valley. The hops are handpicked by dozens of staff and volunteers on the brewery dock; the process allows Two Beers to go from hop bine to brew in less than 24 hours for an exceptional finished product, for a technically wet hop. "This year's Fresh Hop IPA will feature Centennial hops, giving the brew a juicy citrus aroma with hints of grapefruit and passion fruit, and Cluster hops, which tend more towards bitter and earthy. Fresh Hop IPA (6.2% ABV/70 IBU) is dark straw in color with light caramel malt tones, and resembles an aggressively dry-hopped IPA, but packs the punch and flavor only fresh hops can deliver. In addition to the fresh picked Centennial and Cluster hops, this beer features locally grown Amarillo, Cascade, and Citra hops, helping this popular seasonal achieve its bright and delightfully bitter flavor," states founder and CEO Joel VandenBrink in a media release.
---