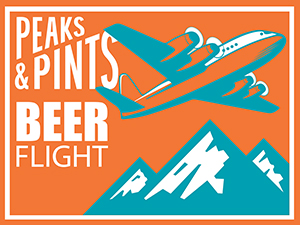 Germans have been perfecting the art of brewing for centuries (Weihenstephan since 1040 AD), and have greatly influenced the technology, terminology and processes we use today. German lagers are nuanced, refined, accurate and precise. These lagers are tricky to make well to insure ultimate quaffability en masse and Ein Maß — those one-litre mugs. Many German lagers, especially the ones made for Oktoberfest, are malt-forward, but never sweet, sticky or cloying. Rather, the beer's maltiness evokes the comfort of rich, fresh baked bread. Peaks and Pints presents a flight of German beers — including one hefe — tonight, piggybacking off our fundraiser for Tacoma German Language School tonight, with special pretzel sandwiches, fire pit raffle, coloring contest and more. If you can't make tonight, which is craziness, our Craft Beer Crosscut 9.20.18: A Flight for Tacoma German Language School, will be offered all day.
Ayinger Brau-Weisse
5.1% ABV, 13 IBU
About 25 kilometers from the Oktoberfest grounds in Munich, lays a little town called Aying, home to the beloved Ayinger Brewery (Brauerei Aying). This 140-year-old brewery has a deep family history, and remained almost completely unchanged until a new, updated brewery was built in 1999 in order to keep up with the growing market. Again and again Ayinger has won awards for its beers, including the World Beer Cup, and the Deutschen Landwirtschafts Gesellschaft — DLG (German Agricultural Society) gold and silver medals. Today one of the DLG gold medal winners — Bräu-weisse. Pouring a bright and hazy golden color with a fluffy white head, there was a fair amount of suspended yeast floating about. The nose on this one was quite ripe with scents of banana and even a hint of those circus peanut candies. The flavor also had a large amount of banana character — spicy but with a candy sweetness at the finish.
Ayinger Oktober Fest-Märzen
5.8% ABV, 25 IBU
Sweet and grainy on the nose — think of fresh bread baked with honey and raisin — Ayinger Oktober Fest-Märzen features a pronounced sweetness of caramel and caramelized pumpkin on the palate. Hearty, and even a bit creamy as it warms, Oktober Fest-Märzen features a touch of bitter hops and fresh straw upfront before veering into a long malty finish. However, the beer dries out nicely to avoid a sticky or cloying aftertaste. This beer pairs beautifully with our pretzel bread sticks and side of beer mustard. Gemütlichkeit is, of course, free as always.
Köstritzer Schwarzbier
4.8% ABV, 22 IBU
In April 1991, the Köstritzer Brauerei, a subsidiary of the Bitburger brewery, shed its 1543 wardrobe and emerged as of one of the most modern breweries in Thuringia, Germany. In September 1993, it re-introduced the "original Köstritzer black beer," a traditional bottom-fermented lager that contains a distinctive fine malty flavor due to the use of refined barley malt. It's a delicious blend of light freshness with a smooth, sweet finish.
Ayinger Celebrator Doppelbock
6.7% ABV, 24 IBU
During Lent, as legend goes, German monks sustained themselves by sipping strong, dark lagers dubbed doppelbocks. This timeworn tale of liquid bread tends to overshadow an indisputable truth: dopplebocks are fantastic feats of brewing engineering, no more so than Ayinger Celebrator. With accolades from the late Michael Jackson and a collection of gold medals from the World Beer Cup, this rich, toffee-rocked lager is dark, crisp, with a touch of chocolate and grape notes. While presenting a full body, it's not cloyingly sweet and features a wonderfully creamy body and enough alcohol to warm your palate.
Weihenstephaner Festbier
5.8% ABV, 26 IBU
Weihenstephaner claims to be the world's oldest brewery with a history dating back to 1040. And while peaks and Pints can't confirm that boast, we can assure you that the centuries of experience show in its Oktoberfest. The Festbier is lighter in color than most — a brilliant gold — and in turn offers a lighter malt character. It hits the nose with all the malt, plus honey and caramel with a little grassy hops. The flavor has only a hint of caramel with dough and bread crust standing out in this supremely drinkable lager.
---