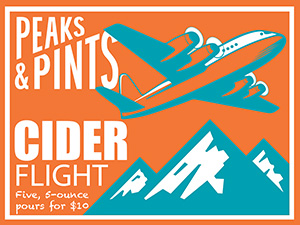 Cider was last popular when America was fighting the Civil War. Kind of makes sense if you think about it, since that was also the last time long beards were the rage. What drove this cider craze? One big factor was that unlike 25 years ago when they missed the craft beer breakout, big multinational brewers were paying attention this time and aggressively entered the market with their own products. Anheuser-Busch InBev rolled out Stella Cidre and Johnny Appleseed, MillerCoors launched Smith & Forge and Sam Adams has already successfully launched Angry Orchard. Their constant TV and print ads raised awareness among consumers. But the changing palates of American drinkers, forever altered by the craft beer revolution, proved to be a fertile ground for smaller-scale cider makers as well. Today, Peaks and Pints highlight five such cideries with our weekly Monday cider flight, Peaks and Pints Monday Cider Flight 9.24.18: Craft Cider.
Portland Cider Kinda Dry
6.5% ABV
Oregonian Jeff and British Lydia launched Portland Cider Company in 2012 with the intent of marrying English cider traditions with the innovative Northwest micro-brewing culture.  It all started from a desire to make the clean, dry cider Lynda grew to love in England, and Jeff yearned to find in Oregon.  Kinda Dry is take on a traditional English cider made of 100 percent Northwest apples for an off dry, lightly carbonated cider with subtle apple flavors, and a lingering fresh finish.
Finnriver Autumn's Blush
6.9% ABV
When one of Washington's earliest cidermakers, Drew Zimmerman, retired, Finnriver Farm & Cidery owners Keith and Crystie Kisler transplanted 1,000 of his trees from Mount Vernon to Chimacum, a heartwarming, if labor-intensive transition from old guard to new. Finnriver's Autumn's Blush is made with Organic heirloom Washington apples and organic black currants blending the lines between trees and vines. Expect crisp undaunted acidity, layered earth tones and a lighthearted sweetness to bring it all together.
2 Towns La Mure Lambic Style Cider
6.9% ABV
Inspired by the Flemish beers of Belgium, 2 Towns Ciderhouse's La Mure is a bone dry lambic-style sour made with 100 percent fresh-pressed Northwest apples and whole, Oregon-grown blackberries, then aged in local Willamette Valley Pinot Noir barrels with lactobacillus for more than a year. Next, it's removed from the dusty casks and bottle conditioned. This multiple medalists has sourness at the front of the palate rather than a typical sour cider where the sourness hits further back. Expect hints of funk and bitterness with tannic sour, oaky, blackberry flavor. There's moderate red wine influence here with oak influence, complexity and flavor intensity.
Chatter Creek Luya
6.9% ABV
Gordon Rawson began making wine in the early 1980s as a home winemaker. Some of his first wine came from fresh apple juice purchased from the local grocery. Fun, but he desired to be a serious winemaker. After working for Columbia Winery as cellarmaster for nearly a decade, Gordon Rawson opened Chatter Creek Winery in 1996 to produce top-quality sparkling wines in Woodinville, Washington. In 1998, he broadened the focus of Chatter Creek to include still wines. Early in 2000, he departed Columbia Winery to focus solely on Chatter Creek. After a bad day making wine, he bought some apples to clear his mind. Next thing he knew, he added ciders to his label. Luya is an apple cider made with ginger and honey. The ginger is the strongest element of this cider, dominating the aroma and taste. There is a nice body behind the ginger, too.
Swift Pineapple Hop Cider
6.7% ABV
Swift Cider is a small-batch, craft hard cider company from Portland, Oregon. The reincarnation of Outcider LLC, Swift carries forward the same dedication to fresh-pressed apples, wholesome local ingredients, slow-and-cold fermentation, wild yeasts, and intensely delicious flavor. Aidan Currie is the head-cider maker, founding owner, and obsessive fermentation sage. This past summer, Swift Cider grabbed "Medium Cidery of the Year" at the Portland International Cider Cup. Its Pineapple Hop Cider took Silver in the Hopped Cider category. The semi-dry cider has balanced flavor between the pineapple and hops with only hints of bitterness.
---