Them Vultures, a group of hiking buddies, are motivated by beer. OK, that's not fair. The gentlemen are avid hikers who happen to wear Peaks and Pints shirts and drink beer once they loosen the laces at the predetermined peak — and then again at Peaks and Pints on the way home.
Peaks and Pints receives after-action reports from Them Vultures with photographs of trail scenery and, of course, a Peaks and Pints shirt-wearing shot. Chatter Vulture of Them Vultures has submitted a report from his three-day hike from Mowich Lake to Dry Creek along Mount Rainier's Wonderland Trail.
The 28-mile trail from Mowich Lake to Dry Creek had been snowy for a week prior to my traverse. Rains followed for a few days, but the forecast was for clear weather Sept. 26-28. Sunday, Sept. 24, was prep-work. I locked my car at the Dry Creek parking lot and rode my mountain bike five miles up the limited-access dirt road to Round Pass. I locked the bike, ditched my tire pump and bicycle seat where my three-day solo traverse would end and headed back down the road where Beard Vulture gave me a lift back home — after stopping for a beer, of course.
The rain ceased the morning of Sept. 26. My friends drove me to my starting point at Mowich Lake. I was under the canopy for most of the first day, so I don't have much in the way of photos for that particular stretch — across the North and South Mowich Rivers and back upslope into Sunset Park and The Golden Lakes.
Day Two held much more in the way of visual drama; the headwaters of the North Puyallup River and Klapatche Park were stunning.  On the morning of the third day, I decided that I had enough time to drop my pack and make the scramble up the "way trail" to the summit of Aurora Peak (6094 feet). It only cost me about 40 minutes in the climb, and what a pay-off!  Rummaging around on the summit, I found a glass jar with some memorial material enclosed. A notebook inside the jar also pointed out the nearby remains of George E. Wright's memorial cairn. The cairn was in bad shape. I gathered some large rocks and set about to semi-restore it.  (I started researching Wright's background, but I may have to make use of the resources in the Tacoma Public Library's Northwest Room to uncover his story.)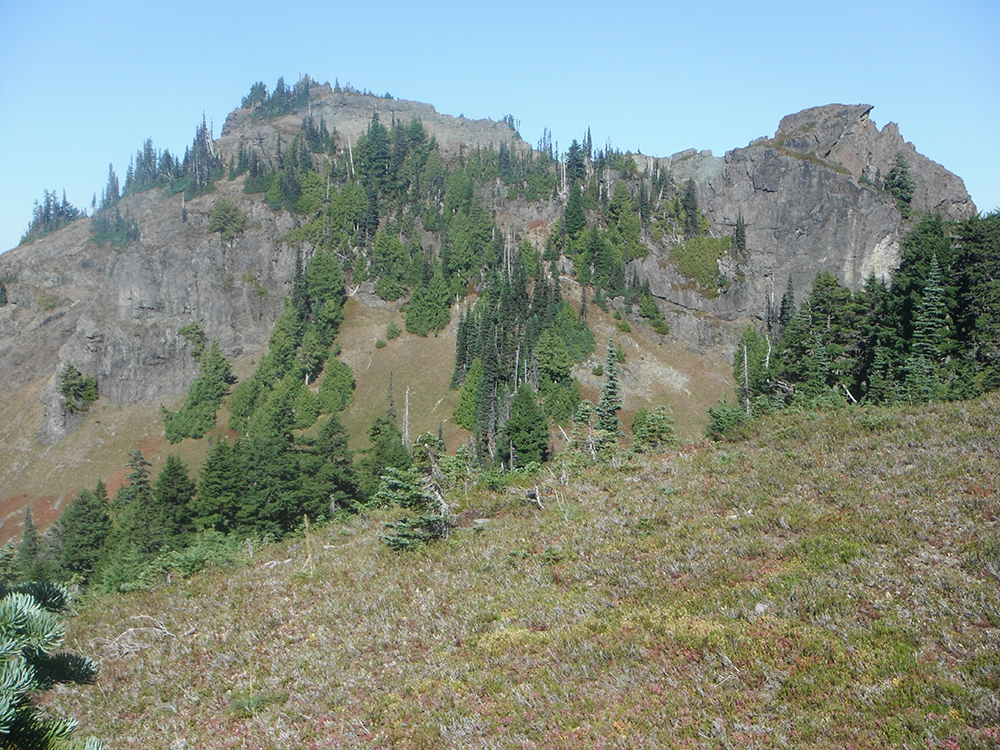 After three days, two nights and 28 miles of perfect weather I finished the Wonderland Trail experience with an easy-coasting bike ride to the finish.
Postscript: Rains ended the night before I went in, and restarted the evening I came out. How's that for blind, staggering, sweet luck?
Happy trails!
---