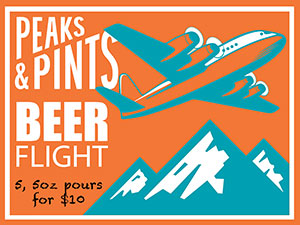 Halloween is creeping around the corner like a Commerce Street guttersnipe in search of a bag of cans. Spooky, eh? It's said there's nothing new under the sun, and that timeworn chestnut proves particularly true each and every Halloween. For instance, if you under the delusion that you'll be the only Trump out and about on All Hallows' Eve, think again. While it's bad enough that everyone and their mother dresses like a pirate, ninja or zombie during this time of year, copycat costumes tend to be in abundance during All Hallows' Eve. In other words, we're expecting to see multiple clones of Wonder Woman, Harley Quinn and characters from Stranger Things populating all the big-time bashes taking place around the South Sound over the next 11 days. However, if you feel like your outfit isn't up to snuff, you're going to need a place to test it. In honor of Halloween, Peaks and Pints has scared up a flight of five Halloween-ish beers today that we call Craft Beer Crosscut 10.22.17: A Flight of Spooky.
The Lost Abbey Ghosts in the Forest
6.1% ABV
The forest is a majestic and magical place full of wonder and incredible creatures, of course, but the amazement also comes with a great degree of mystery. Ghost definitely live in the forest, and they definitely come in all sorts of shapes, sizes, species … and tastes. Slumbering for 18th months in a forest of massive oak foeders, The Lost Abbey's Ghosts in the Forest, a blonde sour, focuses on the complexity of Brettanomyces and oak. Ghosts in the Forest begins with a lemon tartness leading to hints of tropical fruit from the Brettanomyces with a refreshingly dry and lightly oaked finish.
Elysian Dark O' The Moon Pumpkin Stout
6.5% ABV, 20 IBU
Elysian Brewing's Dark 'O The Moon is a straight-up pumpkin stout, a fusion of American-style stout and classic pumpkin spice ale influences. Sweet cinnamon dominates the nose in pleasant fashion, giving way on the palate to mild roast and brown sugar. Chocolate, coffee, tobacco and vanilla add to the flavor with a slightly bitter finish. Overall, the beer isn't nearly so sweet as the aroma initially suggests, and it does a good job of asserting its "stoutness" without it overwhelming the supporting pie spice. It's not the most complex of these beers in the spice department, but it does the cinnamon-heavy style well.
Black Raven Second Sight Scotch Ale
6.9% ABV, 34 IBU
According to Redmond brewery Black Raven, "Ravens in the Scottish Highlands were once thought to possess the gift of second sight, the ability to see future events before they occur. Second Sight is built around malted barley with hops playing a balancing role. This beer is ruby in color with large malt aromatics, delicious malt flavors and a full bodied finish." Indeed, this creamy Scotch ale hits with massive fruity sweetness of raisin, date and toffee notes then flies forever with a woody finish, slight peat and a slight alcoholic aftertaste, warming if you will. Complex and rich, it finishes with a whisper of smokiness that calls to mind sipping fine single malt scotch in a big leather chair while reading Edgar Allan Poe's The Raven.
Stillwater Fear Of Ghosts
6% ABV, 45 IBU
You can fear ghosts. Who doesn't? But, don't feature the smoked sour ale. Stillwater Artisanal's Fear of Ghosts is a smoked, sour farmhouse wheat ale. That's all that needs to be said. OK, it tastes of big tart lemon, lime, green apple, pear, pineapple, pear, melon, white wine, orange zest, peppercorn, hay, straw, grass, sea salt, wheat, cracker, light leathery funk/wood smoke and herbal/yeast earthiness. Seriously, expect an around nice complexity, robustness and balance of fruity/funky/spicy/acidic yeast and light-moderate pale/smoked malt flavors.
Rogue Double Dead Guy
9% ABV, 60 IBU
Over the last 29 years, Rogue Ales has been helping lead the craft beer revolution. The brewery is known for its Dead Guy Ale, considered by many to be the original, Halloween-themed craft beer. Originally brewed to celebrate the "Mayan Day of the Dead" back in the early 1990s, Rogue Dead Guy Ale is a delicious German-style maibock. On Halloween, the Oregon brewery freaks with a stronger, hoppier lesser-known version: Double Dead Guy Ale. This American strong ale clocks in at 9 percent ABV with an amazing mid-palette richness of toffee and caramel.
Save
Save
---