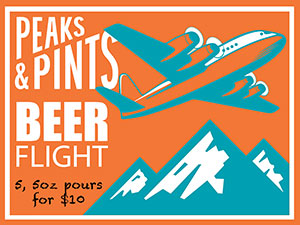 Today is National Boston Cream Pie Day. For those who've never had it, Boston Cream Pie is actually two layers of a spongy vanilla cake sandwiching one layer of vanilla pastry cream and topped off with a puddle of chocolate glaze. Why is this cake called a pie? According to urban legend, New England kitchens were more likely to have pie tins than cake pans in the 1855, when a "Pudding Pie Cake" recipe appeared in the New York Herald. In 1856, "Pudding Pie Cake" was put on the menu at the restaurant in the Parker House Hotel (now the Omni Hotel) in downtown Boston. But instead of using icing sugar on top, they put on a chocolate glaze. Of special significance, Boston Cream Pie was the first time chocolate was used as an ingredient in a recipe. Today, it's the official dessert of the Commonwealth of Massachusetts and the flavor profile of Peaks and Pints beer flight Craft Beer Crosscut 10.23.17: A Flight of Boston Cream Pie.
Avery Vanilla Bean Stout
10.8% ABV, 29 IBU
Now a year-round release, Avery Brewing's bourbon barrel-aged blend of an imperial stout and a regular American stout flexes its decadent vanilla addition from the get-go, offering a big nose of warm, sticky vanilla, toasted coconut and a flit of whiskey. Vanilla dominates the front of the sip but gives way to smooth milk chocolate, coconut, caramelized marshmallow and hints of roast coffee, followed by coffee, dark cherry and dark chocolate lingering at the end. The barrel takes a supporting role, allowing the oak to just dry out the full swallow, leaving pleasant warmth in the throat.
Ninkasi Vanilla Oatis
5.5% ABV, 37 IBU
We really enjoy Vanilla Oatis — an oatmeal stout brewed with vanilla — which is another beer from the Ninkasi Brewing Co.'s Flagship Series. Among its varied and complex aromas, we note charred marshmallows, chocolate milk, and a whiff of sunscreen. There was also the scent of a Black Russian cocktail in this boozy beer. With a good amount of vanilla up front, Vanilla Oatis had a silky smooth mouthfeel and some meatiness to it, as well as flavors that brought to mind a campfire.
Puyallup River Mud Mountain Milk Stout
7% ABV
Puyallup River Brewing Mud Mountain Milk Stout grabbed a silver medal at the 2015 Washington Beers Awards. It grabbed a bronze at the 2016 Washington Beer Awards. It grabs every drinker when they taste its smooth as chocolate silk self. Fresh vanilla beans, cocoa nibs, oats, and six different specialty malts make this milk stout one of the easiest drinking dark beers on the planet.
Caldera Mogli
8.5% ABV, 55 IBU
Caldera Brewing Company's colossal brewery sits just off Interstate 5 near Ashland, Oregon. The brewery honors the passing of a beloved pooch named Mogli with its Mogli bourbon-oaked chocolate imperial porter. Both the style and the beer are a mouthful. The more we smell this craft beer, the more we are reminded of s'mores. We pick up slightly burnt marshmallow, powdery graham cracker and a lot of cocoa. Tucked beneath those notes were some toffee, charred oak and a bit of mocha. The taste opens with a lot of sweet cocoa notes, mixed with roasted malt, espresso and burnt chocolate. Marshmallow and a touch of coffee-like acidity and burnt brownies round out the flavors.
Dogfish Head Oak Aged Vanilla World Wide Stout
16% ABV, 70 IBU
November, as the weather is getting colder, Dogfish Head unleashes World Wide, an imperial stout that usually ranges from 15 to 20 percent alcohol by volume. The beast has been making a seasonal appearance (almost every year) since 1999. From an off-centered bunch like Dogfish Head, perhaps a change was in order. This past summer the Delaware brewery released Oak Aged Vanilla World Wide Stout — the same dark and roasty sipping beer aged in 10,000 gallon oak tanks with vanilla beans. As imagined, it has a strong vanilla flavor, but also notes of brandy, oak, rum, red wine, toasty malts molasses and more vanilla. Warning: as it warms the booziness and vanilla get overwhelming.
Save
---