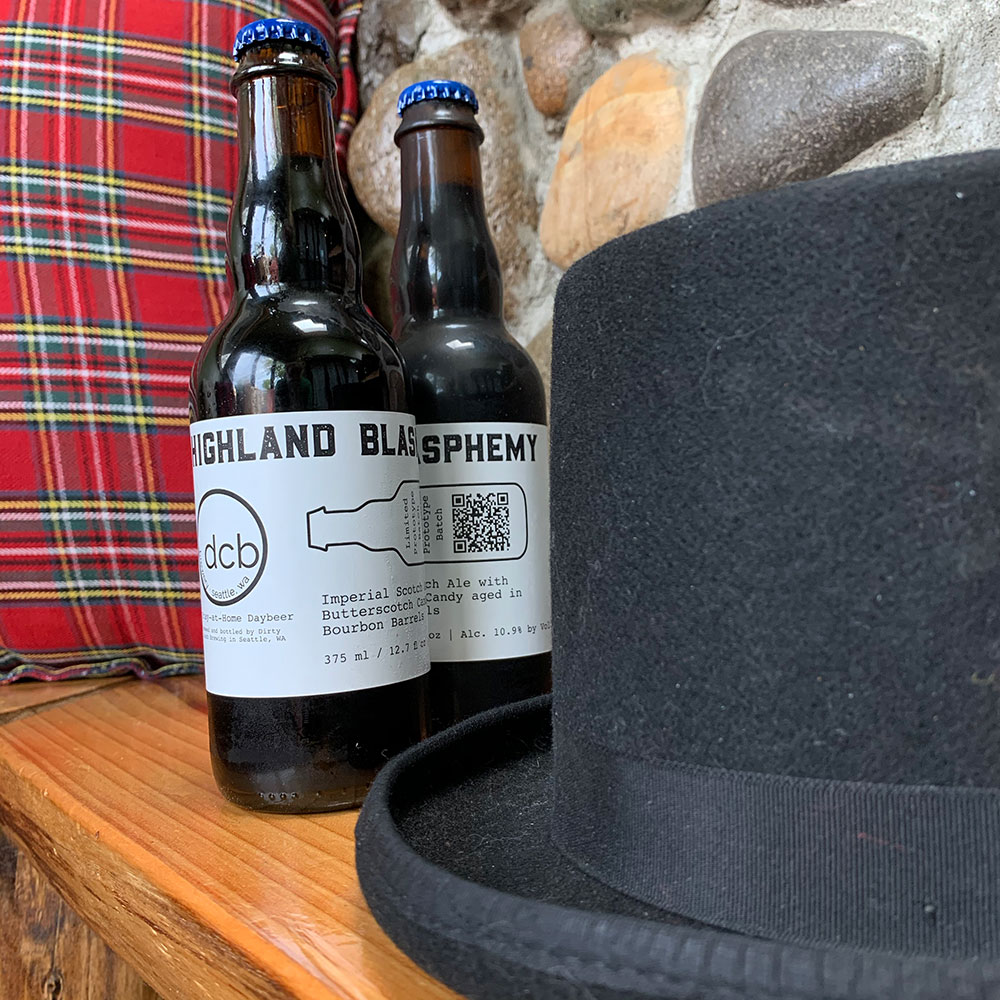 Fancy Pants Sunday: Dirty Couch Highland Blasphemy
Dirty Couch is cool. No, not what you sunk into playing Xbox in college, but rather the barrel-aged, mixed fermentation sour beer brewery in Seattle. When Dirty Couch Brewing head brewer Sean Lindorfer enters Peaks & Pints, people gather around him for his charisma and his excellent beer. Dirty Couch owners Frank Swiderski, Rob Nelson and Jon Cargille did well when they nabbed the former denizen of Urban Family Brewing, Cellar Homebrew and Über Tavern to lead their brewery. Fancy Pants Sunday: Dirty Couch Highland Blasphemy, our look at his latest concoction, proves our declaration.
First, a little dirt on the Dirty. After a bachelor party road trip to Cascade Brewing and Barrel House in Portland, Swiderski, Nelson and Cargille ditched their day jobs for sour beers. The opened Dirty Couch in 2017 after they all agreed their comfortable, down-to-earth, non-pretentious sour house needed a name to match their mentality. Yes, the name is questioned daily, but not their beer. Besides, Swiderski, Nelson and Cargille could be mistaken for law firm. Last year, they opened a larger production facility across Salmon Bay from their original 700-square-foot Ballard location. Their more than half of their 3,800 square feet Magnolia neighborhood facility is dedicated to producing barrel-aged, mixed-fermentation sours. The remaining square footage is used to produce such beers as imperial scotch ales with butterscotch candy aged in bourbon barrels, which is the subject of this week's complex and fancy beer column.
"Substantial liberties were taken without being offered in the first place, resulting in this limited volume 10.9% bourbon barrel aged imperial butterscotch Scotch Ale," states Highland Blasphemy hype, with "Limited Prototype Batch" donning the white and black label.
Cap off, sweet booze fills the air. Passing by the nose reveals a whisky whiff with sweet butterscotch and caramel. On the tongue, it's all the sweet aroma plus a balance of bourbon aged butterscotch flavors: bourbon, caramel, toffee, vanilla and oak. Highland Blasphemy has obviously been in a bourbon barrel, but it's not like we're drinking a pint of bourbon, but close. It works its magic fast.
You fancy Dirty Couch Highland Blasphemy.
LINK: Fancy Pants Sunday archive
---