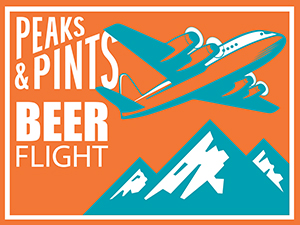 Cheesecake — be it New York-style, Chicago-style, vegan or savory — is a pretty wonderful invention and Peaks & Pints wishes we could kiss the Greek who came up with the first recipe. Because, seriously, cheese on its own is one of the best things in the world and praise the Lord someone managed to make it even more decadent by adding blueberries. Today is National Blueberry Cheesecake Day! Peaks Pints celebrates with a flight of blueberry beers — some creamy, some that pair very well with cheesecake — that we call Peaks and Pints Pilot Program: Blueberry Cheesecake On The Fly.
Peaks and Pints Pilot Program: Blueberry Cheesecake On The Fly
pFriem Bosbessen
6% ABV, 6 IBU
pFriem Family Brewers combines blend 1-, 2-, and 3-year-old lambic onto fresh Draper blueberries, grown just up the road from the Hood River brewery in Odell, at a rate of 3 pounds per gallon. They then added them to their established lambic at a whopping 2 pounds per gallon. The fruit and the lambic were then left alone to mingle for more than six months. Bosbessen's aromas of ripe fruit, white pepper and tobacco lead to a bright, jammy flavor that finishes as tart and tangy as the berries themselves. Pfriem recommends pairing it with cheesecake.
Boulevard Big Blue Ox
8.5% ABV, 7 IBU
Boulevard Brewing team up with Jeremy Grinkey of Bruery Terreux to wrangle the Big Blue Ox. Fermented with both Belgian and wild yeasts, this saison is brewed with 8,000 pounds of whole blueberries. Pouring a rich shade of indigo, this bright, earthy possesses huge, rich aromas of blueberries and Brettanomyces funk. Expect low overall acidity, soft sweetness and a dry finish, plus flavor and aroma centered around Brett and blueberries. This wild saison yearns to be paired with tangy goat cheese blueberry cheesecake.
Black Raven Kitty Kat Blues
5.8% ABV, 35 IBU
From Redmond, comes this Black Raven Brewing unassuming pale ale that has the screws turned a bit with additions of dried blueberries, vanilla bean and, originally, organic mountain-grown catnip, but has since been substituted with hibiscus. The result is an easy drinking pale ale that finishes like this morning's blueberry pastry with, of course, vanilla, dry bittering hops and hibiscus.
Fat Orange Cat Sweet Jane Blues
7.3% ABV
The small, seasonal farm brewery in East Hampton, Connecticut, Fat Orange Cat Brew Co. has released another Sweet Jane IPA, Blueberry. It's a creamy, fruity, milkshake IPA with plenty of blueberries, creating a slight blue hue and subtle blueberry flavor, plus vanilla.
---