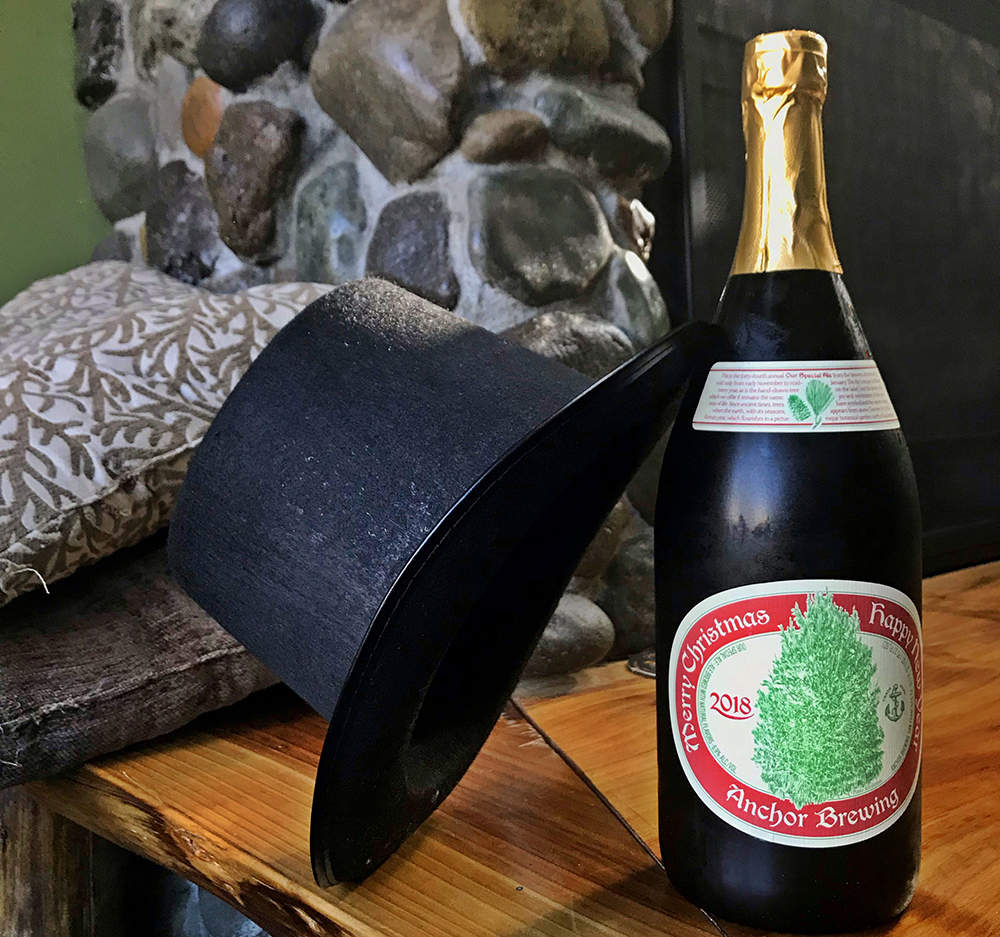 Fancy Pants Sunday: Anchor 2018 Christmas Ale
Since 1896, Anchor Brewing Co. has been producing beer — decades before modern bottling started in the 1970s. The San Francisco brewery is famous for its Steam, or California Common — a type of lager that is made with lager yeast (which usually ferments at lower temperatures) at a higher fermentation temperature. Since breweries in the 1890s had no ice to chill the boiling hot wort, the beer was pumped to the roof of the brewery and chilled with the cool breeze coming off the Pacific Ocean.
That's all fine and dandy, but this is our Fancy Pants Sunday column, a weekly nod to complex, higher ABV or giant-bottled craft beer. Anchor's Our Special Ale (Christmas Ale) fits the bill. Anchor has released its 2018 Christmas Ale, a subtly spiced and sumptuously smooth winter warmer. This year's brew marks the 44th annual release of this Anchor holiday tradition. And, Peaks and Pints has gold-foiled 50.7-ounce magnum bottles of the liquid Christmas tree, as well as 12-ounce bottles.
Back in 1975, Anchor released the first holiday beer in America since Prohibition. Year after year, Anchor creates a new, secret recipe with a unique hand drawn label for their Christmas Ale, but the intent with each brew remains the same: joy for the changing seasons and celebration of the newness of life. With a heavily guarded, confidential recipe, Christmas Ale (6.9% ABV) is sold only from early November to mid-January. This highly anticipated seasonal delight is complex and full in flavor.
This year's Christmas Ale has varying specialty malts, lending rich flavors of brûléed sugars, holiday spices and freshly baked banana bread with a velvety finish. The aromatics are quintessential for the holiday season: nutty candied yams and resinous pine. It pours a nice mahogany brown color with a fluffy, tan head.
As each Christmas Ale recipe evolves, so does its hand-drawn packaging, created by long-time Anchor illustrator Jim Stitt, who has been creating Anchor's Christmas Ale labels since 1975. For the 2018 release, Stitt created a brimming Korean pine tree for the label. Native to North and South Korea, the Korean pine tree is a symbol of peace and a reminder of the spirit of the season. It flourishes in the picturesque botanical gardens just north of San Francisco, Anchor's home base.
Anchor Christmas Ale is the perfect holiday host gift for any craft beer lover.
You fancy Anchor 2018 Christmas Ale!
---