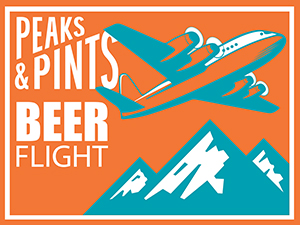 Jeremy Warren is widely admired for his mastery of hops, especially with his signature beer style, India pale ale. In 2012, his Knee Deep Brewing Co. exploded onto the scene when the brewery's Hoptologist won the prestigious Bistro Double IPA competition in Hayward, California, besting the legendary Pliny the Elder, among others. In 2015, Warren left everyone knee deep in tears when he departed the brewery. In March 2017, he and his head brewer, Jeb Taylor, opened Revision Brewing Company in Sparks, Nevada — one of the largest, hoppiest breweries in Sparks for $2 million with a chill taproom and live music. He began pounding taste buds with his lupulin-laden creations once again. Today, Peaks and Pints presents a flight of Revision craft beer that we call Craft Beer Crosscut 11.4.18: A Flight of Revision Brewing.
Craft Beer Crosscut 11.4.18: A Flight of Revision Brewing
Revision Planetary Fog
7.5% ABV, 23 IBU
When big brains discuss about planetary haze, they are referring to particles that are produced from chemistry in the atmosphere that is usually initiated by solar photons and/or an external source of energetic particles and results in the formation of solid products. When Revision Brewing discusses Planetary Fog, they are referring to a combination of polyphenol and protein molecules that associate via hydrogen bonding that become visible. Suspended yeast, which is different than protein-polyphenol haze, also causes cloudiness, which combines with Amarillo, Mosaic, Citra, and Galaxy hops to form Planetary Fog. This hazy IPA hits the nose with dank, tropical fruit, orange, mango and grapefruit with some hay. This tropical fruit bomb is sweet, indeed, but also has some grass and light bread with a medium, grapefruit-mango bitterness, dry finish.
Revision Social Fermentation
6.5% ABV, 35 IBU
Ready for a refreshing hop party? Revision's hazy Social Fermentation IPA has invited Citra and Mosaic, of course, and their buddy Amarillo, and foreigners Galaxy and Vic Secret out of Australia. It pours a milky light peach color with a thick sticky off white head. A nice tropical nose fills the party. The flavor consists of light, fresh citrus and juicy tropical fruit flavors with some soft sweet almost pilsner malt base. Would have guessed a few more IBUs than the listed 35. Expect a smooth finish with a little fruity sweetness.
Revision State of Haze
6.5% ABV, 37 IBU
Air pollution can scatter and absorb light, limiting visibility and obscuring color and clarity. When visibility is reduced over large regions it is called Regional Haze. Brewing beer with high-protein malts, such as wheat and oats, provide greater haze stability since the malt polyphenols from these high-protein malts serve as a binding point for hops polyphenols. When the malt polyphenols keep hops polyphenols from dropping out of suspension and, as a result, produce a beer that remains hazy longer, it is called Revision State of Haze. This New England-style IPA delivers notes of bright tangerine, ripe pineapple, passionfruit, faint melon, cantaloupe and light, grassy herbal notes on a soft bed of wheat and oats.
Revision Elevation Calculation
8% ABV, 45 IBU
Most scientists today measure the elevation of mountains by placing radios on the peaks of a mountain range, after which, satellites take measurements and determine the elevation. Revision Brewing's Elevation Calculation doesn't involve hiking and radios, but rather Mosaic, Citra and Simcoe hops. This smooth New England style double IPA has big tropical and citrus aroma and flavor with slight sweetness and pine.
Revision Simcoe Revenge
9% ABV, 65 IBU
The Simcoe hop is polarizing. Like cilantro tasting soap to the genetically predisposed, some think that Simcoe smells like cat urine, or ammonia, and can't move past it. If you are in the camp that experiences an evergreen forest with a slight citrus tang when exposed to this hop, then this is your beer. Known as "Cascade on steroids," Simcoe hops are the main attraction in Revision's Simcoe Revenge, and pine is readily identifiable — more needle than cone. A slight citrus character — tangy orange — peaks through in the dry finish, but the pine never disappears.
---
Category:
Beer Line Blog
,
Craft Beer
,
Critical Drinking
,
Crosscut Flight
,
In The Cooler
,
Shop
,
Specials
Tags: beer flights, craft beer, Craft Beer Crosscut, e, Revision Brewing Co