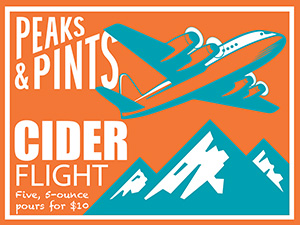 Pears require a delicate touch. In baked goods, their simple sweetness can seem one-dimensional, and their subtle flavor is easily overwhelmed — when loaded down with heavy spices, pears have a tendency to fall flat. Where apples are crisp and bright, more than capable of holding their own against an array of bold spices and a lengthy cooking time, pears are buttery, mild, and tender, necessitating a different approach. In classic French cuisine, pears are often poached with vanilla beans in wine, and for good reason. The wine's fruit-forward acidity perks up the mellow pears, while fragrant vanilla beans amplify their floral aroma and the gentle cooking method keeps their delicate texture intact. Let's hear it for vanilla, the all-around MVP of the baker's kitchen! Pear and vanilla are also perfect partners when combined in cider, as you will taste today at Peaks and Pints. Enjoy Peaks and Pints Monday Cider Flight 11.5.18: Pear and Vanilla.
Peaks and Pints Monday Cider Flight 11.5.18: Pear and Vanilla
Eric Bordelet Poiré Authentique
4% ABV
During the 1980s, Eric Bordelet was considered one of the most influential figures in the Parisian wine scene, as he spent several years at the helm of the wine program at the illustrious Michelin Three Star restaurant of l'Arpège in Paris. However, his native Normandy called him, and he handed over his sommelier duties at l'Arpège and returned to the windswept orchards of Normandy in 1992, desiring to bring his superb palate to bear on the high-powered ciders of the region. Bordelet's Poiré Authentique is true pear cider with just a hint of residual sugar. It's classy cider with the texture and taste of ripe pears. This pear cider has very expressive aromatics, gentle mousse, ultra fine bubbles, beautiful balance, refreshing acidity and traditional off-dry palate with a hint of sweetness.
Locust Cider Vanilla Bean
5% ABV
Tired of beer and coffee, brothers Jason and Patrick Spears started Locust Cider in 2015 with traditional bottle-conditioned and farmhouse funky French styles cider in the plans. Today, Locust offers a broad range of ciders: from funky single-varietal heirloom vintages to simpler types spiked with secondary flavors Thai ginger and vanilla bean. Locust's Vanilla Bean cider is a blend of Washington apples and real Madagascar vanilla, creating what is best described as an adult's all natural cream soda. The nose is sweet vanilla bean with apple notes, as is the flavor with a hint of acidity.
Portland Cider Pearfect Perry
5.6% ABV
In the fall of 2012, Jeff and Lynda Parrish opened Portland Cider in a cramped 1,500 square foot space in Oregon City. In 2015, they opened Portland Cider House in Portland's Hawthorne neighborhood, offering 24 taps pouring a full range of Portland Cider's apple and fruit ciders alongside a range of guest ciders. They continued to grow rapidly. In April 2016, they moved production to a significantly larger space in a Clackamas light-industrial business park. Their Pearfect Perry is made from nothing but a blend of Bartlett and D'Anjou pear juice. This lovely balanced perry arrives semi-sweet, almost cider-like.
Avid Cider Vanilla Bean Pear
6.2% ABV
"We called upon the Greek Goddess of Snow 'Khione' to forge a cider to combat that bitter, bleak, unyielding chill of her father's (Boreas God of the North Wind ) winter season," states Avid Cider Vanilla Bean pear hype. "Equipped with a quiver of Madagascar Vanilla Beans her quest began with a hunt to collect the finest NW pears. In an effort of pure blasphemy to her father, she then pressed, blended, and fermented a drink in the perfect elixir that would allow us mortals to survive through the winter." Peaks and Pints has no idea what that means, but EXCITING! This cider tastes exactly what hard apple cider, pear juice and vanilla bean extract can produce.
Finnriver Pear Cider
6.5% ABV
Finnriver Farm & Cidery's small batch Pear Cider features cider fermented on the farm using 100 percent organic apple juice pressed from Washington apples. Finnriver ferments the apple juice, then sweetens it with organic pear for additional depth, sweetness and flavor, although apples rule the nose here. There's a certain bitterness grounding the pear flavor, pulling it out of the realm of single-note sweetness.
---