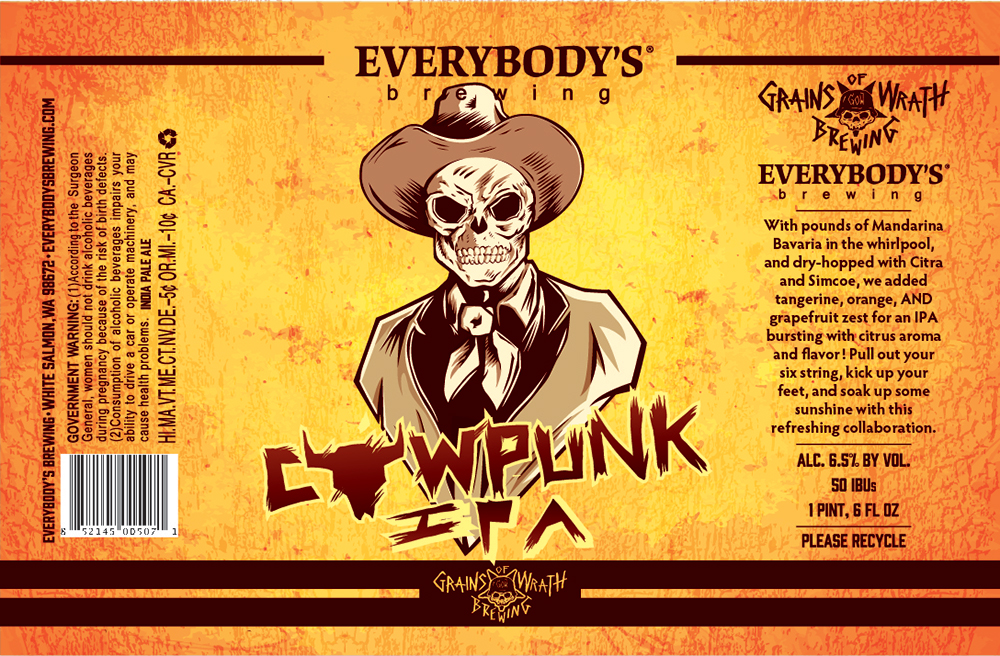 MORNING FOAM FOR THURSDAY, JUNE 14 2018: A seven-taster flight of craft beer news, from the fluffy head all the way to the best YouTube videos of all time. …
Last summer Everybody's Brewing invited the forthcoming Grains of Wrath Brewing out to White Salmon, Washington to brew a collaboration beer. The result was a draft only collaboration release of Cow Punk IPA. Since that time Grains of Wrath opened and the beer that was a hit last year is set for a release once again. Friday, June 15, Everybody's Brewing will release Cow Punk IPA for the first time in 22-ounce bottles. In addition to this new release, Everybody's Brewing is set to open its soon to be relocated brewpub in downtown White Salmon with a soft opening Thursday, June 28.
Dick Cantwell, co-founder of Seattle's Elysian Brewing and now co-owner of San Francisco's Magnolia Brewing, has heard the question many times: What's next after IPA? He answers that question in his new book, Brewing Eclectic IPA (Brewers Publications, $19.95). Buy the book for less here.
For the craft beer industry, rosé beers have mostly taken the form of fruit-forward and funky sours. These sweet and sour concoctions walk the line between wine and beer, but are a delicious way to sip your way through the summer heat. Five breweries are leading the rosé beer charge.
Hop Culture Magazine will present Beers Without Beards Week, the world's largest celebration of women in the beer industry. Taking place in New York City from Aug. 7-12, the week will feature panels, tap takeovers, and beer dinners, all culminating in festival featuring 20-plus of the best female-run breweries in the country.
The coolest thing in the beer cosmos right now is the Brewery Can Release. This is a fact. It makes sense on so many levels. If you love beer, the release is where you get the freshest beer. It's where you see everyone who shares your passion for good beer. You get to contribute to a local business' success. And hey, it's cheaper than taking your friends to a movie. For breweries, it's an incredibly intimate experience with your biggest supporters, an excellent source of high-margin revenue, and a way around a broken beer distribution system.
The USA has gone beer crazy. More than 9,000 breweries are in the country, and more than half of U.S. states have at least 100 breweries within their borders, an analysis of the U.S. Treasury Department's most recent statistics reveals.
When does a YouTube video turn from merely a YouTube video into a great YouTube video? And which great YouTube videos over the years are the greatest? The 100 greatest YouTube videos of all time … ranked!
Below is No. 100. Can you guess what's No. 1?
---