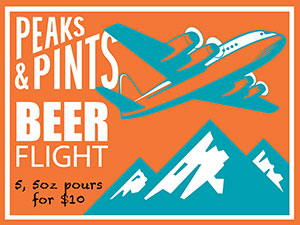 On the 11th day of beer week my true love gave to me: beer fests, beer seminars, beer games, beer dinners and tons of other food and beer events across the city. Merry Portland Beer Week! Indeed, Portland Beer Week is back, and it's as overwhelming as ever with all the events over 11 days, including the 7th annual Beer and Cheese Fest June 16 and Snackdown June 17. Portland Beer Week is an excellent way to sample a wide range of craft breweries and styles. But if the drive doesn't sound appealing, beer fans can create their own diverse festival at their own pace on almost any day of the week — while also getting the most out their drinking budget. The answer: Peaks and Pints daily Craft Beer Crosscut beer flights. Today, as you can guess, our flight celebrates Portland Beer Week, as well as craft beer pioneer Rob Widmer who will be in the house tonight(!). Pull up a bar stool and taste Portland in our Craft Beer Crosscut 6.14.18: A Flight of Portland Beer Week.
Ecliptic MoonBase Blood Orange Saison
7.5% ABV, 10 IBU
Looking for a new partner to perform the Moonwalk? Take Ecliptic Brewing's MoonBase Blood Orange Saison for a whirl. An intricate shuffle of bright blood orange citrus flavor and aroma with classic Belgian yeast spiciness deliver a beer that is as beguiling and complex as it is refreshing. The distinctive citrus notes from the hops used to brew this 7.5 percent ABV saison complements the blood oranges to create a bright, juicy flavor, while the pepper and coriander play well with the beer's natural sweetness and dry finish.
Widmer Mr. Sparkle
5% ABV, 20 IBU
The now-legendary Widmer brothers, founders of one of the first post-Prohibition breweries in Portland, have maintained a legacy of innovation and success nearly unheard of among craft brewers. Their popular Hefeweizen is now a household name in the United States, often credited with popularizing the style among American beer drinkers. Peaks and Pints decided not to tap Widmer's beautiful unfiltered wheat at our Widmer Brothers Brewery Lodge Meeting tonight, but rather showcase their recent craft, including Mr. Sparkle. Widmer teamed up with neighbor Occidental Brewing on this Asian dry lager with calrose and flaked rice. The rice lager is brewed with 6-Row malt and a super low fermentation for a crisp, clean finish. Rub shoulders with craft pioneer Rob Widmer and Mr. Sparkle tonight.
Royale Inspektor Red Ale
6% ABV, 31 IBU
Mike Weksler, Jack Houston and Paul Bastian had been pushing through Alameda Brewhouse's exit doors with kegs of their Royale Brewing Co. Pilsner and Fat Unicorn Pale until they found their own brewhouse down the street in Northeast Portland, followed by their own taproom in the city's St. John's neighborhood. Recently, Royale Brewing signed on with Alpha Distributing bring the brewery's craft beer to Western Washington, including Peaks and Pints. Royale's Inspektor Red Ale is a rich, malty version of the style that leads with a subtle, tropical fruit and berry hop aroma followed by toffee, caramel and baked bread malt aromas and flavors.
Ex Novo Dynamic Duo Project 020
8.3% ABV, 75 IBU
Since opening in 2014, Ex Novo Brewing's mission is to contribute all — yes, all — of its profits (that don't get redirected to infrastructure improvements, which is not code for lining any pockets) to its four primary nonprofit partners: Friends of the Children, IJM, Impact NW and MercyCorps. Keep that in mind as you enjoy the Northeast Portland brewery's Dynamic Duo Project 020, a dual hop IPA series that features Mosaic and Rakau hops for this round. It's dry and tropical with a nice stone fruit aroma.
Breakside India Golden Ale
8.1% ABV, 80 IBU
Originally released in 2013 as a limited draft only special collaboration with Ninkasi Brewing, Breakside Brewery's India Golden Ale, or I.G.A., is a golden double IPA that's light in body, lighter in color and HUGE in citrus flavor and aroma. I.G.A. showcases Mosaic and Eldorado hops. Mosaic gives the beer a bright mix of stonefruit and tropical flavors along with a big piney backbone. Eldorado is fruity and softens the finish. The Portland, Oregon brewery keeps the malt bill incredibly simple to allow the hops to take center stage in this elegant and beguiling beer.
---