Peaks and Pints Proctor Arts Fest After Party
August 4, 2018 @ 5:00 pm

-

8:00 pm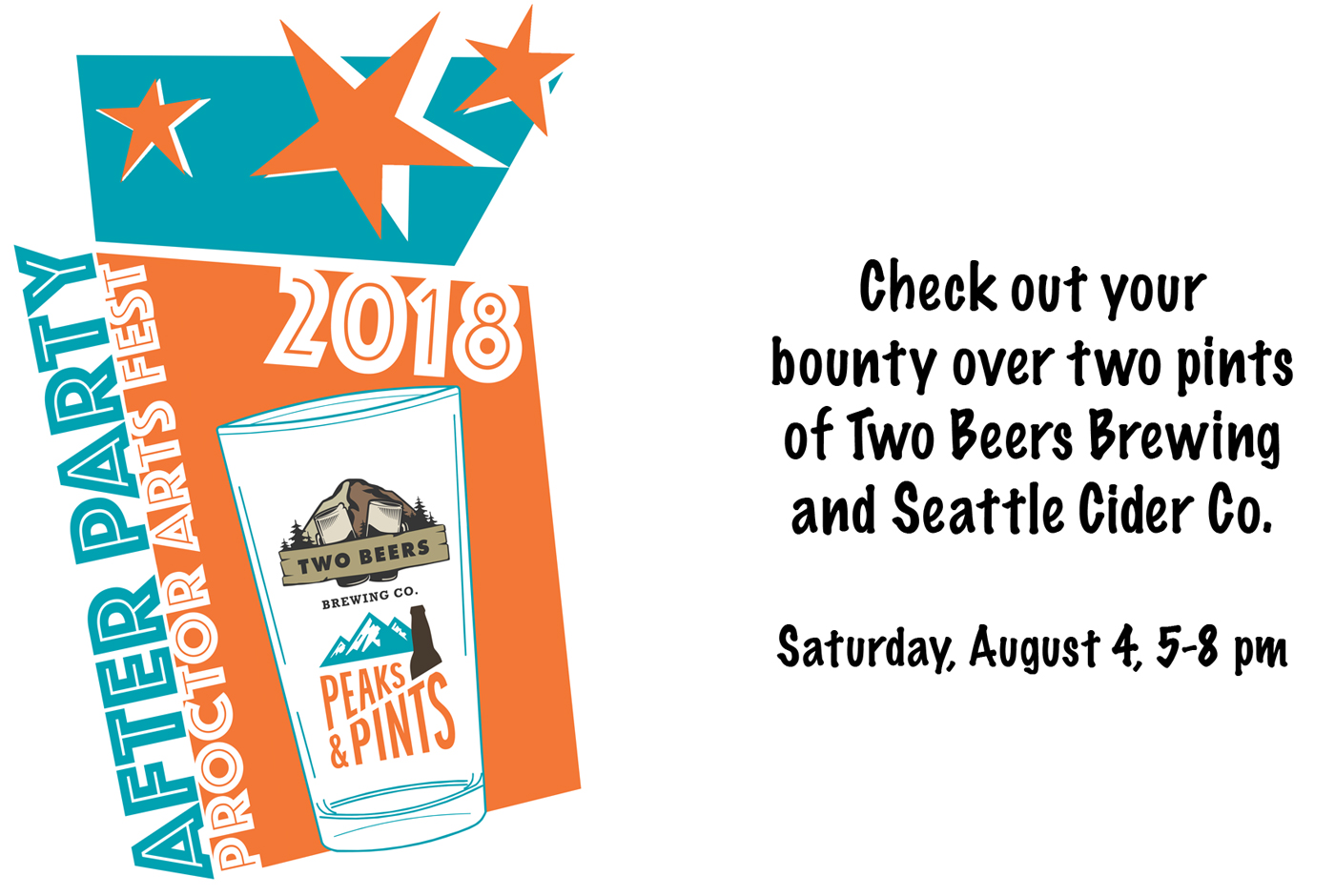 Peaks and Pints Proctor Arts Fest After Party
It's 5 p.m. on a Saturday, and you're leaning against Nalley Pickles barrel wood converted to a bar top at Peaks and Pints, a 20-month old bottle shop, taproom and restaurant that's quickly gained a reputation as a hangout for folks looking for an Proctor Arts Fest after party. It's a mostly sunny, 79-degree, Aug. 4 2018 day and you're toting three full bags of purchased goods and a 20-by-20-inch watercolor of Tacoma founding father Allen C. Mason under your arm. Through Peaks retractable front windows you spot a few folks pleading for sales past the 5 p.m. Arts Fest closing time. People pack Peaks and Pints — some looking for reposed, many for sandwiches, most for Two Beers Brewing and Seattle Cider craft liquids. A couple Arts Fest organizers move through the crowd chatting it up with participants.
A guy in an orange T-shirt starts sketching the room. Jessi and Jared aka Champagne Sunday, who performed several hours early on the Fest's main stage, describe their Gritty City Sirens burlesque project to an older couple. A 24-year-old attorney and 45-year-old nurse battle it out on the jukebox (the young female get the best of him). At this moment, you understand what Peaks and Pints Proctor Arts Fest After Party is all about. It's an aboveground attempt to hold on to the days' creativity while sipping on craft beer and cider from After Party sponsors Two Beers and Seattle Cider. It's a way to share all the multicolored glory over a pint of Two Beers Mango Passion Fruit IPA.
If you're looking for cuddle puddles, tiny-T-shirt-wearing candy culture, Gothic-style chandeliers or some strange world where Alice in Wonderland meets Hunter S. Thompson, you won't find it at the Peaks and Pints Proctor Arts Fest After Party. Rather you'll find Two Beers' Wonderland Trail IPA with its citrus and passionfruit flavors quite pleasing after a day checking out contemporary art quilts. You never though a Two Beers sun-dried raisin-chocolate-toffee SoDo Brown ale would hit the spot flipping through piles of colored pencil art on a warm summer day. Juried art show, sidewalk chalk art, face painting, your maniac children running around Proctor — all good reasons to hang out that night with Seattle Cider Lavender Lemon at Peaks and Pints.
As you move from the bar to the corner nook next to the fireplace, with the sun shining on your face, you think about the after parties you enjoyed back in your rave days. You chuckle under your breath. That day, the only thing you are raving about is how Two Beers' delicious Proctor Peaks IPA pine profile takes you back to that one rave in the woods when you painted your fingernails and toenails with heavy-duty $2 glitter nail polish while wearing bargain women's costume garb, a bright pink wig and read the Lorax to the crowd. Nice.
PEAKS AND PINTS PROCTOR ARTS FEST AFTER PARTY, 5-8 p.m. Saturday, Aug. 4, Peaks and Pints, 3816 N. 26th St., Basecamp Proctor, Tacoma, no cover