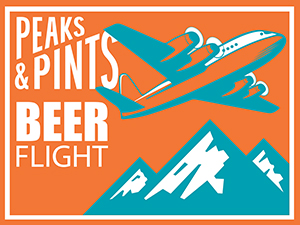 Tomorrow is National Strawberry Sundae Day — a day Americans combine vanilla or strawberry ice cream, strawberry sauce, fresh strawberries, and whipped cream. Peaks and Pints isn't sure who invented strawberry sundaes or National Strawberry Sundae Day, but history claims, in 1881, 18-year-old George Hallauer ordered an ice cream soda, on a Sunday, in Two River Wisconsin, and had the nerve to ask for it to be topped with chocolate syrup. "I call it a Sundae, yo," Hallauer probably didn't exactly say. In 1892, Reverend John M. Scott took the "sundae" a bit further when he ordered a bowl of ice cream at Platt & Colt Pharmacy in Ithaca, New York, with a drizzle of cherry syrup and a bright red, candied cherry on top. In 2019, Peaks and Pints took it one step further when we combined strawberry and vanilla in a beer flight that we call Craft Crosscut 7.6.19: Flight of Strawberry Sundae … with a little chocolate (natch).
Craft Crosscut 7.6.19: Flight of Strawberry Sundae
Swift Strawberry Cider
6.5% ABV
Swift Cider, an urban craft cidery based in Portland, Oregon, is the reincarnation of Outcider, which was originally founded in spring 2012. Founding owner and head small-batch cidermaker Aidan Currie continued to dedicate his life to small batches made with fresh-pressed apples, local ingredients, slow-and-cold fermentation, and wild yeasts. His Strawberry cider is slightly tart, dry and smooth — not too sweet and refreshing.
Off Color Dino S'mores
10.5% ABV, 40 IBU
John Laffler of Goose Island and Dave Bleitner of Two Brothers opened Off Color Brewing in March 2013. At the brewery's launch party, a local pastry chef cooked up a batch of dinosaur-shaped s'mores for munching; these treats provided the inspiration for an imperial stout Off Color would later brew in collaboration with Danish brewer Amager Bryghus and venerable Windy City bottle shop West Lakeview Liquors. The beer — flavored with marshmallow fluff, molasses, vanilla beans, graham flour and cocoa nibs — was named Dino S'mores and has been available since 2014. It's sweet and sugary, with a bouquet of blackstrap molasses, graham cracker and marshmallow fluff atop a layer of alcohol, vanilla, marshmallow and milk chocolate.
Abita Strawberry Lager
4.2% ABV
The only beer brewed with Louisiana strawberries, Abita Brewing's Strawberry Lager is brewed with Pilsner and Wheat malts and Vanguard hops. The berries are definitely noticeable on the nose, but not overpowering upon tasting. The relatively high carbonation levels also perk up the flavors quite a bit and make this a very refreshing treat. If you're a fan of Abita's Purple Haze, which is their raspberry wheat product, you'll probably really like this one.
Great Divide Vanilla Oak Aged Yeti
9.5% ABV, 60 IBU
Great Divide has been fairly conservative over the years about messing with its signature Yeti Imperial Stout, adding only a few variations every couple of years or so; these have included Chocolate Oak Aged Yeti, Espresso Oak Aged Yeti, Oatmeal Yeti and the draft-only, lower-ABV Velvet Yeti Nitro. Vanilla Oak Aged Yeti seems like a no-brainer. The sweet vanilla tones meld into the oak character and the two really support and enhance one another, all while sitting on the bold, roasty character we all love from Yeti.
Triceratops Strawberry Golden
5% ABV
Homebrewer Rob Horn left New Jersey to become a firefighter at Joint Base Lewis-McChord. He and his wife, Kelly, opened Triceratops Brewing in August of 2014. With the last name Horn and three awesome kids, is there really any other name? At first, they brewed out of their home garage. After thriving there for three years they opened a tasting room next to Matchless Brewing in Tumwater. Their Strawberry Golden is a classic blonde ale brewed with 20 pounds of Thurston County strawberries per barrel. Horn added strawberries three days before the end of fermentation to leave a slightly dry strawberry finish, but without loosing that delicious strawberry flavor.
---