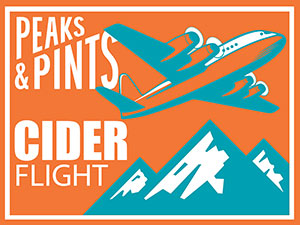 In late 2010, Corvallis homebrewers Aaron Sarnoff-Wood and Lee Larsen filled a gap in the college town's drinking scene — cider. The duo opened 2 Towns Ciderhouse crafting unique ciders brewed with the traditional English and French-style's tannic apples, Oregon grown, of course. Named after the cities of Corvallis and Eugene (Larsen's a Beaver; Sarnoff-Wood a Duck), 2 Towns believes "… that the long history of cidermaking demands respect and deserves to be done right," states the cidery's motto. "Starting with the highest quality whole ingredients from local farms, we take no shortcuts in crafting our ciders. We never add any sugar, concentrates or artificial flavors, and instead use slow, cold fermentation methods to allow the fruit to speak for itself. As a family-owned company, we are committed to the growth of our team and enrichment of our communities. We take pride in producing true Northwest craft cider." Sounds delicious to us, and hopefully to you too in our Craft Cider Crosscut 9.30.19: Flight of 2 Towns Ciderhouse.
Craft Cider Crosscut 9.30.19: Flight of 2 Towns Ciderhouse
2 Towns Sun's Out Saison
5.8% ABV
Sun's Out Saison is made with tart, fresh-pressed Northwest apples fermented on more than 46 pounds of golden peaches per barrel with an authentic French saison yeast. It's unfiltered, dry, slightly spicy and phenolic cider, with lots of big, clean, fresh-peach aromatics.
2 Towns Made Marion
6% ABV
The Marion blackberry was originally bred for Marion County, Oregon farmers. Tangy and full of ripe, rich berry notes that shine in 2 Towns' Made Marion, even after blended with Northwest apples. The nose is expressive dark berry and cherry, with apple and sweetness. The taste follows suit — blackberry-like, tart and tangy with a medium bodied and low effervescence with a subtly dry finish.
2 Towns Hollow Jack'D
8.4% ABV
Hollow Jack kicks pumpkin-spiced lattes back into the patch. Made from A brew of fresh-pressed apples, caramelized pumpkin and sweet potatoes, it's basically fall in a glass. The pumpkin flavor isn't overwhelming, which is enjoyable and not too sweet.
2 Towns Nice & Naughty
10.5% ABV
Nice & Naughty spiced apple cider is Christmas in a glass. Cinnamon arrives first on the taste palate, and nutmeg in a close second with clove and honey bringing up the rear. Where's the fireplace? Where's the big, comfy sweater? Where are the presents? Oh, yes, Nice & Naughty is a present.
2 Towns Serious Scrump
11% ABV
Scrumpy is a rustic, unfiltered, farm-based cider, typically made from ripe, fallen apples. To "scrump" is to steal, snag or swipe up apples from an orchard, although the term is used in a less gangsta way today. 2 Towns' version is deep, dry and rich with Hood River Apples blending together with Oregon blackberry honey and traditional English cider yeast to create a tart, floral, celebratory cider.
---