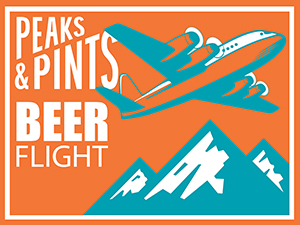 Pacific Northwest hops are harvested each year from late August through September, which means beers brewed with the freshest hops available, known as wet-hopped beers, arrive in early October. What are fresh-hop beers? Simply put, they're brews made with hops that are pulled off the bine and go straight into the kettle. The vast majority of the hops used by U.S. breweries are cultivated in Oregon and Washington. For the most part, these hops are dried and processed before being sold to professional and amateur brewers, which affects the flavor punch. With fresh hops, drinkers can expect more hoppiness, more aroma and more flavor — kind of like cooking with fresh herbs and spices instead of something that's been on the shelf for a while. Fresh-hopped beers are best consumed ASAP; let's drink five today. Stop by Peaks and Pints and enjoy Craft Beer Crosscut 9.29.19: Flight of Fresh Hops.
Craft Beer Crosscut 9.29.19: Flight of Fresh Hops
pFriem Centennial Fresh Hop
6.2% ABV, 50 IBU
pFriem Family Brewers Centennial Fresh Hop was brewed with a large quantity of fresh Centennial hops from Crosby Hop Farm in the Willamette Valley. The Centennial hops offer a taste of fresh pine needles giving way to bitter grapefruit pith backed by thin, cracker-like maltiness in a gushingly carbonated sip. A nicely constructed brew with a resiny, hoppy, and, well, fresh finish.
Crux Dr. Jack Fresh Hop IPA
6.9% ABV, 50 IBU
Named for hop pioneer Dr. Jack Horner – creator of the Cascade hop — Crux Fermentation Project's timely IPA features freshly harvested Oregon-grown Cascade hops, added to the kettle the very same day they're picked in order to maximize all the floral and citrusy goodness this legendary hop has to offer. The nose is earthy light floral hops with some light caramel malt. Taste is more of the earthy grassy hops with some herbal notes and rich malt.
Culmination Fresh Hop Phaedrus IPA
6.5% ABV, 60 IBU
In January 2017, seven years after Tomas Sluiter left his brewing job at Old Market Pub and almost two years after attempting to open his brewery in Portland's Goose Hollow neighborhood, he and his wife, April, opened Culmination Brewing in Northeast Portland's Bindery Annex building. Tomas, now a certified Master Brewer, built his dream brewery in the 7,000-square-foot space kitted out with gravity-fed tanks. The brewery's flagship Phaedrus IPA receives the "Fresh Hop" tag after fresh Mosaic hops are added to the hop bill of Millennium, Galena, Simcoe, and Citra hops. Mosaic hops deliver juicy, fruity, tropical notes, which dominates this IPA.
Stoup Simcoe Fresh Hop
6.8% ABV, 60 IBU
Stoup Brewing co-owner Brad Benson graduated from Gonzaga University with a B.S. in Chemistry and has been crafting beer for more than 25 years. This scientist knows what to do with fresh hops. He also knows how to drive fast. He grabbed freshly harvested hops from Perrault Ranches in the Yakima Valley, put the pedal to the metal and arrived back at his Seattle brewery lickety split. Packed with 350 pounds of Simcoe fresh hops, definitive dankness highlights the aroma, which also features fresh pine resin and bold citrus. Sticky caramel greets the tongue, followed by solid pine and light orange-and-honey sweetness before a well-timed, bold bitterness kicks in to wrap a bow on this beer.
Double Mountain Killer Red
7.2% ABV, 88 IBU
The birth of Double Mountain Killer Red happened after the choice of hops for the Hood River brewery's Killer Green Fresh Hop IPA were a little late, so the brewers decided to craft a sister brew with fresh Perle hops to fill the thirsty void. It stuck. So the annual fresh hop trip to Sodbuster Farm in the Willamette Valley includes enough hops to brew Killer Red. Aroma is strong with hoppy overtones, piney, lemon zesty and cookie dough malt. Taste is more of the same, dry piney citrusy hops and pastry malts dominating the flavor, with a hint of sweetness. Finish is dry, but balanced and satisfying.
---