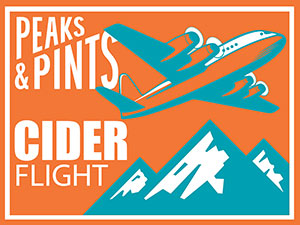 In late 2010, Corvallis homebrewers Aaron Sarnoff-Wood and Lee Larsen filled a gap in the college town's drinking scene — cider. The duo opened 2 Towns Ciderhouse crafting unique ciders brewed with the traditional English and French-style's tannic apples, Oregon grown, of course. Named after the cities of Corvallis and Eugene (Larsen's a Beaver; Sarnoff-Wood a Duck), 2 Towns believes "… that the long history of cidermaking demands respect and deserves to be done right," states the cidery's motto. "Starting with the highest quality whole ingredients from local farms, we take no shortcuts in crafting our ciders. We never add any sugar, concentrates or artificial flavors, and instead use slow, cold fermentation methods to allow the fruit to speak for itself. As a family-owned company, we are committed to the growth of our team and enrichment of our communities. We take pride in producing true Northwest craft cider." Sounds delicious to us, and hopefully to you too in our Craft Cider Crosscut 2.25.19: A Flight of 2 Towns Cider.
Craft Cider Crosscut 2.25.19: A Flight of 2 Towns Cider
2 Towns The BrightCider
6% ABV
Discovered on Long Island in 1759, the Pippin Newtown is one of the oldest original US varieties of apples. Thomas Jefferson grew it and Benjamin Franklin took samples to the English royal court, causing it to become one of the first US apple exports to the UK. 2 Towns Ciderhouse takes advantage of the apple's sweet, rich flavor in its BrightCider, which shines a spotlight on Newtown Pippin with a little help from other Northwest Varieties. The BrightCider is fermented cold to slow the fermentation process, retaining the aromatics of this heirloom fruit. The result is balanced flavor — partly sweet and partly dry.
2 Towns Easy Squeezy
5% ABV
Peaks and Pints is not here to ruin a perfectly good summertime beverage for you. Pink lemonade is sometimes colored with cranberry juice, raspberry juice or crushed strawberries, but it's more often colored with red food dye. This may come as a surprise to some, but it's a vast improvement from the way it was dyed when first appearing on the beverage scene in the mid 1800s. 2 Towns' Easy Squeezy pink lemonade cider isn't colored with red food dye, but rather brings the pink lemonade vibe with fresh-pressed Northwest apples, Meyer lemons, and raspberries. It's citrusy, refreshing and goers down easy.
2 Towns Strawberry Haze
5.5% ABV
The strawberries Oregon grows are the nation's reddest, sweetest and most fragile. Developed in British Columbia in 1971, the Totem strawberry has a rich, red color inside and out. 2 Towns picked a bunch just miles from their Corvallis ciderhouse for their unfiltered Strawberry Haze cider. It tastes like freakin' strawberries. It's finished with crimson red rhubarb for a little bite.
2 Towns Two Thorns
6.2% ABV
The Portland Thorns FC is an American professional women's soccer team based in Portland, Oregon. Established in 2012, the team began play in 2013 in the then-eight-team National Women's Soccer League. 2 Towns Ciderhouse teamed up with the Thorns to created Tow Thorns, a rosé cider made with fresh-pressed Northwest apples, raspberries and rose petals. The result is a uniquely fragrant cider with a vibrant red hue.
2 Towns Ciderhouse The Bad Apple
10.5% ABV
2 Towns Ciderhouse's The Bad Apple is an imperial style cider, fermented with Willamette Valley meadowfoam honey and aged on Oregon white oak. The result is a semi-dry, apple-forward cider with rich apple, honey, vanilla, and oak notes. Expect a long finish with lingering tartness and acidity. Don't expect to taste the alcohol. It's well-hidden, which mostly presents as warmth.
---