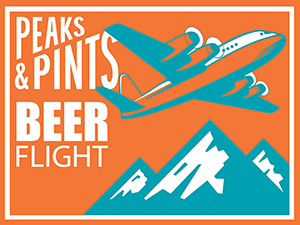 Perennial had been a long time coming for brewmaster Phil Wymore, who hailed from Weston, a town northwest of Kansas City. Though he was new to St. Louis, Wymore wasn't a stranger to beer. He planted his roots working as an assistant for the now closed Grindstone Brewery in Columbia. After graduating from Mizzou he moved north to Chicago to work for Goose Island, studied brewing at the Siebel Institute and later brewed for windy City craft brewery Half Acre Beer Co. With all those years of experience under his belt, he began developing his own vision — and chose St. Louis to pursue it. Established in September 2011, Perennial Artisan Ales is a small-batch craft brewery based in St. Louis, focusing on seasonal beers with locally sourced ingredients, farmhouse releases and barrel-aged varieties. Today, Peaks and Pints offers a taste of their award-winning stouts, including a vertical of Abraxas. Pull up a bar stool and enjoy Craft Beer Crosscut 9.25.19: Flight of Perennial Stouts.
Craft Beer Crosscut 9.25.19: Flight of Perennial Stouts
Perennial Prodigal
11.5% ABV
Prodigal is an imperial oatmeal milk stout with a massive fudge and roast malt character. It's a foundation for all the stouts in this flight, leading the way with only a handful of cacao nibs and Madagascar vanilla beans to round out the edges. Rich chocolate malt hits the nose with notes of roasted malt, lactose sugar, vanilla and some dark fruit. Prodigal pours deep brown with a thin mocha brown head that has little retention or lacing. Starts with rich roasted malt, fudgy chocolate and dark fruit flavors as well as having a rich, full body and a slick, viscous mouthfeel. It finishes impeccably smooth with lactose sugar and vanilla flavors.
Perennial Sump Coffee Stout
10.5% ABV
Sump combines Prodigal with bright and delicate Colombian Los Pinos coffee selected and roasted by Sump Coffee, located in south St. Louis. Aromas of coffee, salted caramel and a hint of cedar meld with roasted barley, cocoa, and vanilla. On the palate, the vanilla is more prominent, rounding out the beer's heavy roast and chocolate character. It's thick and lush with a long finish and lingering warmth.
Perennial Abraxas 2017
10% AVB
Abraxas is Prodigal brewed with cacao nibs, ancho chiles, vanilla beans and cinnamon. Abraxas is brewed only once a year in a very small quantity and is in such high demand that on release day, beer devotees stand in line for hours just to get their hands on a bottle. The imperial stout is so black and viscous it almost absorbs all the light in the room, but you could find it by its tantalizing chocolaty, spicy aroma. It tastes mainly of cocoa and cinnamon with a touch of spiciness from the ancho chiles.
Perennial Abraxas 2018
11.5% ABV
Abraxas 2018 imperial stout brewed with ancho chili peppers, cacao nibs, vanilla beans, and cinnamon sticks, just like 2017's version, but the alcohol by volume is turned up to an 11.5.
---