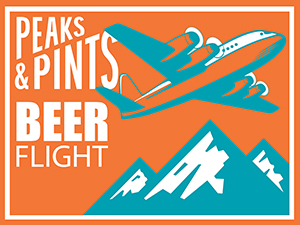 The hop bines sway in the afternoon breeze of a warm September afternoon in the Yakima Valley. Field workers pace between rows of bines suspended on ropes, pulling off a few of the hop flowers — bright green cones whose aroma is an instant reminder that another round of brewers will arrive with empty sacks the next day. Hops are one of Washington's most prominent crops, their farmers powering the global brewing industry by growing almost 75 percent of the world's hop acreage in the state, almost all of which is in the Yakima Valley. It thus makes sense that a bunch of craft breweries have popped up in the area over the past few years. Today, Peaks and Pints highlights the Yakima Valley in a beer flight we call Craft Beer Crosscut 9.26.19: Flight From Yakima.
Craft Beer Crosscut 9.26.19: Flight From Yakima
Bale Breaker Back Pedal XPA
4.4% ABV
Hops have long defined life at B.T. Loftus Ranches in the Yakima Valley. Back in 1932, Kevin Smith and Meghann Quinn's great-grandparents founded the family hop farm that's now run by their older brother, Patrick. Meghann and her husband, Kevin Quinn, and younger brother were keen homebrewers. Wouldn't it be natural to start a brewery on the farm? The trio took down three acres of the farm's Field 41 and built Bale Breaker Brewing Company, which is surrounded by fields of hops. Back Pedal XPA is a pale ale with a nose of watermelon rind, plus a touch of grass and pine. The rind is present on the palate too with grass and straw, pine, a touch of funk, and a honeydew note.
Single Hill Eastside IPA
7% ABV, 40 IBU
In August 2016, Ty Paxton and Zach Turner opened Single Hill Brewing in an old JC Penney Tire Center in downtown Yakima. The two first met at a cider pressing party that a mutual friend was hosting in 2013. Three years later, over pints at Bale Breaking Brewing, the two hatch the idea for a community-based brewery in a town dear to their hearts. Eastside IPA is brewed with Yakima and Treasure valley hops, plus Idaho Pilsner and Palouse Munich malt for aroma of citrus and fruity hop notes, with a touch of fruity yeast, and a nice bready pale base. Taste follows with resinous pithy citrus from the hops, a nice bready middle, and light bitterness.
Wandering Hop Spruce Almighty
7.5% ABV, 48 IBU
In 2017, Yakima native Nathan Cooper opened his downtown Yakima Wandering Hop Brewing, after he first conceived of the idea while sitting attending Bale Breaker Brewing's grand opening. After that fateful day, his garage became a brewery, his ravels became inspiration and his father and wife became his biggest cheerleaders. Spruce Almighty is made with, naturally, Yakima hops and grains, as well as mountain spruce tips handpicked days prior to brewing, for flavors of spruce berry, floral notes, and pine.
Bale Breaker Topcutter IPA
6.8% ABV, 70 IBU
Topcutter IPA had the highest number of nominations during the 2017 Peaks and Pints Tournament of Beer: Washington IPAs seeding process. Bale Breaker's flagship IPA has changed lives. In fact it's rumored that Birchfield, the unincorporated community in Yakima County where Bale Breaker harvests hops and brews beer, is considering changing its name to Topcutter, Washington, to draw tourists from nearby Yakima. And why wouldn't Birchfield's council? Topcutter is a well-balanced yet aggressive West Coast IPA that showcases Yakima Valley hops, including late additions of Simcoe, Citra, Loral and Mosaic for a complex citrus, fruity and floral aroma and flavor.
Bale Breaker Jameson Barrel Aged Topcutter
8.5% ABV
Once again, Bale Breaker Brewing participated in the Jameson Irish Whiskey Caskmates program, continuing a relationship that began in 2017. Caskmates is a cross-industry collaboration project that sees the venerable Irish whiskey producer partner with craft breweries. The result of this year's endeavor, Jameson Caskmates Bale Breaker Limited Edition, Topcutter aged in Jameson Whiskey barrels. It dinks like an imperial IPA with welcomed light whiskey.
---