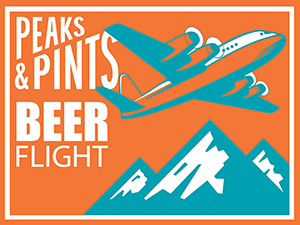 Tens of thousands of people were on hand at the start of Munich's Oktoberfest Saturday. An hour ahead of the official opening of the world's largest beer festival, several tents had already closed their doors due to overcrowding. You may be shocked to know that the brass bands performing during Munich's Oktoberfest celebrations aren't all polka. In fact, traditional polka from Czech and Poland and relies more on the accordion while German oompah has more of a brass band (Blaskapelle) feel. The brass bands play covers, too, from American oldies, German hits, and everything from John Denver to Bruce Springsteen. As the day goes on they even add guitars to the band turning the excitement even higher. The party continues in Munich through Oct. 6, as does Peaks and Pints Fresh Hoptoberfest, our month-long salute to fresh hops and Oktoberfest biers. Speaking of Springsteen, he turned 70 yesterday! In his honor, we'll morph our fresh hop-Oktoberfest mash-up to include his music. Stop by Peaks and Pints, enjoy a flight of fresh hops and Oktoberfest biers while listening to The Boss in what we call Craft Beer Crosscut 9.24.19: Fight of Fresh Hoptoberfeststeen.
Craft Beer Crosscut 9.24.19: Fight of Fresh Hoptoberfeststeen
Warsteiner Oktoberfest
5.9% ABV, 21 IBU
A truly German import brewed according to the German Purity Law, as are all Warsteiner beers, Warsteiner Oktoberfest pours a deep gold with a bit of sediment in suspension. It hits the nose with cracker, bready malts, and grassy hops. The mouthfeel is light to medium with a prickly carbonation. This special edition is well-balanced with flavors of cracker, biscuit, hint of citrus, and grassy hops.
Sierra Nevada/Bitburger 2019 Oktoberfest
6% ABV, 22 IBU
For its annual seasonal bier, this year Sierra Nevada Brewing teamed up with Germany's Bitburger Brewery, which was in 1817, and has been family-owned for seven generations. This beer is brewed with Bitburger's famed Siegelhopfen (meaning "sealed hops") — a classified hop blend that has never been shared outside the German brewery walls. The beer will also feature Bitburger's custom yeast, another house ingredient gifted for the first time ever. The collaboration Oktoberfest offers a rich amber color, sweet and toasty malty flavor with a light herbal hop bitterness.
Paulaner Oktoberfest Märzen
5.8% ABV, 24 IBU
Paulaner's amber beer style that was developed more than 200 years ago to celebrate the original Oktoberfest. The Märzen name comes from "March beer" because it was historically brewed in March to be at peak flavor for the Oktoberfest celebration. An earthy, slightly sweet, caramelized aroma starts this beer off. The excellent grain and biscuit-like malt profile give a smooth yet complex taste, and the low (but noticeable) hop flavor is well balanced.
Hellbent Fresh Hop Strata IPA
6.6% ABV
Hellbent Brewing's Fresh Hop Strata IPA is brewed with freshly harvested Strata hops from Oregon's Willamette Valley, at Goschie Farms. These late-addition hops are used the same day they are picked. Once the beer has nearly fermented, it is then transferred to a "bright" tank where it is dry hopped with fresh Amarillo hops from Virgil Gamache Farms in Washington's Yakima Valley, near Toppenish. The beer itself is a lighter style IPA, brewed with pale w2-row malt, Dextrin and Vienna malt, plus a small addition of flaked oats. In addition to the dank, tropical citrus and floral hop characteristics, there are grassy, herbaceous notes from the use of the fresh hops.
Breakside Stay Fresh
7% ABV
Breakside Brewery has received tons of un-dried "wet" hops from Goschie Farms in Silverton, Oregon, to create seven fresh hops beers this year. These fresh hops impart unique green, pungent aromas to the beer that can't be had the rest of the year. In order to extract as much fresh flavor from each hop possible, the Portland brewery employs their signature "hop-shattering" method using liquid nitrogen to freeze the fresh hops and break them apart, thus exposing the coveted lupulin glands that are packed full of hop flavor and aroma. Breakside recreated their stay Fresh IPA brewed with a double dose of fresh Cascade hops.
Bruce Springsteen photo by Shayne Kaye
---