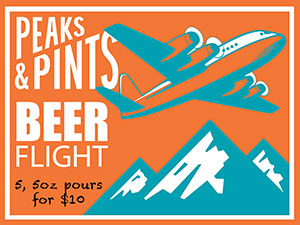 Contrary to what uptight craft beer geeks will tell you, partaking in liquid bread isn't always serious business. Sometimes it can even be fun — and Peaks and Pints doesn't mean that in an "isn't-it-marvelous-to-expound-upon-the-beer's-aromas" sort of way. Just ask the pranksters who created craft beers such as Imperial Purple Raz Bu, Double Barrel Jesus and Beer Geek Brunch Weasel. Despite the goofy names, these are quality craft beers made by talented brewers. The idea behind this irreverence, aside from generating a few laughs, is to create a name that will stick in people's minds and provide a distinctive edge in a sea of competing products. Rebel breweries such as Evil Twin Brewing Co. have been doing this for years with great success. Why buy Boring Pale Ale when you can buy an equally delicious craft beer with a funky name like Zombie Dust? While snobby sorts may say that beer is not a laughing matter, we believe that in this case, the joke is on them. Who doesn't need more whimsy in their life? We do. Enjoy today's beer flight Craft Beer Crosscut 9.23.17: A Flight of Whimsical.
Atwood Ales No Whey, Bro
4.2% ABV
Located just 18 miles north of the burgeoning Bellingham brewery scene, on the outskirts of a scenic seaside town, is Blaine, Washington's first, and oldest, brewery — Atwood Ales. The unique setting provided by a 100 year old farmhouse and barn and the surrounding acreage is not only visually compelling, but also provides countless opportunities to directly incorporate estate and locally grown agricultural and natural ingredients into Atwood's small batch beers. It's a family-operated farm and brewery. Josh brews the beer. Monica takes care of sales, marketing, and distribution. Josh's parents, Stephen and Leslee Smith, co-own the brewery, and Monica's parents (Steve and Nancy) are involved as well. Son Xavier assists with naming beers and is responsible for "No Whey, Bro." Way. No Whey, Bro is a blonde ale fermented with Lactobacillus bacteria cultured from yogurt. Dry hops (Citra, Ekuanot and Mosaic) add tropical and citrus fruit to the tangy aroma. No Whey, Bro's flavors and acidity are all balanced components of what is the lemonade of craft beer — a light, refreshing, easy drinking, sour blonde ale.
Melvin Hey Zeus
4% ABV, 12 IBU
According to Melvin Brewing hype, the Wyoming's Mexican lager Hey Zeus is, "Halfway between awesome and fantastico but with the quality you expect from the great Cervaceria de Melvin. Super simple with an ABV that you can session all goddamn day. Stay thirsty bitches." Indeed. Hey Zeus pours a clear pale blonde with a small white head. Aroma brings out straw, cereal malt and light corn. Flavor is fresh and crisp, with lots of straw and crisp crackery malt, and even a healthy hoppy bitterness from Mount Hood hops. Tasty.
10 Barrel Maine Squeeze
6% ABV, 50 IBU
At 10 Barrel Brewing Company in Portland, Oregon's Pearl District, Whitney Burnside made a one-off IPA called Maine Squeeze. It's just a little hazy and drinks like reduced-sugar orange juice — lightly citrusy and sweetened with a whimsical name pointing a finger at New England-style IPAs. Maine Squeeze is brewed with pale malt, wheat and a touch of acidulated malt. Though it does not have the haze, Maine Squeeze does have the soft tropical mouthfeel and flavor profile that are hallmarks of the trend. Bittered with Magnum hops, with copious amounts of Galaxy, Mandarina Bavaria and Simcoe then dry-hopped a second time with El Dorado, Mosaic, and Citra it drinks like a deliciously refreshing fruit juice without having to chew.
Maritime Pacific Holey Ship IIPA
8% ABV, 80 IBU
Maritime Pacific Brewing's latest Regatta Series IPA pays tribute to the lowly, forgotten, sometimes neglected boat tender, the "Rotten DINGHY." The dinghy hauls people and supplies (when it's floating) to and fro the main ship, a workhorse that is rarely treated with the respect it deserves. The Seattle neighborhood brewery salutes the "Rotten DINGHY" with Holey Ship. As a whimsical name Maritime thinks the Holey Ship is the perfect name for its new "Rotten Dinghy Class IPA with haze, hops and alcohol. This Northwest style, dry-hopped double IPA is brewed with Green Bullet and Centennial hops for spicy and dried fruit characters on the nose with high levels of floral oil that complements and balances the piney, bitter hop character.
Ninkasi Tricerahops Double IPA
8% ABV, 84 IBU
Ninkasi, the mythical god of beer, would be afraid of this double IPA. Hops explode in the nose, cascading pithy grapefruit, sticky pinesap and floral notes atop a caramel foundation. Ninkasi Brewing's Tricerahops hits the tongue hard with sweet caramel before a blend of Chinook, Cascade, Summit, Centennial and Palisade hops offer floral, fruity, and earthy notes, yet with a malt background. It's hop-forward, full-bodied and strong. Yet the balance with the malt lends enough depth and a spicy complexity to make it very interesting. Resinous, citrusy, woody, and powerfully bitter, the hop flavors slowly unfold and last well into the aftertaste.
Save
Save
---