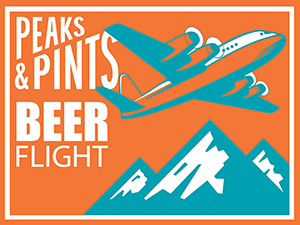 Ladies and gentlemen, the brewers have turned on the Fasten Seat Belt sign. If you haven't already done so, please stow your carry-into luggage underneath the barstools. Please take your seat and construct your paper airplanes. And also make sure your friend is in a full upright position. Peaks and Pints will host the release party for Nelson Sauvin, Sauvignon Blanc hazy double IPA, a collaboration between airplane-themed breweries Wingman Brewers and Airways Brewing, at 6 p.m. tonight. In celebration, Peaks and Pints presents an all-day, airline-themed beer flight that we call Craft Beer Crosscut 9.19.19: Flight of Airplanes.
Anxious to start a business venture in the growing craft beer industry, homebrewer Ken Thoburn didn't have to look far for inspiration for his brand, Wingman Brewers. With a grandfather who painted various nose art designs on a variety of World War II airplanes, Thoburn fell in love with the 1930-40s-era vintage military theme. Combine that with an area that has a large saturation of active-duty and retired Air Force and military members and Tacoma's Wingman Brewers was born. Head Brewer Thoburn, including Derrick Moyer and Daniel Heath, started Wingman Brewers in April 2011, brewing beer to sell to local bars, restaurants and grocery stores out of a small storefront in Tacoma. Wingman Brewers took off in a big way, with a constant eye on their vintage military theme.
In 2010, Alex Dittmar combined his homebrewing passion and love for 1960's big jet airliners opening Airways Brewing in Kent, Washington. Nine years later, founder and head brewer Dittmar and crew operate out of much larger facility in downtown Kent. Dittmar brought his former Alaska Airlines job with him with an airline industry theme throughout his taproom and craft beers.
Craft Beer Crosscut 9.19.19: Flight of Airplanes
Wingman Dark Waters
10% ABV
Dark Waters imperial stout was released during Wingman's H. P. Lovecraft-themed Denizens of the Dark festival. Cold brewed coffee from Bluebeard Coffee Roasters adds flavors of orange and cherry. Tanzanian cocoa nibs roasted by Tease Chocolates provide a rich and zesty chocolate flavor. smoked jalapenos from Oregon and Cayenne peppers grown in Washington meld with ceylon cinnamon sticks to provide a spicy fruitiness and a zing. More importantly, all these flavors come together for an indulgent dark beer experience fit for the Dark Lord Cthulhu himself.
Wingman Stratofortress
11.4% ABV, 15 IBU
Their Stratofortress Belgian strong dark ale is brewed with black, pilsner, special B, caramel, and carafax malts before aged on cedar planks soaked in dark rum. The first thing that will strike you about this beer is the spicy cedar nose. Notes of figs, dark fruit, cherry, dark but not roasted malts, and some light spice will delight you before the rich Belgian spiciness coats your tongue. The lingering aromas and flavors of cedar and rum stick with you until a tart cherry and ripe fruit finish.
Airways Jumbo Juice IPA
6% ABV
Founded in spring 2010, Airways outgrew their tiny space in Kent, two years ago moving down the road to a space holding more than five times their previous drinker capacity. They needed the extra space to house their awards too. Certainly the brewery's Sky Hag IPA, Seat Kicker IPA and Loud Lady IPA have been around longer than the Jumbo Juice IPA, brewed with Mosaic, Citra and Simcoe hops. But, these are smooth, bold tropical hop times and Jumbo Juice IPA touches down perfectly every time.
Airways Luxury Jet
6.7% ABV
Luxury Jet has landed at Airways. Founder and head brewer A-A-A-Alex Dittmar and his Jet won a silver medal at the 2018 Sip Magazine awards in the Juicy/Hazy IPA category. This IPA straight outta Kent, Washington, has a smooth, creamy taste with melon hops and slight citrus.
Port Brewing Hop-15 Ale
11% ABV, 182 IBU
First brewed in 2002 to celebrate the 15th Anniversary of the Pizza Port in Solana Beach, California, Port Brewing's Hop 15 was imagined and designed by Tomme Arthur and Jeff Bagby, with airplanes dropping hops on the 19.2-ounce can. The two brewers dumped 15 different hop varieties to the beer every 15 minutes for an award-winning double IPA with a huge hop flavor of tropical and stone fruits. Bolstered by a spicy hop finish, this Hop 15 offers orange marmalade and ripe mango with pine and pepper and resin, providing an air-raid on Hopville without allowing any element to dominate.
---